THE 2023-24 SCHOOL YEAR IS UNDERWAY!
Providing years of experience, personal service, and in-depth product knowledge to school food programs.
Dennis Food Service provides your school food program with the service, products, and knowledge necessary to ensure that every aspect of your cafeteria is carefully curated to promote a healthy and satisfying dining experience.
Call 1-800-439-2727 or CONTACT US with questions!
Connect with peers, find ideas and inspirations, and stay up-to-date on the latest school nutrition news @DennisKnowsSchool!

FRESH PRODUCE
Fruits, Vegetables, Salad Mixes, Fresh Herbs, and Beyond!
Current Offerings


Beverages
Coffee • Milk • Juice • Tea • More
SEE MORE

K-12 Single-Use Food Items
Simple, healthy & convenient!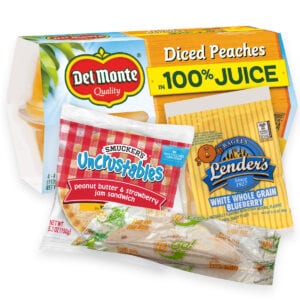 Portion-controlled (PC) and individually-wrapped (IW) items are the new normal for K-12 nutrition.
Not only do PC & IW foods provide a safe barrier to eliminate the spread of germs, it also contains the necessary benefits and proper sizes to meet student's daily nutrition requirements. They are easy to use and prepare, and makes school breakfast & lunch menus more convenient than ever before.
See what we offer!
Click below to see our full lists of PC & IW items that we provide for K-12 here at Dennis.
Individually-Wrapped Meals & Snacks K-12 Portion Control Solutions

SmartStock® Dispenser
Touchless, hygienic dispensing!
SEE VIDEO
Take Control of Your Cutlery with The SmartStock® Tri-Tower Dispenser

Seldom can a product help lunchroom operators meet their most pressing challenges: reducing cutler waste, improving hygiene, streamling employee tasks, and maximizing counter space. The SmartStock® Tri-Tower dispenser was designed with operational efficiency in mind. That's exactly what you get from the industry leader in cutlery dispensing technology game-changing performance that even students will appreciate.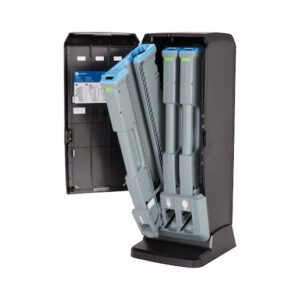 The new Dixie Ultra® SmartStock® is fully enclosed, touchless dispenser. This high capacity dispenser holds 390 utensils, and its one-at-a-time, automatic dispensing ensures the user only touches the cutlery they use. The innovation solutioon can improve hygiene, reduce waste, all while leaving your counterspace looking clean and organized.
The universal chambers let operators configure the dispenser with any combination of Dixie® Series-T utensils.
Qualifying schools can RECEIVE A FREE DISPENSER if ordered by September 30, 2023!

How can we help?
Have a question? Need info on a product? Need us to find an item? Just ask!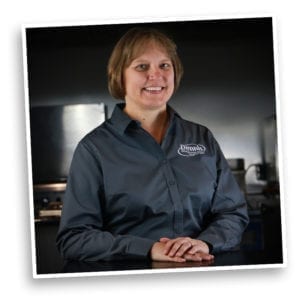 Kelly Worcester
School Foods Specialist
Kelly has over 20 years of Food Distribution experience. From working as an Account Executive, Inside Sales, to her current position as School Specialist, Kelly has the foodservice knowledge and background to help you and your staff succeed.
"I truly enjoy what I do. I love getting to help schools flourish and grow their nutritional programs. Watching schools succeed, is why I love my job."