Breakfast Biscuits
This easy breakfast recipe turns scrambled eggs and biscuits into a fun and tasty meal the students will love!
INGREDIENTS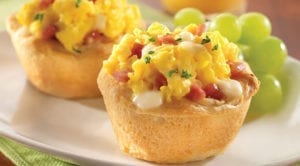 Serves: 10
10.2 oz refrigerated big flaky biscuits item #8845
1 tablespoon butter
1/3 cup finely chopped onion
1/2 cup chopped cooked ham
5 large, well beaten eggs item #4736
4 slices chopped American cheese item #75930
DIRECTIONS
Pre-heat oven to 350˚F
Separate biscuits; cut each in half. Let stand at room temperature 5 minutes to soften. Press each piece onto bottom and up sides of 10 lightly greased muffin pan cups. Set aside.
Melt butter in 10-inch nonstick skillet over medium-high heat; add onion. Cook, stirring occasionally, 1-2 minutes or until onion is softened. Add ham; continue cooking 1 minute. Add eggs; cook, lifting gently and stirring slightly to allow uncooked portions to flow underneath, 1-2 minutes or until set. Immediately remove from heat; cool slightly.
Sprinkle about 1 teaspoon cheese into each biscuit cup. Divide egg mixture among muffin cups. Press down egg mixture slightly; sprinkle each muffin cup equally with remaining cheese.
Bake 14-17 minutes or until puffed and biscuits are lightly golden brown on edges; and serve!
See More Recipes