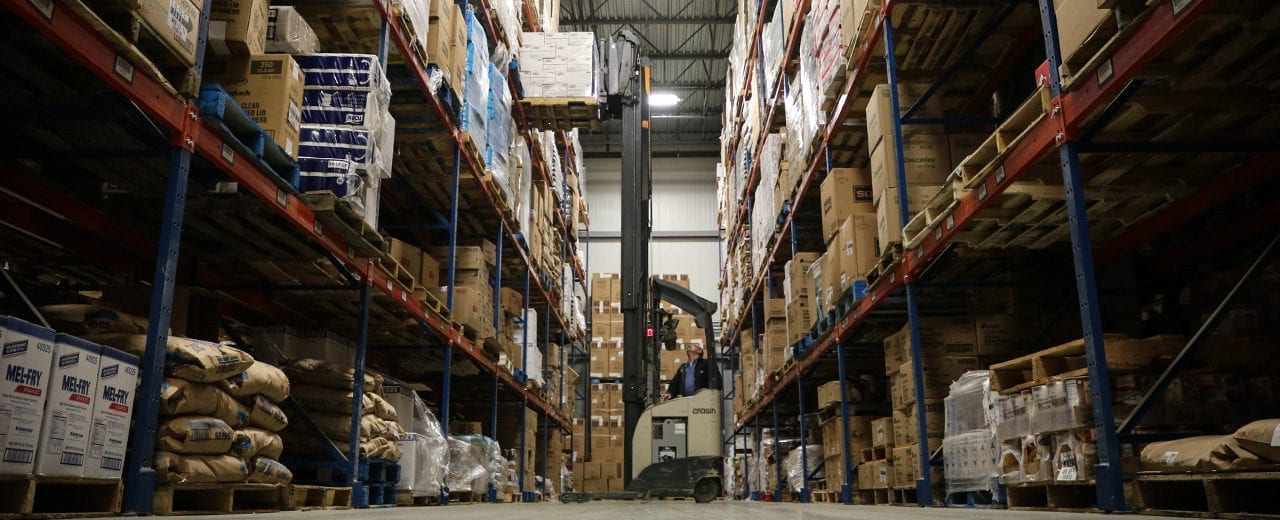 Facility & Food Safety
An advanced, independently inspected warehouse with thousands of inventoried products!
Our Hampden, Maine, headquarters houses our operations center, professional test kitchen and an impressive foodservice inventory.
Our Facility
Dennis Food service maintains an inventory of thousands unique items in our 130,000 sq/ft facility. In our warehouse are 8 temperature controlled coolers and freezers maintain maximum shelf life and quality. While our dry storage holds a huge inventory of products from local, private, national and global brands.
Our Technology
In addition to equipping our customers, and employees in the field, with the latest tech-based conveniences; including online ordering, an interactive mobile-friendly website, and engagement on social media – inside our walls we take the same approach to leveraging technology to improve our operation.  Our inbound product and outbound orders are all managed electronically and use wireless RF guns and mobile printers to tag and track inventory.
With a few clicks we're able to see a wealth of information about our inventoried products, allowing us to consistently provide our customers with the best access to fresh, high quality items. After orders are assembled on pallets and loaded on to trucks, our investment in technology extends to our team of drivers who are equipped with the latest in navigation and safety features.
Learn more about what goes on behind the scenes in wholesale food distribution: Watch the Video
Our Sustainability
At Dennis Paper & Food Service, each decision we make in regards to our facility starts with the impact it will have on our customers, our operational costs and our environment.
Our computerized order management and related tech-based solutions bring us closer to going completely paperless with each upgrade.  We receive dozens of product shipments each week, these daily deliveries mean that we accumulate a lot of waste.  We recycle 100% of the cardboard and shrink-wrap that enters our facility. Our warehouse is lit using energy efficient LED lighting with motion controlled zones that illuminate only when in use.  Our facility is also 100% heated by recycled heat captured from the compressors of our coolers and freezers.
Learn more about out eco-minded efforts!

Food Safety & Risk Management
Dennis Food Service has a "Superior" rating from AIB
We have implemented and continue to strengthen the Food Safety Systems within our facility.  The basis for this is through adherence to Good Manufacturing Practices and by working within the guidelines set forth in our HACCP Plan.  This two-prong strategy focuses our efforts on maintaining an operation that is safe and secure while providing our customers with the highest quality product.
Our food safety program is federally inspected by 3 government agencies (USDA, FDA, Maine Dept of Marine Resources)
6 member HACCP trained team comprised of managers and warehouse employees.
950/1000 AIB score on our last audit.
24/365 monitoring of cooler and freezer equipment and temperatures.
24/365 controlled access.
1-up 1-down traceability of all products received.

Our Fleet
Our fleet of trucks are on the road 5 days a week, accumulating over 1 million miles in 2017 alone – needless to say we cover a lot of territory.
Our team makes deliveries to restaurants and professional kitchens around New England using a fleet of modern, and meticulously maintained, refrigerated trucks. Our drivers are wirelessly equipped to ensure the best routing sequences, and accurate on-time product delivery.

2017 Expansion
We recently complete a 33,000 square foot warehouse expansion. This is our second expansion in nearly 4 years. A 20,000 square foot expansion was completed in 2012.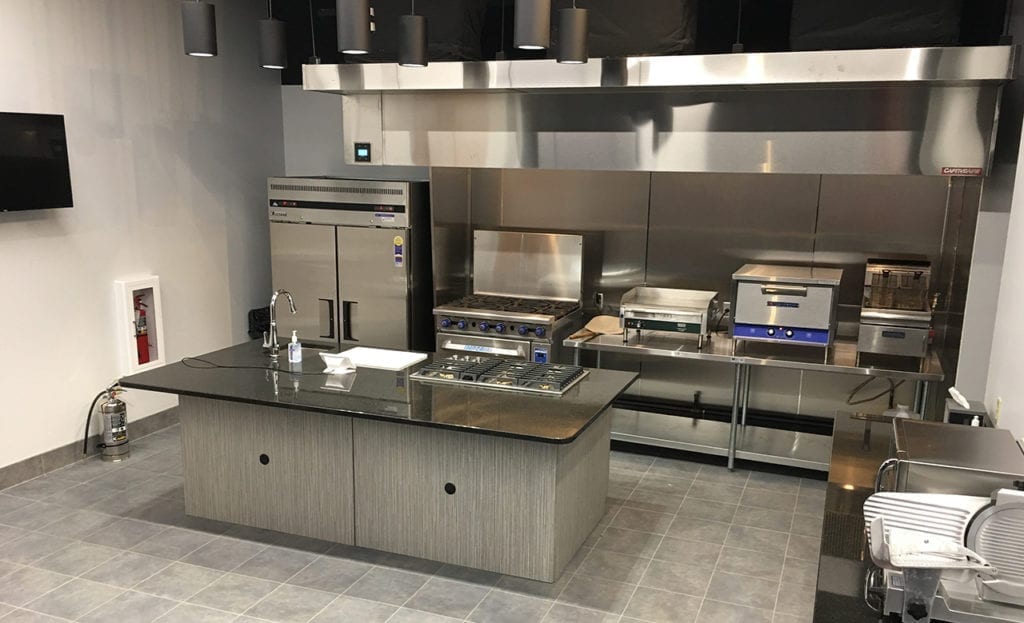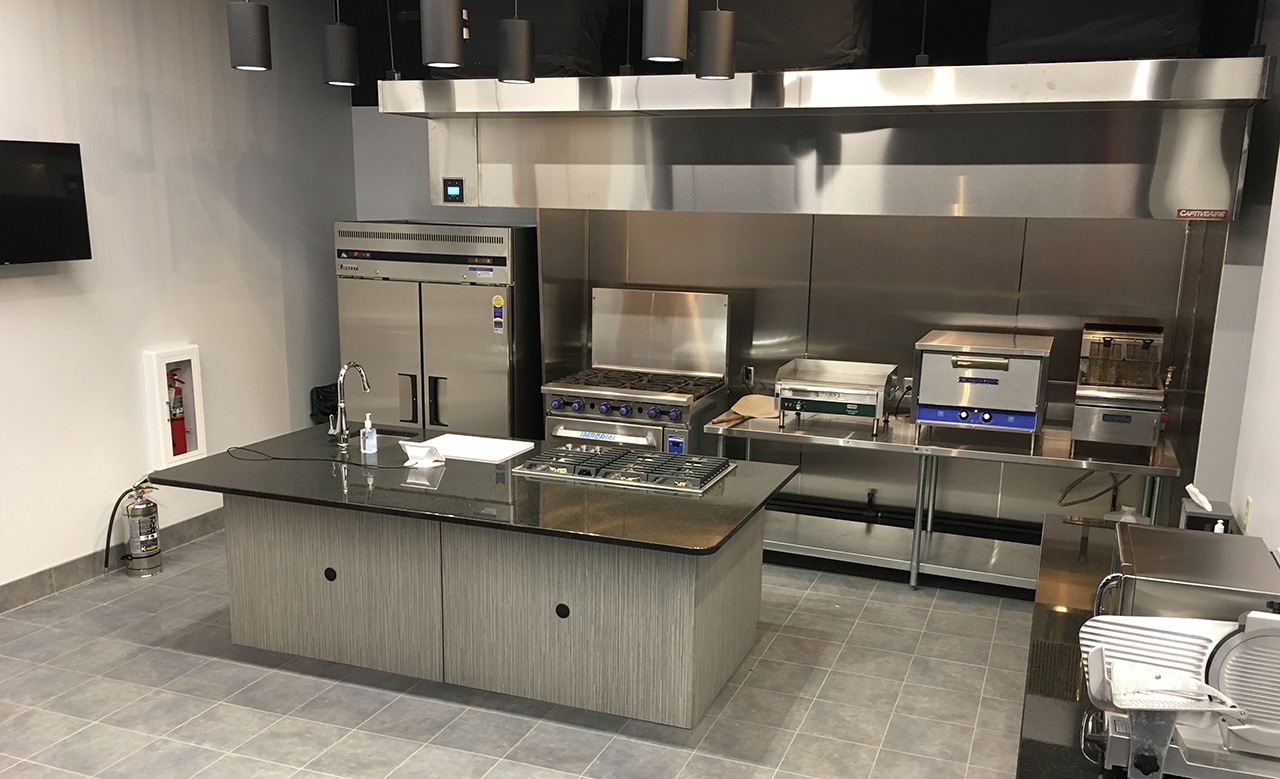 We are focused on delivering the best food and foodservice related products to New England businesses, we are excited to expand our warehouse capacity. The new space provides the ability to bring in more inventory to meet the growing requirements of our diverse customers. It will also allow us to continue adding new members to our team.
The expansion includes new frozen, refrigerated and dry storage as well as office space for additional staff. The expansion alsos feature a state-of-the-art test kitchen and meeting center. The expanded Dennis Food Service warehouse complex will follow suit with the 2012 renovation's use of environmentally-friendly practices, energy efficient lighting and product handling equipment.
Read More

Additional Information
Dennis Food Service is registered with the U.S. Food and Drug Administration Bioterrorism Act.  Our facility receives periodic inspections and maintains compliance with the United States Food, Drug and Cosmetic Act; the Food Safety Modernization Act (FSMA); as well as applicable Federal, State, and Local laws.  A Food Defense plan is in place to provide security measures which limit access to our facility to authorized personnel, visitors and vehicular traffic.  Other steps taken are designed to insure the security of all products stored at the facility through the use of trailer seals, controlled access entry points, further restricted areas within the facility, surveillance cameras, and other preventative measures.  The final cornerstone to our food defense system is through training of our employees on food defense issues within their daily surroundings, which are critical to the prevention of intentional product adulteration.  These same employees are required to immediately report to their supervisor any suspected or intentional failure to comply with food safety laws, regulations, or company policies.
The safety of products delivered by Dennis Food Service is of critical importance to our customers and we remain committed to insuring the safety and integrity of those products.
Per company policy, for security and legal reasons, Dennis Food Service does not distribute copies of food defense plans outside of our company.  Per your inquiry, we have outlined some of the security measures here that protect the food products that we receive, store and transport to you, our valued customer.  If you require additional information on our food defense systems or HACCP compliance, please feel free to contact us.