Asian Noodle Bowl
This new generation wants global flavor! Menu this veggie-packed Asian Noodle Bowl, made with sausage/sausage alternative crumble tossed with whole grain noodles and sweet chili-glazed broccoli, peppers, edamame, and red onion – topped with crispy wonton strips.
INGREDIENTS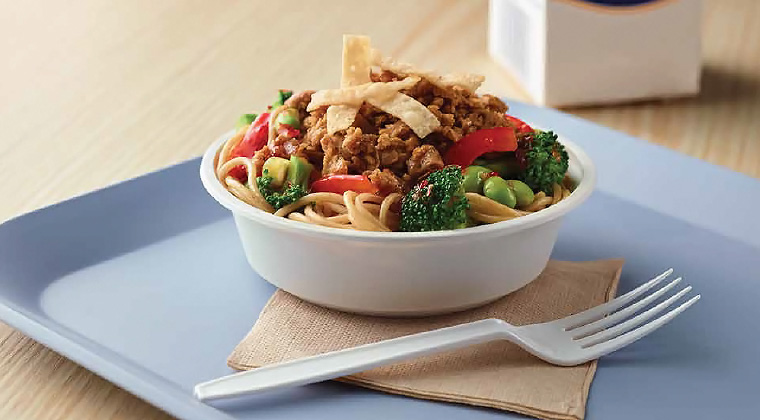 Serves: 100

12 lbs sausage crumble or sausage alternative
9.4 lbs cooked, shelled edamame
100 cups cooked whole grain spaghetti
10.3 lbs raw broccoli florets
7.5 lbs chopped, raw green onions
3.5 lbs sliced, raw bell peppers
8 cups prepared sweet chili sauce
crispy wonton strips
DIRECTIONS
Cook noodles until al dente and drain. Set aside.
Steam broccoli and peppers until crisp and tender.
Mix steamed broccoli, peppers and edamame with raw green onions and sweet chili sauce. Set aside.
Bring sausage crumbles to temperature.
Layer one cup of pasta at the bottom of the bowl.
Scoop 3/4 cup vegetable mixture on top of pasta.
Scoop 2/3 heated crumbles and place on top.
Garnish with crispy wonton strips.
Instruct students to "be the chef" and mix their own bowl.
1 serving provides: 2 oz meat/ meat alternative, 2 oz grain, and 1/4 cup GV, 1/8 cup OV, 1/8 cup RV. 
See More Recipes