Chicken Pot Pie
A simple pot pie filling that starts with condensed soup and chicken and is topped with rich whole grain biscuit.
INGREDIENTS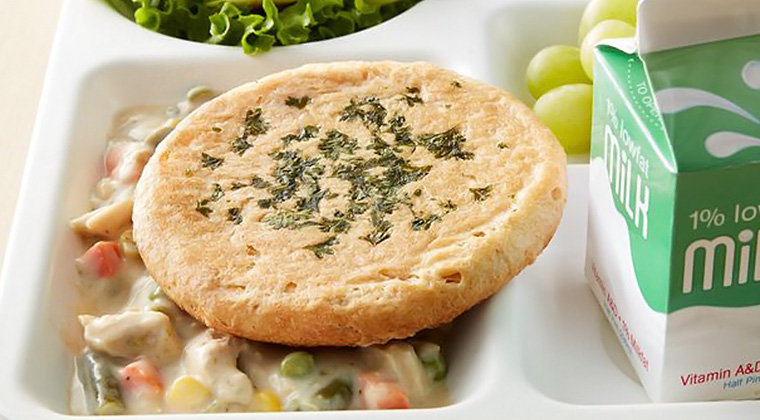 Serves: 24

3 lbs cream of broccoli soup, condensed
2 1/2 cups 1% milk
1 teaspoon ground black pepper
6 cups shredded cheddar cheese
9 cups frozen, cooked, small diced chicken
12 cups frozen mixed vegetables
24 (1 ea) frozen dough whole grain biscuit
1 tablespoon fresh, chopped parsley
Pan spray butter flavored
DIRECTIONS
Thaw biscuit dough, covered at room temperature 15-30 minutes until flexible or refrigerate overnight.
Place thawed biscuit dough on parchment-lined full sheet pan; evenly with pan spray and prick each biscuit 4 times with tines of a fork.
Sprinkle evenly with parsley; place greased parchment paper over top and add additional sheet pan weight.
Bake in 350˚F convection oven for 8-10 minutes or until biscuits are golden brown; keep brown.
Serve 8 oz of filling on serving dish; top with 1 biscuit and serve warm!
Optional Tip: Serve with sides such as spinach salad with mandarin oranges and strawberries, applesauce and milk is desired.
See More Recipes