Beef Gyro Sandwich
Meet the need for unique menu applications. These globally-inspired gyro sandwiches can be personalized with fresh cut vegetables from the salad bar, and garnishes such as Tzatziki sauce.
INGREDIENTS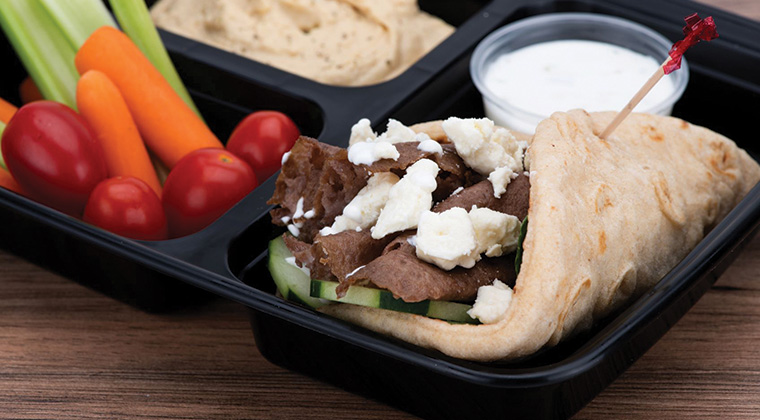 Serves: 1

1 whole grain round 6″
2 tbsp garlic and herb sauce
2 tbsp dried oregano
3 oz seasoned beef Philly steak
1qt plain yogurt
1 cup peeled cucumber, finely diced
1 tbsp garlic powder
1/2 cup crumbled feta cheese
vegetables for topping: sliced tomato, chopped romaine lettuce and sliced onion
DIRECTIONS
Thaw flatbreads at room temperature.
Place flatbreads on a lined sheet pan and cover with foil, warm at 350˚F for 4-5 minutes.
Leave pan covered and place in a warming cabinet to hold at 140˚F until ready to make gyros.
To prepare gyro beef place 5lbs of seasoned beef Philly steak in a 4″ deep full size counter pan and add 2 tbsp garlic and herb and 2 tbsp of dried oregano. Toss together to combine.
Cover the pan of beef with foil and heat at 350˚F until it reaches 145˚F, hold at 140˚F cover in the warmer.
To prepare Tzatziki sauce whisk together yogurt, cucumber, garlic powder and feta cheese.
Portion a scoop of sauce into 1 oz souffle cups and hold in cooler at 40˚F until ready to build sandwiches.
To build sandwich place a warm flatbread on a square of sandwich paper and top with 3oz of warm beef steak.
Fold sandwich into a cone shape. Place in a tall tumbler to hold its shape.
Students can top their sandwiches with their choice of cut vegetables or veggies can be served on the side and garnish gyro with Tzatsiki sauce.
1 serving provides: 2 oz eq whole grain and 3 oz M/MA serving
See More Recipes