Food Service Recipe: Caribou Shrimp
A fresh recipe featuring the classic pairing of potato and seafood, inspired by a Maine soil-kissed gem; Caribou Russet potatoes.
Tender shrimp enveloped with crispy thin strands of local potatoes is sure to be a winner on any menu, winter, spring, summer or fall. As an appetizer or an entree Caribou Shrimp is a unique menu item with local flare.
Giving your shrimp a caribou blanket! 🍤
Ingredients:
3 lbs Caribou Russets, pealed and spiralized into thin angels hair like strands, fryer blanch potato @ 300 for 30 seconds, lay on sheet tray in a thin layer to chill
2 cups basic batter seasoned with a tsp of turmeric which will add color and a mild mustard flavor
2 doz 13/15 P&D shrimp, underside scored for a straight presentation. 16/20 shrimp is a suitable cost effective alternative
Lay blanched potato on flat surface into small abstract-rectangular layers, dip shrimp in batter, lay battered shrimp on potato and fold potato around battered shrimp. Apply gentle pressure to ensure potatoes will adhere to shrimp
Fry shrimp @ 325 (if using 13/15) or 350 (if using 16/20) for about 3 minutes or until potatoes are golden brown and crisp & shrimp is properly cooked. Season as preferred and serve with a dipping sauce (see recipe below for Scallion chimichurri) that is inspired by your establishment.
Note: Shrimp can be added to a production list and prepared a couple days in advance. Be sure your batter is not too thin as it acts as a flavorful adhesive, holding together the union of potato and shrimp.
Scallion Chimichurri:
6 oz scallions, washed and rough chop
3 oz yellow onion, rough chop
4 ea. cloves fresh garlic
4 oz. oil blend
4 oz. rice wine vinegar
S&P to taste
Place all ingredients in a blender and blend until semi-smooth
May your life & stomach always be full!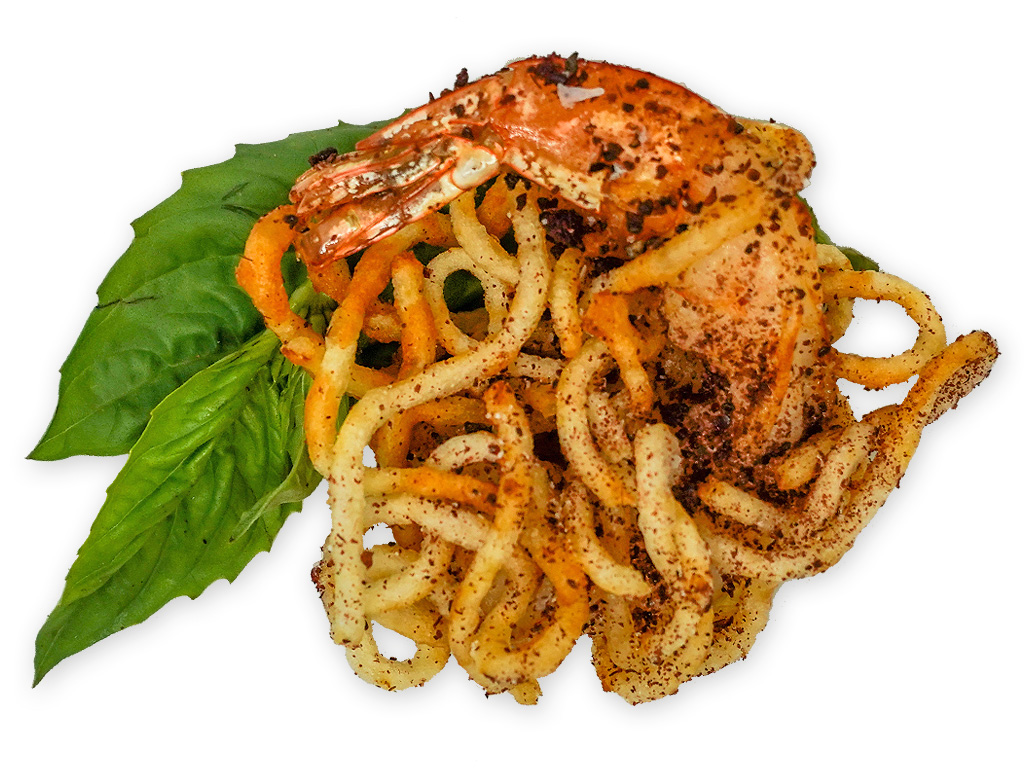 More About Caribou Russets Recipe: Caribou Lasagna Recipe: Caribou Spaghetti