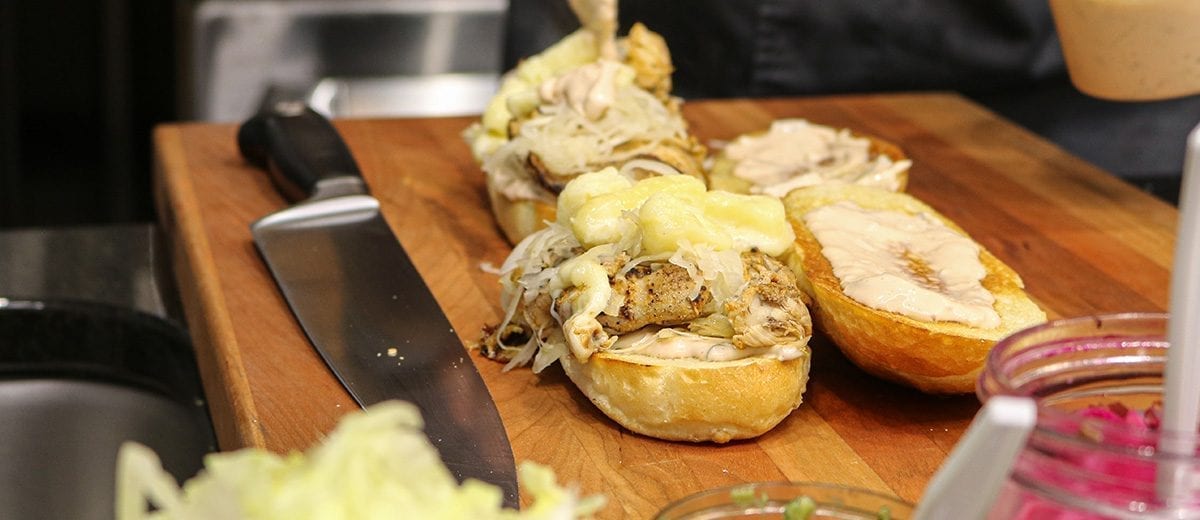 Modern Menu Strategy, in One Word: Focus
It should go without saying that "business as usual" isn't going to cut it for today's operators. Menus must constantly evolve to keep pace with emerging consumer preferences and flavor trends…
To maximize profitability in a highly competitive marketplace patronized by highly diverse customers, operators should regularly evaluate their menus, item by item, to ensure every offering is still worthy of its place on the menu. Many are streamlining, while others are simply introducing more opportunities for diners to customize their selections.
The next time you evaluate your menu, consider these strategies: 
Scale Back
Gone are the days of offering countless menu options to prevent consumers from vetoing an establishment because someone in their group insists there's nothing on the menu for him (the "veto factor").
In the past year alone, fast food giants Taco Bell, McDonald's, Jack in the Box and El Pollo Loco strategically eliminated menu items. The reason: Vast menu choices tend to overwhelm customers and slow kitchen operations, which in turn leads to more time spent ordering and longer in-store and drive-thru lines.1
Casual dining restaurants (Chili's among them) also are scaling back, in part to deal with labor shortages and to build operational efficiencies. In a menu-trend analysis from late 2018, Technomic found that cuts are most pronounced in the entree and appetizer sections of menus. Conversely, there has been significant growth in mentions of enhancements that customers can purchase for an additional charge, such as adding extra chicken or shrimp to a Caesar salad or topping a burger with guacamole.2
If your menu has become bloated, start by chopping less-profitable, less-popular items. Ease customers into the loss of their potentially favorite item by making it available off menu for a few months so they can gradually adjust to the change while simultaneously finding other menu options to favor.1
Build and Promote Customization
If you cut menu choices for operational efficiencies, you can gain back the "veto factor" guests by making allowances for their dietary preferences. This could include adding menu items that appeal to followers of trending diets such as Paleo, Keto, Whole30, Mediterranean and flexitarian. Earlier this year, fast casual chain Chipotle launched Lifestyle Bowls to better serve these dietary needs; the product line includes the Paleo Salad Bowl, Keto Salad Bowl, Whole30 Salad Bowl and a Double Protein Bowl. If your operation pursues this approach, develop a menu icon to print next to the appropriate items to facilitate consumer recognition.3
Some consumers follow restrictive diets such as vegetarian, vegan, gluten-free and dairy-free for lifestyle or health reasons. A few operators have responded by leveraging ingredients such as cauliflower to create alternative versions of pizza crust and rice, for example. Noodles & Co. did just that for its gluten-sensitive, vegan and Keto customers by introducing spiraled zucchini noodles and cauliflower-infused noodles (dubbed Caulifloodles).
Beyond dietary considerations, customization can be achieved by offering flavorful dipping sauces that deliver on several fronts—think craveable spice and global flavors achieved with the likes of currently popular Sriracha, harissa and gochujang, for example. Consider menuing a wide range of dipping sauces for chicken tenders, fries and even pizza as customization add-ons.4
Demonstrate Mindfulness
When you show guests you're using your business platform to advance ideals they share, you win in their eyes, gaining their trust—and their business.
Mindfulness involves nourishing the body, soul, spirit and ecosystem. It's about being fair, sustainable and transparent in everything you do—and involves a holistic vision of health and wellness on a personal and global level. Sustainability manifests itself in such areas as offering plant-based proteins for the health of the earth, treating employees fairly, mindful food sourcing and reducing waste. Research shows consumers want their favorite restaurants to agree with and stand for these ideals.5
Evaluate your operation to see if you need to update your focus, not only to build profitability but to resonate with your guests who want assurance that you're operating deliciously—and responsibly—in their world.
Sources:
Content courtesy of Perdue Foodservice
1Lucas, Amelia, "These Fast-food Chains Have Dropped Menu Items This Year—Here's Why," CNBC.com, Sept. 14, 2019
2Cobe, Patricia, "Does Menu Size Matter?", Restaurant Business, Nov. 21, 2018
3Weaver, Scott, "Four Menu Trends Fast Casual Operators Should Master," Fast Casual, July 23, 2019
4"The Rise of the Dip: Sauces Offer Convenient Meal Customization," Restaurant Hospitality, May 4, 2018
5Demeritt, Laurie, "Mindful Sourcing: Consumers Are Becoming More Mindful About Their Food Choices," SmartBrief, April 4, 2019