Sustainably-Focused Foodservice
Helping operators find just the right products for their operation, customers and community.
Dennis Paper & Food Service is committed to sourcing and offering the best possible eco-friendly product options.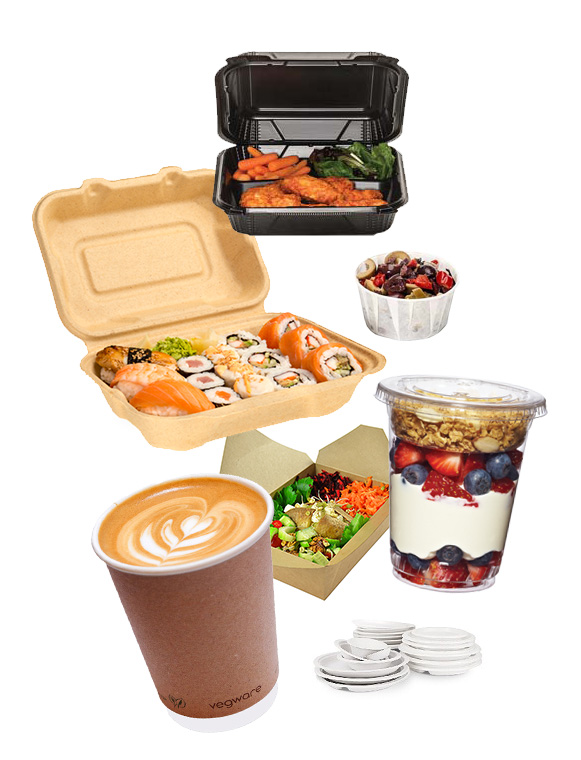 Finding the right fit for your operation starts with understanding the variety of different product options available.
Considering greener products for the first time? it's helpful to be aware of how these products can be mindfully disposed of to reduce your operation's, and your customer's, impact on the planet. Are you looking for packaging that can be reused again and again? Products that can be recycled after they're used? Or, single-use disposable product that are compostable?
Have questions? Want more options? Gain access to even more in-stock products and industry leading suppliers by talking with a Dennis Account Executive.

The most common eco-friendly & sustainable materials:
PET: PET is an FDA approved, sturdy, leak resistant, and recyclable material, ideal for cold foods.
CPET: This is a crystallized form of PET, which allows the product to be freezer and oven-friendly.
PCR PET: Post consumer recycled PET, helping to further reduce waste.
PLA "Corn Cup": Made from corn starch, looks and feels like traditional petroleum-based plastic, but products made from PLA are biodegradable and compostable.
POLYPROPYLENE: Recyclable, mineral filled material designed to reduce the container weight and cost.
MOLDED FIBER PULP: Products are made of biodegradable plant fiber pulp. This material is often a sugar cane manufacturing byproduct known as Bagasse, a renewable material that is certified BPI compostable.
PDF Download: Green Products Learn More: Know Your Recycling Numbers

FABRI-KAL:
Fabri-Kal is committed to producing packaging in the safest and most environmentally responsible way possible. From their use of innovative materials to their ability to reduce unnecessary packaging through design and manufacturing advances, they push the envelope every day.
They're a leader in the use of next-generation eco-friendly materials, including post-consumer recycled PET and plant-based resins. Their Kalamazoo, Michigan, plant was honored with the U.S. Green Building Council's LEED® Silver certification in 2010.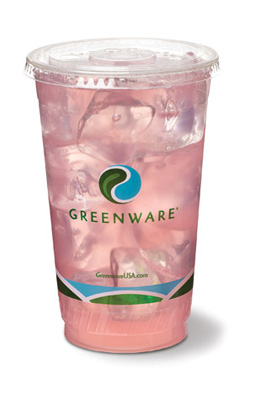 37781 9oz PLA Cup
37783 10oz PLA Cup
37783 12-14oz PLA Cup
37784 16-18oz PLA Cup
37785 20oz PLA Cup
37786 24oz PLA Cup
37791 9, 10 & 20oz PLA Cup Lid
37792 16 & 24oz PLA Cup Lid
39120 2oz PLA Portion Cup
39126 4oz PLA Portion Cup
39152 2oz PLA Portion Cup Lid
39156 4oz PLA Portion Cup Lid
17264 6″ Square PLA Container
12535 6″ Square 4-comp PLA Container
8499 PLA Flat Lid for 6″ Square Container
---
PLATES/BOWLS:
4824 10×12″ Oval Paper Plate
5497 7.5×10 Oval Paper Plate
36513 10" Round Paper Plate
4827 7" Round Paper Plate
4828 9" Round Paper Plate
4830 12oz Heavy Paper Bowl
---
BERKLEY SQUARE:
Years ago, Berk Paper recognized the need for greener alternatives to the traditional plastic cutlery and Styrofoam plates. And, with that, a relentless worldwide search for the right solution began. Shortly thereafter Berk launched their Environ line, complete with cornstarch cutlery and a host of plate, bowl, and container options.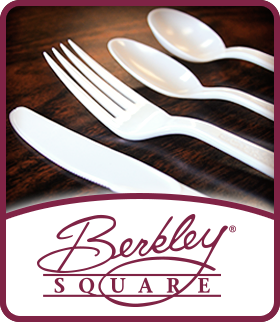 1530 Organic Medium Weight Fork
1531 Organic Medium Weight Knife
1532 Organic Medium Weight Spoon
16861 12oz Kraft Ripple Paper Hot Cup
16863 16oz Kraft Ripple Paper Hot Cup
16865 White Lid for 12 & 16oz Kraft Ripple Cups
---
VEGWARE:
Vegware is a global specialist in plant-based compostable foodservice packaging. Their extensive range of eco catering disposables offers quality environmentally friendly products at competitive prices. Their award-winning hot and cold drink cups, takeout boxes and food containers are made from renewable, lower carbon or recycled materials, and can all be composted with food waste where accepted. Customers love the look and feel of our premium eco-friendly materials, as well as being part of a sustainable, circular economy.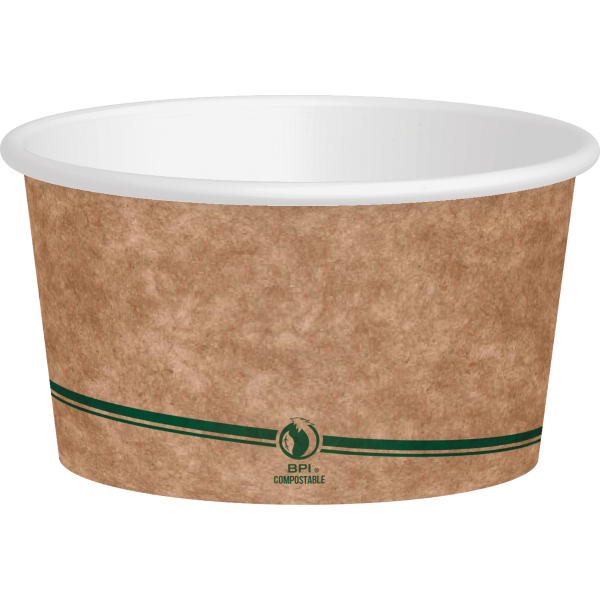 16867 12oz Kraft Paper Soup/Ice Cream Container
17479 8oz Kraft Paper Soup/Ice Cream Container
17483 Clear Lid for 8oz Kraft Paper Container

---
SABERT:
Sabert is committed to sustainability and looks far beyond recyclable or compostable product lines. It impacts their entire business model, from new product development to ongoing modification and product improvements.
Sabert prides itself on a deep rooted commitment to environmental values and responsibilities, which they bring to life each day through continued efforts to reduce their environmental impact. From their facilities to their products – sustainability and quality are never compromised.
11460 32oz Round Pulp Bowl
11461 Clear Lif for 32oz Bowl

---
AMERCARE ROYAL:
AmerCare Royal is a leading importer and supplier of over 1,000 disposable products for the foodservice, hospitality and janitorial industries. They are dedicated to providing the most environmentally-friendly food preparation and service products available on the market. These products are eco-friendly disposables, carefully designed and created to live up to our exacting environmental standards.
10920 26oz Kraft Paper Container
10921 45oz Kraft Paper Container
19547 66oz Kraft Paper Biopak
---
COMPANIONS ECO-BOXES:
Companions Eco-Boxes are environmentally friendly, 100% bio-degradable, coated paperboard containers that are perfect for packaging and taking food on-the-go. Featuring a sturdy design with protective inside coating, for leak resistance; ideal for takeout meals, boxed lunches, and leftovers.
23260 4x3x2.5 Eco Box
23262 6x4x2.5 Eco Box
23264 7x5x2.5 Eco Box
23741 7x5x2.5 Eco Box
---
MCNAIRN:
McNairn Packaging manufactures a broad range of food packaging products for the food service, supermarket, bakery and food processing markets, with an emphasis on creating innovative, value-added products that help our customers succeed. McNairn Packaging products are naturally environmentally friendly. With renewable resources as the basis of our product offering, we have obtained FSC ® & BPITM product certification to provide our customers with authentic and professional-standard certified products.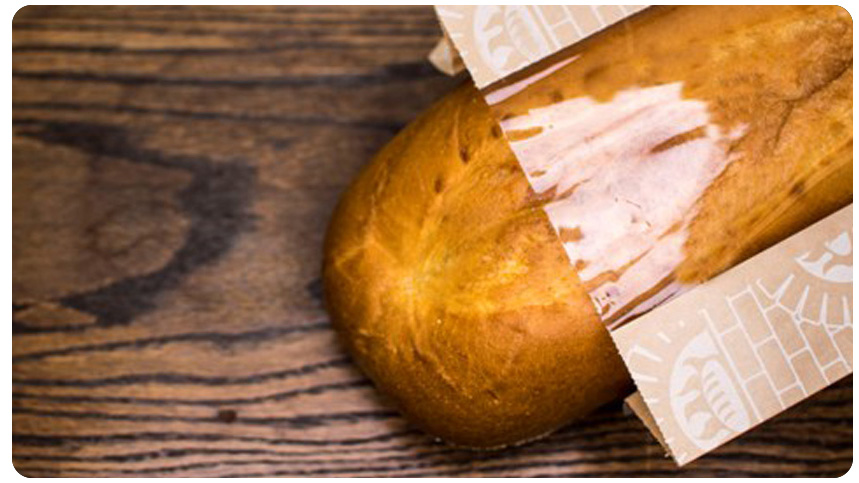 14789 Kraft Wax Sandwich Wrap 15×20
18456 Kraft Brown Freezer Paper 18"
2170 Kraft Natural Deli Waxpaper 10×10
2171 Kraft Natural Deli Waxpaper 15×10
5039 Kraft Butcher Paper Roll 18"
17176 Kraft Windowed Sandwich Bag 5×2.5×10
17174 Kraft Windowed Sandwich Bag 4×2.5×16

---
WORLD CENTRIC:
World Centric® envisions a thriving world and exist to be of service to the planet and people. At World Centric® they try their best to protect the earth's ecosystems and natural resources for generations to come. The proof is in the products they sell, how they run their business, what they do with our profits and the values they hold.
World Centric® compostable products are lighter impact alternatives to everyday plastic and Styrofoam disposables. They use less energy and water to manufacture and cause less pollution overall than petroleum-based products. They come from renewable resources and waste materials.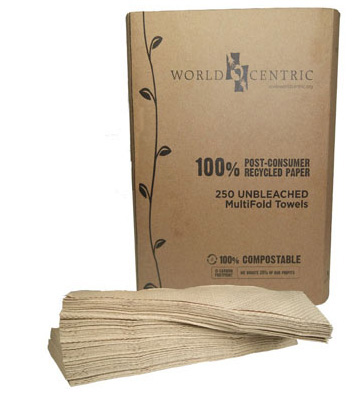 16186 Hot Cup Sleeve 10-20oz
19353 Kraft 2P Compostable Dinner Napkin
19355 Kraft 2P Compostable Lunch Napkin
19527 8-32oz Compostable World Centric Deli Container Lid
---
GREEN STRAWS:
There's no denying that the popularity of plastic straws is dwindling. Today's customers want eco-minded alternatives. We offer two types of environmentally friendly straws; compostable/PLA straws and paper straws.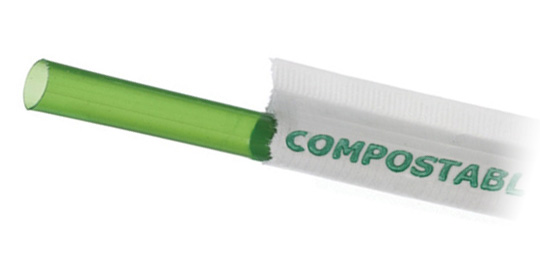 19473 Giant Wrapped Compostable Straw 7.75"
24515 Black Jumbo Paper Straw 7.75"
---
BAMBOO:
As more and more consumers look for everyday products that are environmentally responsible, the emergence of bamboo products on the world's markets offers customers a chance to reduce the catastrophic environmental effects of clear-cutting and deforestation. Bamboo is the single fastest growing species of plant on the planet with some species growing more than a meter a day. In sharp contrast to trees which require decades to recover from harvesting, bamboo reaches maturity in 3 to 5 years or less and when it is cut, the stem is left in the soil to sprout a new shoot and start the growing process again.
14602 Bamboo Skewer 10"
14662 Natural Bamboo Knot Pick 4"
---
BAGS:
6252 T-Shirt Bag12x7x22 14mic
Eco-friendly takeout bags say "Thank You" in green lettering and feature a note that lets customers know it's a biodegradable product, showing that your operation is being responsible with the environment.
22067 Paper Carry Out Bag 12x9x16
Made from 100% recycled paper, features strong and comfortable paper twist handles ensuring safe transport.
---
ANDERSON CHEMICAL:
Anderson Chemical provides your operation with consistent quality and performance. The INTEGRA® Program offers operators the versatility to fit any conditions in their facility. Safe, "bio-friendly" and cost effective are three concepts Anderson strives to build into each product and system they manufacture.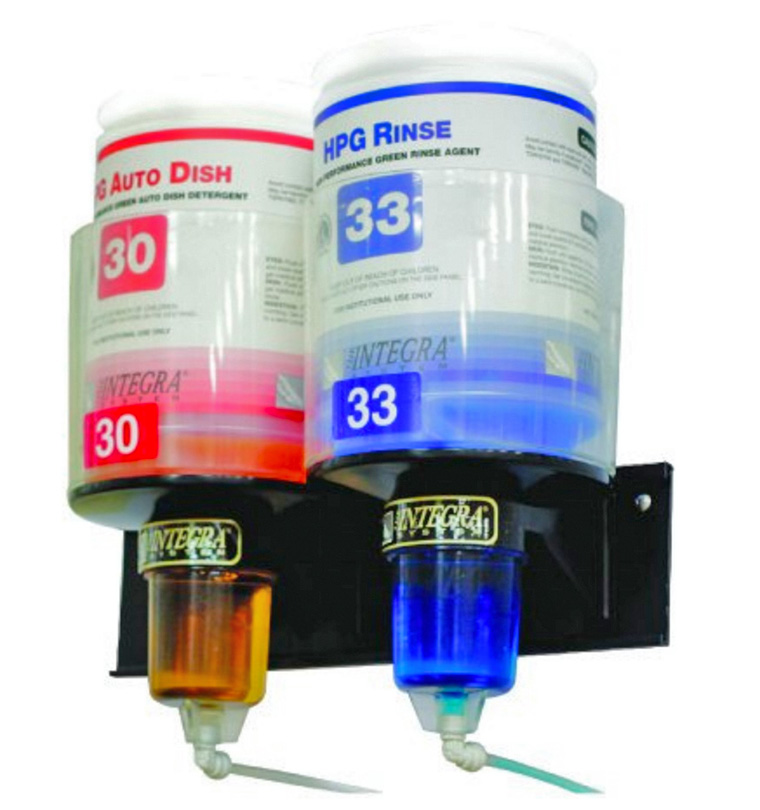 2522 Bio Clean Enzyme Floor Cleaner #1
2524 General Purpose Natural Cleaner "Green" DOSE
2559 Integra Natural Floor Cleaner Degreaser #2
2582 Luster Pot & Pan Detergent "Green"  #10
2583 Integra Invade Utensil Presoak "Green" #9
2715 Citigreen Heavy Duty Cleaner Degreaser
---
WICKED STRONG: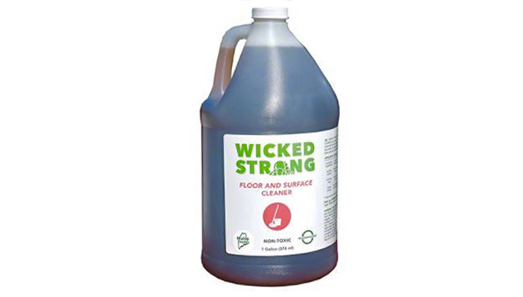 Maine Standard Biofuels transforms used cooking oil into a wide variety of biobased products, like their line of Wicked Strong cleaners. The recycling process at their biorefinery generates near-zero waste.
19263 Non-Toxic Oven & Grill Cleaner
19261 Non-Toxic Cleaner Degreaser
16718 Non-Toxic Floor & Surface Cleaner


UNDERSTANDING THE RECYCLING CODES ON THE BOTTOM OF PLASTIC PRODUCTS
# & NAME

USES & RECYCLING


Polyethylene Terephthalate (PET)
Polyester fibres, thermoformed sheet, strapping, soft drink bottles, tote bags, furniture, carpet, paneling and (occasionally) new containers.

Picked up through most curbside recycling programs.


High-Density Polyethylene (HDPE)
Bottles, grocery bags, milk jugs, recycling bins, agricultural pipe, base cups, car stops, playground equipment, and plastic lumber.

Picked up through most curbside recycling programs, although some allow only those containers with necks.


Polyvinyl Chloride (PVC)
Pipe, window profile, siding, fencing, flooring, shower curtains, lawn chairs, non-food bottles, and children's toys.

Extensively recycled in Europe; 481,000 tonnes in 2014 through Vinyl 2010 and VinylPlus initiatives.


Low-Density Polyethylene (LDPE)
Plastic bags, six-pack rings, various containers, dispensing bottles, wash bottles, tubing, and various molded laboratory equipment

LDPE is not often recycled through curbside programs, but some communities will accept it. Plastic shopping bags can be returned to many stores for recycling.


Polypropylene (PP)
Auto parts, industrial fibres, food containers, and dishware.

Number 5 plastics can be recycled through some curbside programs.


Polystyrene (PS)
Desk accessories, cafeteria trays, plastic utensils, toys, video cassettes and cases, clamshell containers, packaging peanuts, and insulation board and other expanded polystyrene products (e.g. Styrofoam)

Number 6 plastics can be recycled through some curbside programs.


Other plastics, such as Acrylic, Nylon, PLA, Polycarbonate & multi-layer.
Bottles, plastic lumber applications, headlight lenses, and safety shields/glasses.

Number 7 plastics are not typically recycled, with newer materials like PLA now being biodegradable and compostable, and some curbside programs now take them.