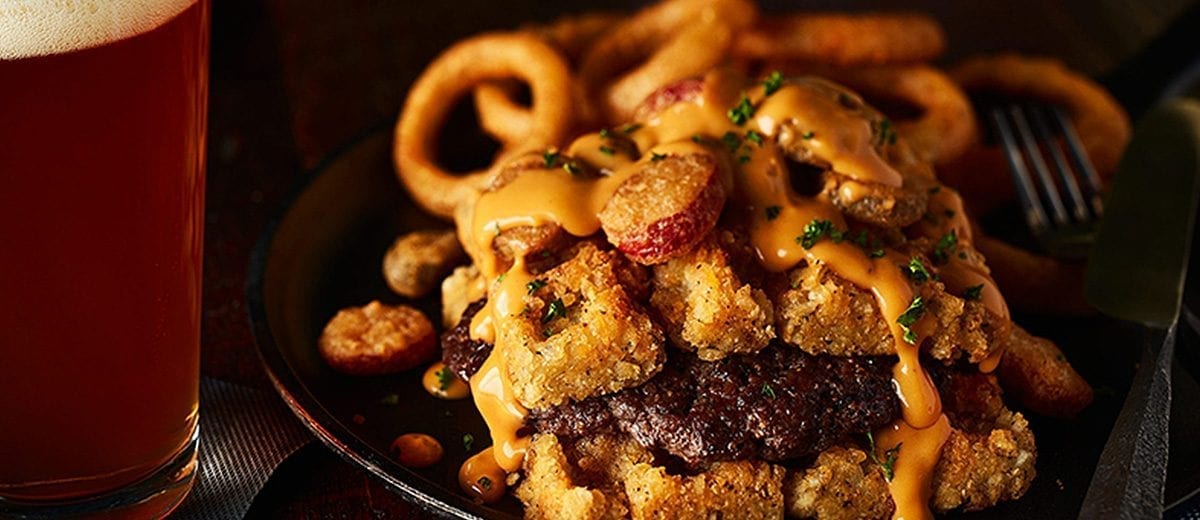 Spread Some Holiday "Cheers" with Special Food and Beer Pairings
The craft beer selection can be a major draw for customers at casual dining operations. In fact, in just 4 years craft beer has grown 16% on menus compared to domestic and imported beers that are declining.1 But beer isn't all guests are looking for. Seventy-one percent want complementary foods that go with those beers.2 To offer the right food pairings, it's important to understand the characteristics of your major beer varieties. Here are some of the most popular craft beers and food ideas for complementing them.
Stouts
These beers have prevalent chocolate, coffee and roasted flavors. Savory, salty foods like an indulgent poutine topped with cheese curds and onion rings make an excellent pairing to contrast the flavors.
American Brown
Browns have a toasty rich malt flavor with notes of caramel and chocolate and a moderate hop presence. Pair with spice ­flavors, slow-roasted foods and savory dishes like American cheese burgers or this skillet ranch poutine.
Amber Ale
The caramel notes and toasty malt make this one of the most versatile beers to pair. Try with rich, aromatic, smoked or spicy foods such as spicy pickle fries.
IPA
The bitter, bready, grainy malt and hoppy aroma of IPAs is very popular right now. Complement it with intense f­lavors like blue cheeses, game and dishes with aromatic spices. The real IPA flavor in the breading of an IPA Ring Toss is also a great pairing.
American Wheat
Bready, doughy and grainy, American wheat beers shine with classic brunch items like omelets and hash browns as well as Asian ­flavors. Try hash brown quiche sliders.
Pale Ale
The balance of malty sweetness and hoppy bitterness pairs well with dishes that contain lemongrass, garlic, cilantro and similar ­flavors. Think flavor-packed nachos.
Lager
This popular, palate-cleansing beer pairs well with almost any bar food from seasoned tots to Jalapeño Poppers and cuts through heat with its cooling malt properties.
For more food ideas perfectly designed to stand up to your craft beer selection this holiday season, visit www.McCainUSAFoodservice.com/TrueBeerFood.
Content courtesy of McCain Foods
1Datassentials Menu Trends™
2Nielsen Craft Beer Insights Poll (CP), June 2017