McCain Appetizers & French Fries

As the world's largest producer of French fries, almost every fry-lover has tasted a McCain Foods French fry. But they weren't always so big. McCain started small—founded by two brothers, Harrison and Wallace McCain, in 1957 in a tiny rural village in Canada. And for the past 50 years, they've stayed true to their hardworking, family-owned roots.
As a family-owned company, McCain® understands the value of your commitment. That's why they're committed to our farmers, to creating great-tasting, affordable products and to understanding the ever-changing needs of consumers.

BOOST REVENUE
Appetizers and Shareable Starters
Southern California-based Black Angus Steakhouse has offered a selection of shareable appetizers since its earliest days. The steakhouse chain, founded in 1964, now operates 46 units around the country. Black Angus' menu focuses on hand-cut steaks that are aged for at least three weeks.
The chain features about a dozen appetizers, fewer than many others in its segment. All are designed for sharing, with some (like the popular Wagon Wheel Sampler Platter) delivering enough food for four people.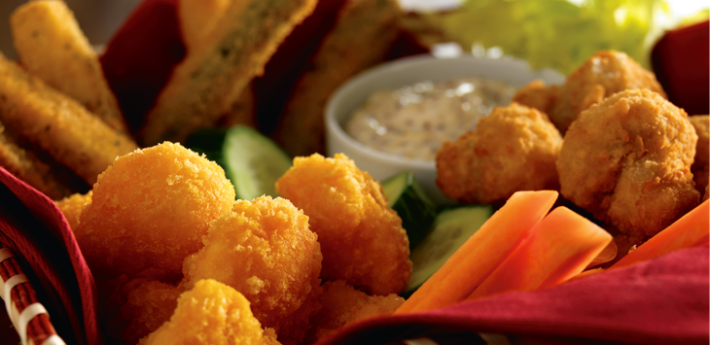 Black Angus was ahead of the shareable appetizers trend. Today, some 41% of consumers say they prefer to order appetizers to share with the rest of their party, according to a recent Starters, Small Plates & Sides Consumer Trend Report from Technomic.
About 40% of Black Angus customers purchase the chain's popular Campfire Feast for Two, says David Bolosan, director of product innovation for the chain. The meal includes any appetizer off the menu. The chain also offers a tiered menu of $4, $5 and $6 apps during happy hour.
"Happy hour is crazy for us right now," says Bolosan, who has been with the chain for four years.. "We're seeing tons of increase in sales."
The shareable-menu format conveys value to diners, Bolosan says.
Black Angus' sampler platter, which includes Crispy Fried Garlic-Pepper Zucchini, Chipotle-Buffalo Chicken Tenders, Loaded Potato Skins and Shrimp Cocktail is the chain's biggest seller. It offers enough food for four diners and is included in the popular Campfire Feast for Two combo.
"A lot of our guests are value-minded," Bolosan says.
With so many fried appetizers, though, Bolosan noticed the fry station becoming overwhelmed on busy nights. So, he set out to create a craveable starter that wouldn't put more strain on the deep fryer.
Bolosan, who has been with Black Angus about four years, pays attention to trend data in industry publications, attends conferences and trade show and follows the menus of competitors like Cheesecake Factory, California Pizza Kitchen and Yard House.
About a year ago, he introduced Steakhouse Chili Nachos. The appetizer features house-made tortilla chips (fried in advance), topped with chili made with ground beef and chuck, jack and cheddar cheeses, pico de gallo, pickled jalapenos and sour cream.
"You get a very appealing app that gets away from the fry station to give them some breathing room," Bolosan says. Plus, the nachos can be made at low cost. The chain is experimenting with menuing the chili in other formats (such as a burger topper). "The nachos, it did what I wanted," he says. "It started causing tradeaway from the sampler platter."
Bolosan, in keeping with flavor trends, also recently launched a honey-Sriracha glaze for wings and chicken tenders.
"It has taken off," he says. "It's a very popular flavor for us."
Operators need to be mindful of their market, though. Bolosan originally wanted to menu a gochujang-honey sauce. "But nobody knew what that was," he says.
"It's the next Sriracha," he says. "Do we hop on it right now or do we wait until it peaks? I'm still pushing it. Everybody wants that elusive millennial and if I don't put something like that out there, we won't get them." But, he says, "You've got to make it a brand and concept fit. I would love to do a Korean taco, but that's not a fit for us."
Bolosan highly recommends developing a thorough new-item testing program. At Black Angus, new items are trialed in a test region for at least a month before being rolled out chainwide. After diners try a new item, a manager gives them a survey to gauge their opinions. They're asked whether they'd make a special trip to Black Angus to try the item again and whether they'd recommend the dish to a friend, among other questions. "Test it as much as you can to understand it," he says. "Test it and prove it's the right thing to do both operationally and financially. It's a combination of operations-friendly and financial responsibility. And then, on the innovator side, can you push the envelope? You've got to show that, yes, our guests are ready."
McCain® Foodservice is a leader in offering high-quality appetizer options for your operation. For tips and tools to improve your shareables menu, visit www.mccainusafoodservice.com.