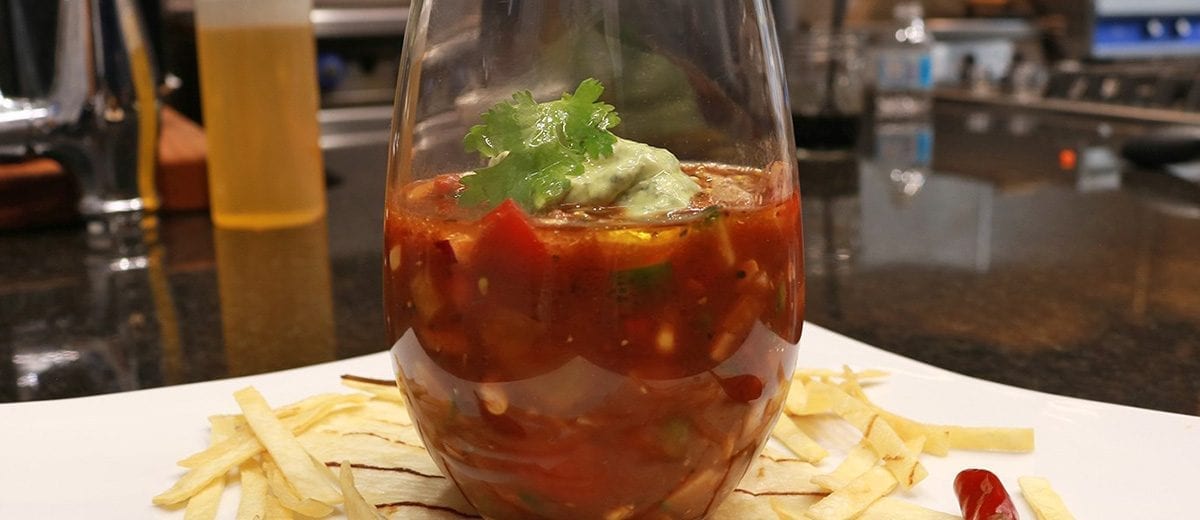 Summer Food Service Recipe: Gazpacho
There is a soup for all seasons… and gazpacho screams summer.
Whoever said summer is not soup season has clearly never experienced Gazpacho. This vibrant refreshing soup is well known in Spain, parts of the Mediterranean and other areas of the world that boast a subtropic/tropical climate. Chalked full of fresh vegetables this chilled soup acts as a refreshing internal air-conditioner, delivering the healthy nourishment needed to keep you moving in the hot summer months. This recipe was broadcast live on Facebook.
INGREDIENTS
For the Gazpacho:
2 cup tomato juice
2 oz balsamic vinegar
2 oz oil blend
1 oz Worcestershire
1 oz Frank's Redhot sauce
3 ea cloves garlic, chopped
2 cup mixed color grape tomato, halved
1/2 cup roasted yellow and or red tomatoes packed in oil; measured with the oil
1 cup cucumber, seeded & diced
1/2 cup red onion, diced
1/2 cup fresh corn, grilled, chilled & cut from the cob
1 ea Poblano pepper, diced
1 cup mixed color bell peppers, diced
S&P to taste
Mix together all ingredients, store in refrigerator for service
For the cilantro avocado sour cream:
2 cup sour cream
1 ea ripe avocado
1/2 bunch fresh cilantro, rough cut, stems are edible
1tblsp ground sumac
S&P to taste
Place all ingredients in a food processor & mix until a smooth. Finished product should be pale green from the cilantro & avocado
SERVING DIRECTIONS & POINTS OF INTEREST
Serve 6-8 oz in a wide-mouth glass, top with a healthy dollop of cilantro avocado sour cream.
Trim flour tortilla into rectangles, grill tortilla rectangles for use as an edible under-liner to keep your glass from sliding. Cut remaining tortilla trim into thin strips and fry; this to will be used as a garnish and adds a crisp dimension to the dish. For a gluten free alternative serve with corn tortilla chips.
Garnish with Calabrian chili peppers or by-colored piquante peppers
Serve as an entree by topping with protein; grilled shrimp, fresh lobster and salmon would all work well
Serve as a rustic "Mediterranean salsa" by increasing the amount of vegetables added to the recipe
Create a new twist on a cypress salad by plating in a shallow rectangular vessel & topping with sliced mozzarella medallions and finishing with truffle salt & truffle oil
See More Recipes