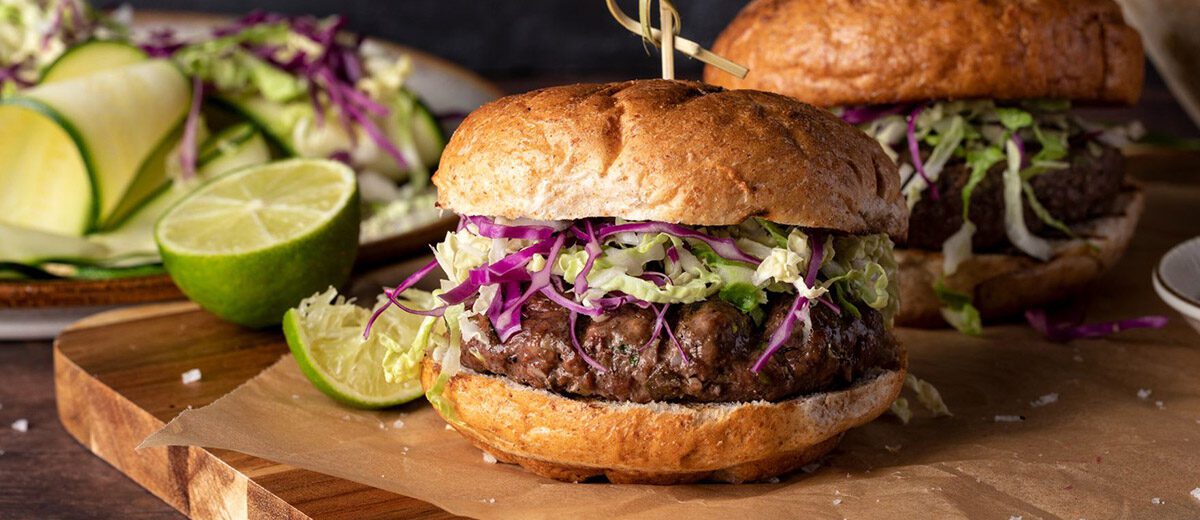 Thai Burger
This recipe brings Pacific-Asian flavors to the forefront or grilled perfection.
These unique burgers are topped with the flavors of Thailand: peanut butter, lime juice and hoisin with the crunch of cabbage.
Servings: 4
INGREDIENTS:
1 pound Ground Beef (93% lean or leaner)
1 cup shredded Napa cabbage
2 tablespoons fresh lime juice, divided
1/2 cup chopped green onions
1 teaspoon ground ginger
1 teaspoon hot chili sauce
1 tablespoon creamy peanut butter
1 tablespoon hoisin sauce
1 teaspoon toasted sesame oil
4 whole wheat or white hamburger buns, split
DIRECTIONS
Combine cabbage and 1 tablespoon lime juice in medium bowl; set aside.
Combine Ground Beef, green onion, ginger and chili sauce in medium bowl, mixing lightly but thoroughly. Lightly shape into four 1/2-inch thick patties.
Heat nonstick skillet over medium heat until hot. Place patties in skillet; cook 10 to 12 minutes until instant-read thermometer inserted horizontally into center registers 160°F, turning occasionally. Season with salt and pepper, as desired.
Meanwhile, combine peanut butter, hoisin sauce, remaining 1 tablespoon lime juice and sesame oil in small bowl. Cover and refrigerate until ready to use.
Place 1 burger on bottom half of each bun; top evenly with peanut butter mixture and cabbage mixture. Close sandwiches.
Cook's Tip: Hot chili sauce, an Asian condiment made from red chilies, garlic and vinegar, imparts a tangy, spicy heat to dishes. Hot chili sauce is available in Asian markets and the Asian section of most supermarkets.
See More Recipes
Source: beefitswhatsfordinner.com