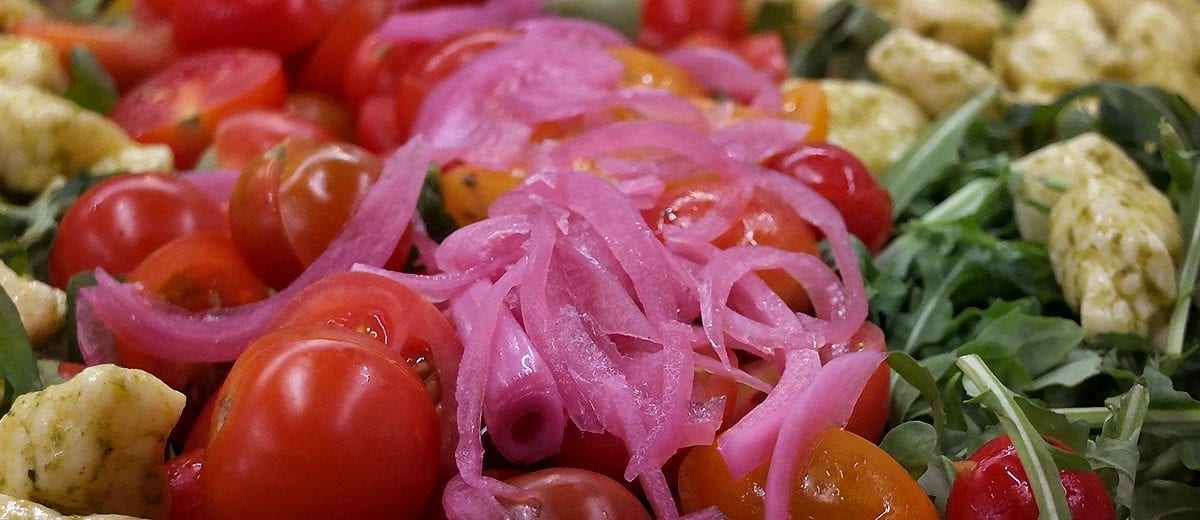 Chef's Pantry: Pickled Onions
Refine your onions with bold flavor and bring visual stimulation to your garnish station; without adding significant cost to your dish.
Pickled onions offer an easy, inexpensive and visual dramatic way to spruce up your burger or sandwich sets, add great perceived value to charcuterie or cheese plates, and they works great when treated as an ingredient for salad dressings, relishes and slaws.
A few things happen when pickling onions…
The red color intensifies once your onions have had ample rest time…we all need rest to be vibrant
The intense onion flavor is partially neutralized by the sugar brine
The vinegar becomes a preservative for the onions, thus prolonging the shelf life
HOW TO:
2 Cups Rice Wine Vinegar
2 Cups Granulated Sugar
.75 Cup Kosher Salt
8 Sprigs Thyme and .25 Cup Peppercorns wrapped in cheese cloth
Simmer everything together until sugar and salt are dissolved. Pour hot mixture over 10 lbs of shaved red onion.  Allow onions at least 24 hours to chill, relax and soak in all the flavors before using.

Use Pickled Onions & Onion brine with…
Sandwiches
Dressings
Marinades
Onion jam
Onion marmalade
Pickled onion hollandaise
Sauces
On charcuterie & cheese plates
On vegetable platters
Use on salads