Empire State Bagel Sandwich
Smoked turkey breast and crisp turkey bacon are surrounded by fresh greens and the peppery zest of house-made watercress cream cheese, adding a modern twist to the New York bagel club. Serve with a side of red cabbage coleslaw to add even more veggies to the meal.
Serves: 1 sandwich
INGREDIENTS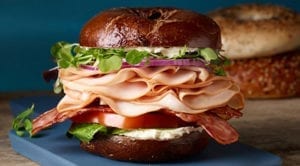 5 oz sliced, smoked turkey breast item #17717
2 slices crisp, turkey bacon item #7506
1 ea. toasted, warm bagel
1/3 cup watercress cream cheese
1 slice romaine lettuce
2 slices thick sliced tomato
3 ea. red onion rings
1/4 cup microgreens
pinch of salt and pepper
Watercress Cream Cheese: 
1 cup chopped, fresh watercress
8 oz cream cheese
2 teaspoon white Worcestershire sauce
DIRECTIONS
Toast the bagel to a golden brown.
On the bottom half of the bagel, spread 1/6 cup of watercress cream cheese, then assemble.
Ingredients in the following order:
– romaine lettuce
– tomato slices
– cooked bacon slices
– smoked turkey breast
– red onion rings
– salt and pepper
– microgreens
Spread 1/6 cup of watercress cream cheese on the remaining half of the bagel. Top the sandwich with the bagel crown, cut in half (optional) and serve.