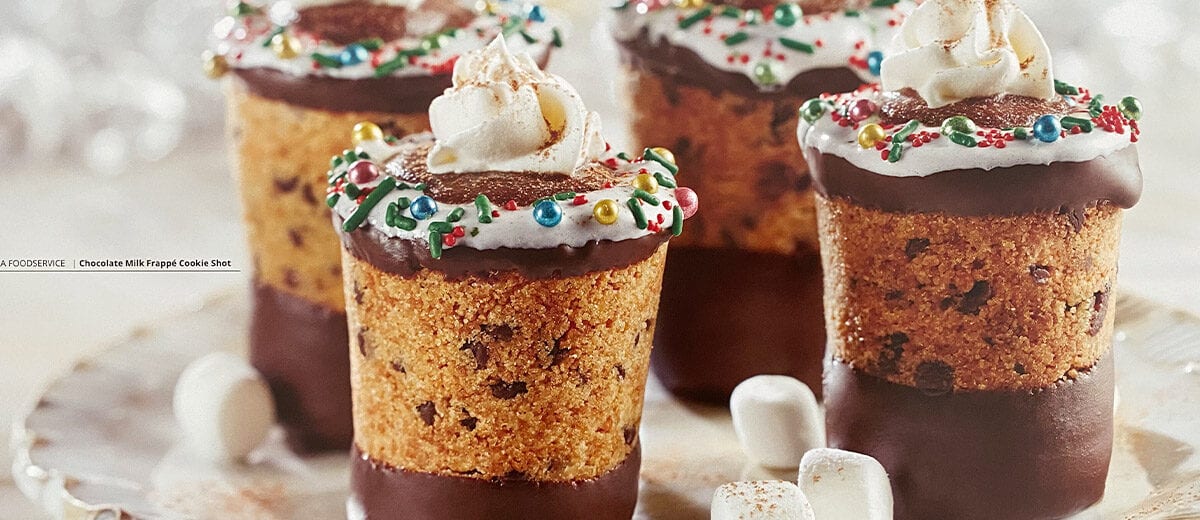 December: Chocolate Milk Frappé Cookie Shots
These house-made Chocolate Cookie Shots transform classic cookies into a whole new eating (and drinking) experience.
Featured for December 2020 in our 2021 UniPro calendar.
Conagra Foodservice

This unique treat turns virtually any cookie dough into a vessel that can be filled with your crazy concoctions – we're partial to a rich chocolatey filling that oozes decadence. Plus, they'll hold milk that's poured when ordered, or pudding and ice cream variations prepared in advance!
For the Cookie Shot Glasses
A cookie shot glass mold (example)
Vegetable shortening ¾ cup
Brown sugar 1/3 cup
Granulated sugar ¼ cup
Large egg 1 each
Vanilla extract 1 tsp
Flour, all-purpose 2 cups + 2 tbsp
Chocolate chips, mini semi-sweet 1 cup
J. Hungerford Smith® Chocolate Waffle Cone & Enrober Coating 1 ½ cup
Reddi-Wip® Real Cream Whipped Topping 1 cup
J. Hungerford Smith® Mellocream® Chocolate Fudge ½ cup
Cocoa Powder ¼ cup
Mini marshmallows ½ cup
Colorful straws 12 each
For the Chocolate Frappé
Milk, whole 1 ½ cup
Swiss Miss® Milk Chocolate Hot Cocoa Packets 5 each
J. Hungerford Smith® Mellocream® Chocolate Fudge cup
Ice cubes 12 oz
Instructions
Pre-heat oven to 350°F. Use a hand blender or stand mixer with paddle attachment to combine vegetable shortening, brown sugar and granulated sugar until it forms a thick paste. Then, add egg and vanilla extract and mix until fully combined.
In a large bowl, slowly fold wet ingredient mixture into flour and salt, by hand, using a rubber spatula. Mix until a dry crumbly dough starts to form.
Once the dough is formed, stir in chocolate chips. Note: This dough will be drier than most conventional cookie doughs. This is the kind of dough that is ideal for cookie shots, do not add water.
Spray cookie shot molds and inserts with non-stick spray. Divide dough into 12 each, 2 oz balls.
Press each dough ball into cookie shot molds, making sure each dough ball is firmly pressed all the way to the bottom of the mold. Make a small imprint with your index finger in the center of each cookie shot, this will act as a guide when pressing the cookie shot with the insert.
Firmly press cookie shot insert into each dough ball until excess dough begins to squeeze out the top of each mold. Use a paring knife to cut away excess dough from around the rim of cookie shot molds. Place in 350°F oven for 18-20 minutes.
Do not remove insert until cookies have cooled completely. When cookie shots are cool, fill each shot to the top with J. Hungerford Smith® Chocolate Waffle Cone & Enrober Coating and then pour out excess enrober, leaving a chocolate layer on the inside walls of the cookie shot.
Allow enrober to set inside each shot before filling.
Prepare Chocolate Frappé
It is best to prepare this recipe right before you are ready to fill your cookie shots. Combine all ingredients in a blender and blend on medium-high speed until a smooth slushy texture is achieved. Pour into cookie shots immediately.
Dip one side of shot glass in J. Hungerford Smith® Marshmallow Topping and allow excess marshmallow to run down side of cookie shot. Place on a wire rack to allow to drip.
Fill cookie shot with 1-2 fluid ounces of Swiss Miss® Chocolate Frappé, ½ teaspoon of Reddi-Wip® followed by ½ teaspoon drizzle of J. Hungerford Smith® Mellocream® Chocolate Fudge and a dusting of cocoa powder. Garnish with 3-5 mini marshmallows, chocolate chips, and a colorful straw.
Miscellaneous Notes
After the cookie shots have been cooled and prepared, dip bottom quarter of the exterior of the cookie shot in J. Hungerford Smith® Chocolate Waffle Cone & Enrober Coating as well, and allow to set.
"Enrober" … Why coat the inside with chocolate? The chocolate coating gives your cookie shot glasses the ability hold liquids and other fillings, preventing it from seeping into the cookie.
Your unique finishing touch can be making festive shots by adding sprinkles, crushed candies (like peppermints) or nuts and other toppings to your chocolate before it hardens. Change things up depending on the occasion or celebration!
How about a chocolate peanut butter variation garnished with crushed peanut topping? Or, an apple cider mousse inside an apple-cinnamon cookie dipped in white chocolate?
Let your ideas and the flavors run wild! Serve filled with chocolate milk, Swiss Miss hot chocolate, pudding, ice cream or in any combination of flavors. Garish with whip cream and serve.
FIND MORE RECIPES