Chicken Salsa Verde Biscuit Pupsa
Salsa verde, cotija cheese, sour cream and cilantro combined with shredded chicken create a delightful and slightly crunch biscuit called Pupusa, an El Salvadorian classic.
INGREDIENTS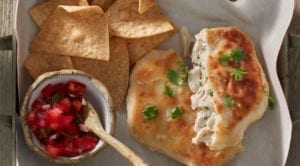 FILLING
1 lb 2 oz thawed biscuits
1 lb cooked, shredded chicken
3/4 cups prepared salsa verde
1/3 cups crumbled cotija Mexican cheese
1/4 cups sour cream
2 tablespoons fresh, chopped cilantro
2 tablespoons finely chopped sweet onion
1 teaspoon lime juice
1/2 teaspoon kosher salt
FINISH
3 tablespoons vegetable oil
1 cup pico de gallo
1/2 cup sour cream
1/4 cup fresh cilantro leaves
DIRECTIONS
Add cooked chicken, salsa verde, cotija cheese, sour cream, onions, cilantro, lime juice and salt to mixing bowl.
Stir until combined and refrigerate until needed for assembly.
Roll each biscuit on well-floured surface to an 8-inch diameter; add approx. 1/2 cup filling to center.
Gently stretch dough edges around filling and press together to seal, creating an approx. 4-inch papusa.
Heat large skillet on medium-high; add 3 tablespoons vegetable oil and place papusa seam side up.
Cook until golden brown and crispy on one side, about 3 minutes; transfer to parchment-lined sheet pan and place seam-side down.
Bake as directed: Convection Oven* 325˚F 12-14 minutes | Standard Oven 375˚F 14-16 minutes 
Serve with pico de gallo, sour cream and cilantro.
Serves 8
See More Recipes