Thai Chicken Pizza
An awesome pie with international appeal. Featuring Sweet Red Chili sauce and topped with Thai satay sauce, grilled chicken, carrots, onions, mozzarella cheese, toasted pine nuts, basil and black sesame seeds and chopped cilantro.
Serves: 1 pizza
INGREDIENTS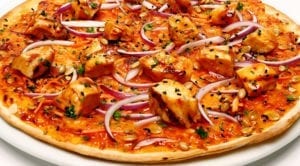 Sprinkle of flour
Sprinkle of black sesame seeds
Pizza dough of choice
2 oz Sweet Baby Ray's Sweet Red Chili Glaze item #4300
2 oz julienne carrots
2 oz sliced red onions
4 oz grated mozzarella cheese
4 oz grilled, diced chicken breast
4 oz Thai satay sauce
2 teaspoon toasted pine nuts
1 tablespoon Thai basil
1 tablespoon chopped cilantro
DIRECTIONS
Lightly sprinkle wooden peel with flour.
Place dough on peel, portion red chili sauce on dough evenly distribute carrots, onions and cheese.
Slide pizza into oven, bake 6 minutes rotating until crust is golden brown.
Remove pizza from oven and slide onto cutting board.
Toss grilled chicken in Thai satay sauce and distribute evenly over pizza; sprinkle with chopped pine nuts, basil and cilantro.
Drizzle Thai sauce in a zig-zag pattern over pizza and sprinkle with sesame seeds. Cut into 6 equal portions and serve!