Sriracha Chicken Grilled Cheese Sandwich
Grilled whole grain ciabatta bread filled with sriracha glazed chicken, Kim-Chi, cheddar and pepper jack cheese.
INGREDIENTS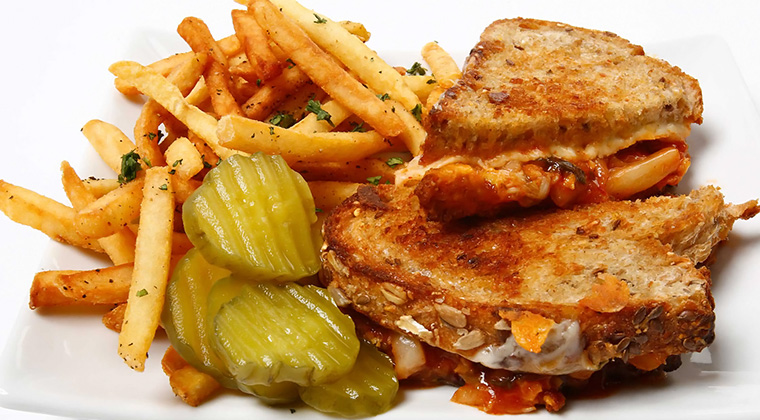 2 ea whole grain ciabatta bread slices
2 ea sliced cheddar
2 ea sliced pepper-jack cheese
2 tbsp chopped Kim-Chi
2 oz diced grilled chicken
1 fl-oz Sweet Baby Ray's Sriracha wing sauce item #11064
DIRECTIONS
Butter each piece of bread on one side and place flat on grill, place slices of cheddar cheese on one piece of bread and slices of pepper-jack on the other piece of bread.
Cover each side with 1 tablespoon of Kim-Chi and 1 ounce of grilled diced chicken tossed in sriracha glaze.
When bread is toasted, using large spatula or pizza reel, place pieces under cheese melter for 30 seconds until cheese is melted.
Fold both pieces of bread together to form the sandwich and cut corner to corner using a chef knife.
Serve with fresh pickles and furikake seasoned fries (if desired).
See More Recipes