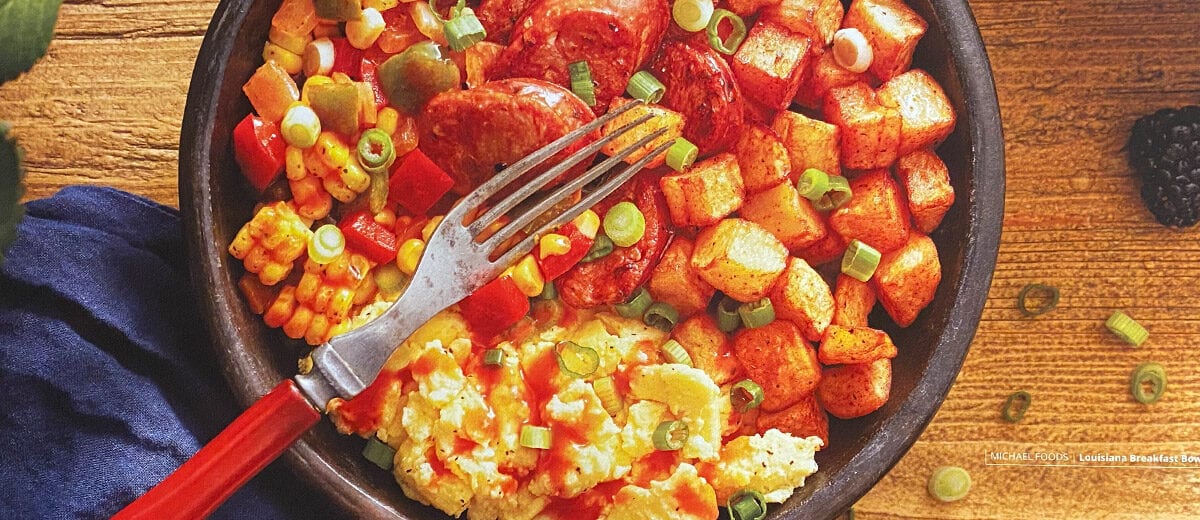 January: Louisiana Breakfast Bowl
This quick and easy breakfast bowl is a spicy and satisfying way to start the day.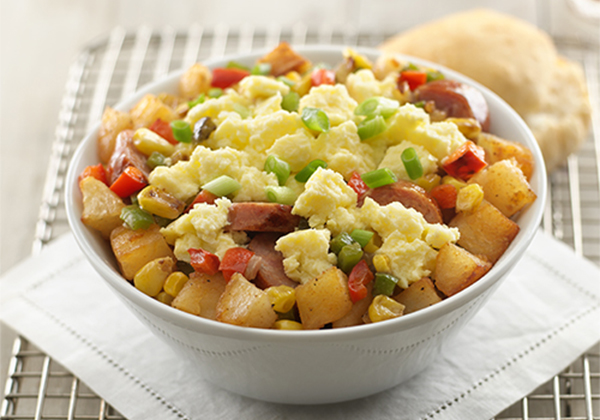 Featured for January in our 2021 UniPro calendar.
Michael Foods

Heat up your menu with this spicy breakfast bowl featuring scrambled eggs, southern style potatoes, Andouille sausage and doused in Louisiana hot sauce.
Ingredients
| | |
| --- | --- |
| Papetti's® Refrigerated Scrambled Eggs, Heated | 4 cup(s) |
| Ore-Ida or Simply Potato Diced Potatoes | 12 cup(s) |
| Vegetable Oil | 1 cup(s) |
| Highland Market Cajun Seasoning | 4 tsp. |
| Corn Kernels | 1 1/2 cup(s) |
| Red and Green Pepper, Finely Diced | 9.5 oz. |
| Onion, Diced | 5.6 oz. |
| Louisiana Hot Sauce | 2 tsp. |
| Andouille Sausage, Sliced | 4 |
| Scallion, Sliced | 1/4 cup(s) |
Directions
Preheat oven to 400°F.
In a bowl, combine diced potatoes with ½ cup oil and Cajun seasoning.
Transfer potatoes to a sheet tray lined with foil. Roast in oven until tender and lightly browned, about 20 minutes.
In a sauté pan over high heat, add the remaining ½ cup oil. Add the corn, peppers, and onions and sauté until tender and lightly browned, about 5-7 minutes.
Remove from heat, add the hot sauce. Stir to combine and reserve.
For each breakfast bowl, divide the roasted potatoes between 8 bowls. Top with ½ sliced Andouille sausage, heated scrambled eggs, and sautéed vegetables.
Garnish each with ½ Tbsp. sliced scallion and serve.
Tips
Sub in flavorful red beans for the Andouille sausage for a vegetarian-friendly option.
Lighten it up with Garden Vegetable Egg White Patty.
Serve with toasted English Muffin and a side of Cajun hollandaise for a deconstructed benedict.
FIND MORE RECIPES