Kogi Dog
A spicy twist on a classic favorite. Homemade sriracha aioli, under a grilled hot dog, topped with napa ponzu slaw and finished with a drizzle of Kogi salsa roja.
INGREDIENTS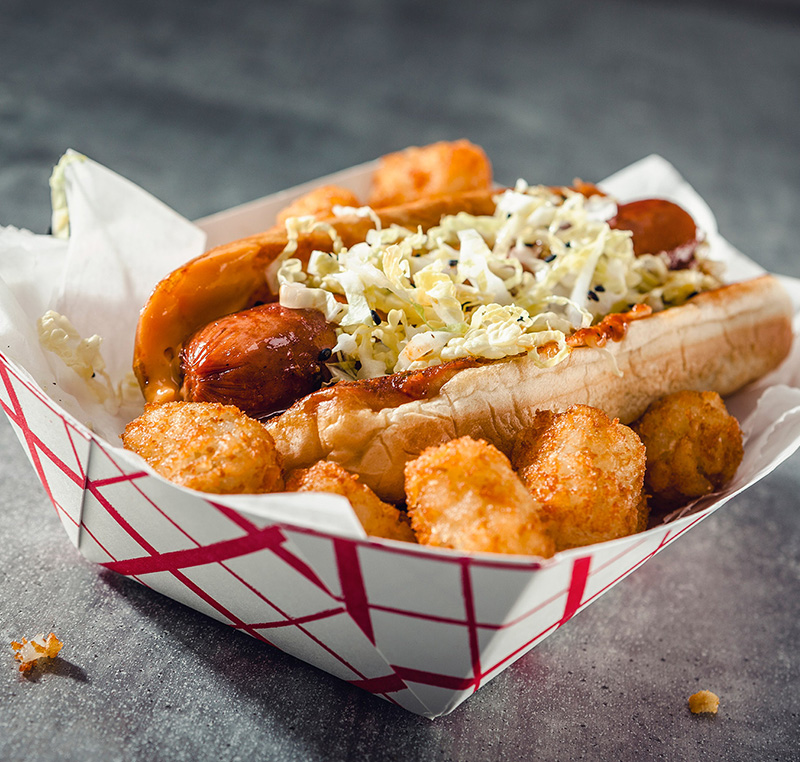 1 ea side split hot dog
1 tablespoon butter
1 tablespoon sriracha aioli
2 tablespoon salsa roja
1 ea grilled, hot dog
napa ponzu slaw
SRIRACHA AIOLI
2 fl-oz sriracha
1 fl-oz mayonnaise
DIRECTIONS
Spread bun on each side with butter. Place on grill to toast.
Remove hot dog from water and place on grill with bun. Remove bun from grill and spread each side with sriracha aioli.
Drizzle each side with Kogi salsa roja. Remove hot dog from grill to bun. top with napa ponzu slaw and serve!
SRIRACHA AIOLI

1. Combine ingredients in a bowl and mix together. label with date, and refrigerate.
See More Recipes

Kogi Salsa Roja


Item #20919
People seek Kogi out. Driving out of their way just to get a taste. Why? One word:

flavor

!
People's palates are changing. They want…no, crave original, uncommon, adventurous flavors. That's Kogi. And now you can take advantage of this trend and serve up the fearless flavor combinations that everyone's lining up for.
See More Sauces