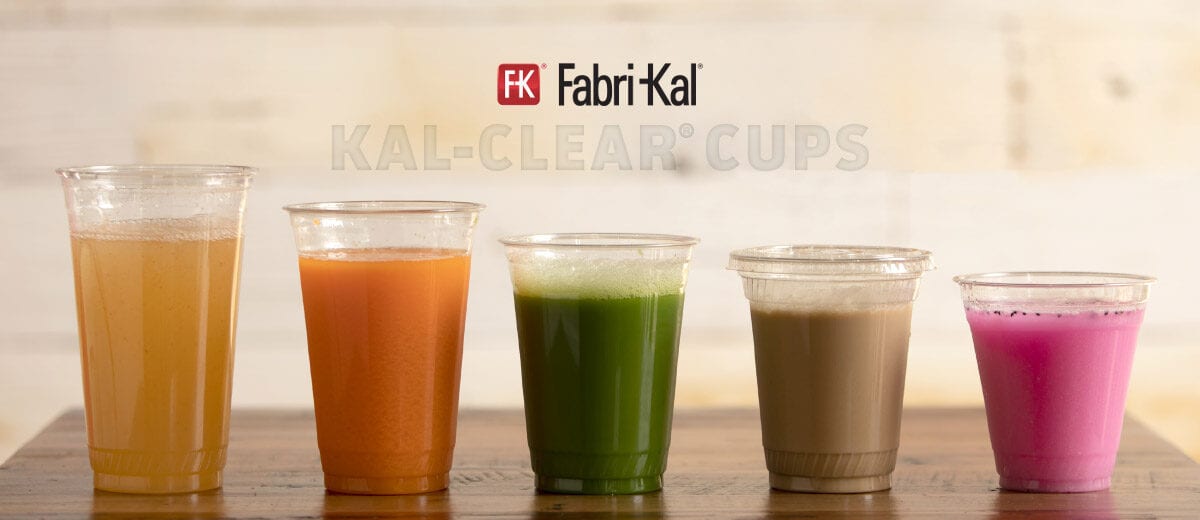 Kal-Clear® Cups, Lids & Inserts from Fabri-Kal
NEW Kal-Clear PET Cups are sturdy, durable and attractive. Crystal-clear for product visibility and enhanced presentation.
Life is a lot easier when one lid fits five cup sizes. Reduce SKUs and improve efficiency. You'll have less back-of-house clutter with Fabri-Kal's PET clear cup and lid solution. Combine with a cup insert and lid to create the perfect multi-ingredient on-the-go packaging.
Cold Drink Cups

Crystal-clear PET cups provide premium product clarity and presentation.
Our cups' smooth rolled rims provide a secure lid fit for added leak resistance.
One lid series now fits the five most popular cup sizes!
Expand your grab-and-go options

Our selection of easy-fit inserts, flat and domed lids make grab-n-go pairings a snap to create and sell.
Made in the U.S.A.
All Fabri-Kal products are proudly made in the U.S.A.
Additional Features and Benefits
Popular cup sizes fit one lid series for simplified inventory
Merchandising options with flat, straw-slotted and dome lids
Smooth rolled rims provide a safe, comfortable surface
Leak resistant snap-fit lid application and removal
#11338 Kal-Clear 12oz squat 12-14oz fill – 1/1000ct
Lid Options: 37604/14902/37445/37446/22445
#26842 Kal-Clear 16oz, 16-18oz fill – 1/1000ct
Lid Options: 37604/14902/22445/37446/37446
#26843 Kal-Clear 24oz – 1/1000ct
Lid Options: #22445/37604/14902/37446/37445
Ask you Account Executive for more options!