Just Heat It
Microwave & Oven Safe Takeout Containers
Patrons will enjoy your hot, delicious food more when their takeout is packaged in microwave and oven safe containers.

With growing demand for to-go and curbside options and the rise of 3rd party delivery services – the business of takeout is big.
This list doesn't even begin to scratch the surface when it comes to food packaging options available from Dennis! Our Account Executives will help you find the perfect takeout products for your business.

Takeout Containers
Featured Microwave Safe & Ovenable
Item
Number

Brand &
Description
Microwave
Safe
Oven
Safe


2209

Anchor
16oz Rect Black Poly


Lid #2231

Yes

24203

Pactiv
Chicken Roaster & Lid
Clear/Black Vented
Yes

17094

Fabri-Kal
8oz Sidekick


Lid #17096

Yes

28059

Anchor
Hinged Container
10.5×10
Yes

25197

Anchor
Hinged Container
6×6×3
Yes

14352

HFA
22oz Foil
Black-Gold & Lid
Yes
Yes

1474

Newspring
16oz Round
Clear Poly & Lid
Yes

6805

Newspring
8oz Round
Clear & Lid
Yes

2271

TriPack
26oz Rectangle
Black Base & Clear Lid
Yes

6081

Versatainer
38oz Rectangle
Black Base & Clear Lid
Yes

6714

Versatainer
16oz Rectangle
Black Base & Clear Lid
Yes

16164

Companions
7″ Round Foil Pan
Board Lid: 6513 Dome: 6394
Yes
Yes

23244

Versatainer
9″ Round Foil Pan
Board Lid: 6513 Dome: 6394
Yes
Yes
---
Ask you Account Executive about our selection of MFPP hinged takeout containers. Mineral filled polypropylene is a kind of of PP modified material with talc/mineral as a main filler. It has excellent comprehensive performance, good processing fluidity and is not easy to warp and deform. The materials can meet the ROHS environmental protection requirements, and can be used to create a wide variety of products.
MFPP – Mineral-Filled Polypropylene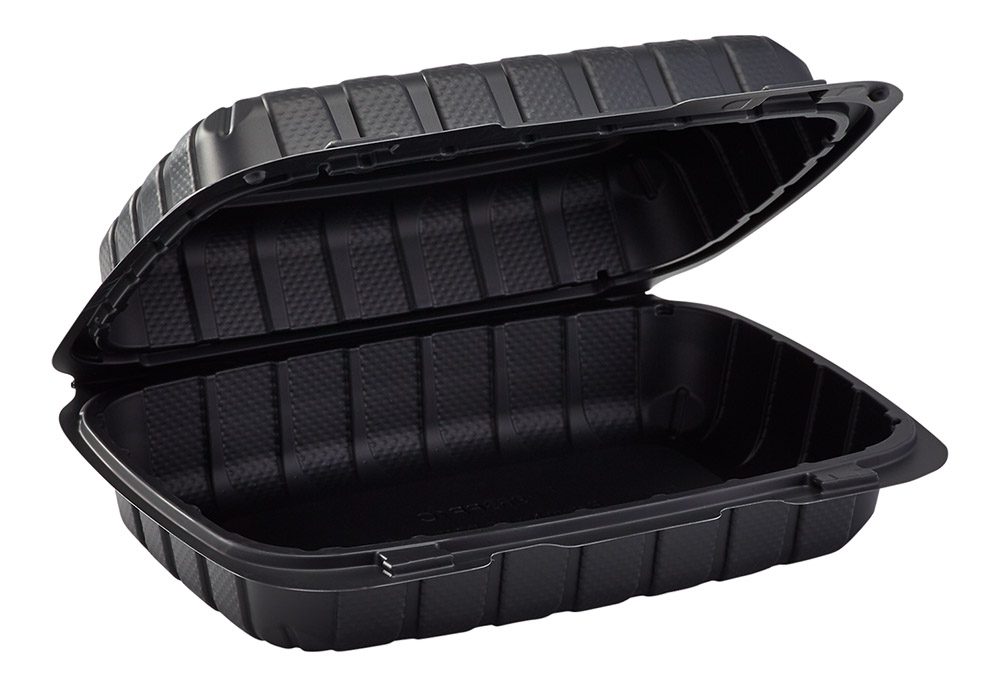 MFPP containers are made with up to 40% natural mineral content – Reducing the amount of total plastic being used to manufacture each container, thus supporting your sustainability goals. They feature non-absorbent, cut resistant surfaces – resistant to sauces and liquids soaking through the container. Versatile, ideal for a variety of food applications – breakfast, lunch, dinner, and desserts. Microwavable safe heat resistant – allows for foods to be reheated in a microwave.
We offer a variety of styles and sizes, choose the perfect container for your takeout!
---
There's

dozens more

where these came from! Ask your Account Executive!
Eco-Boxes
Coated, Kraft Paper Takeout Containers
LEARN MORE

Finding the right eco-friendly products for your operation starts with understanding your options.
Considering greener products for the first time? it's helpful to be aware of how these products can be mindfully disposed of to reduce your operation's, and your customer's, impact on the planet. Are you looking for packaging that can be reused again and again? Products that can be recycled after they're used? Or, single-use disposable product that are compostable?
Learn more: Sustainably-Focused Foodservice Products