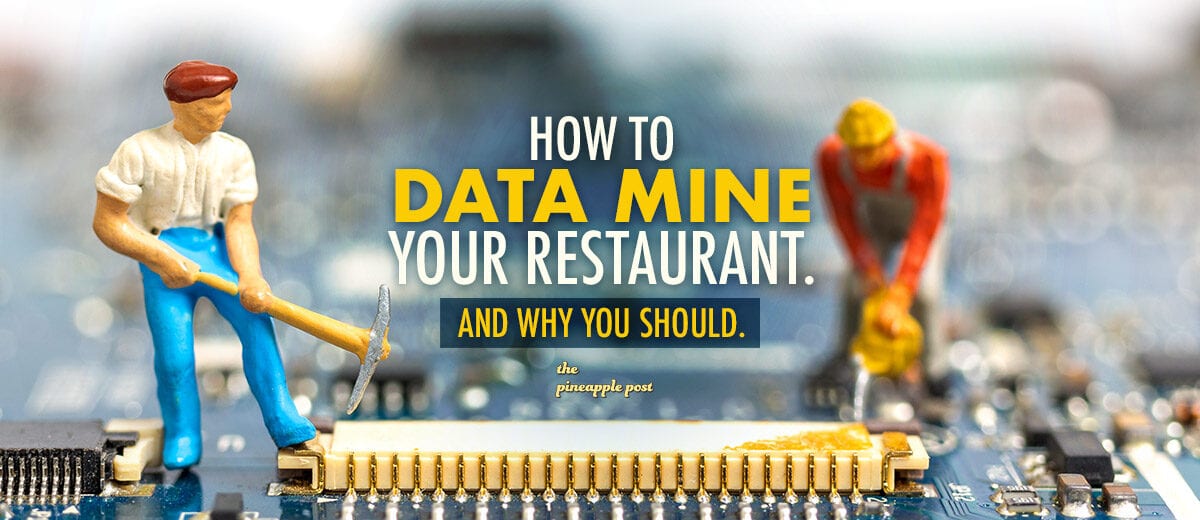 How Data Mine Your Restaurant & Why You Should
Data makes the world go 'round. At least, it's one of the most crucial tools to help keep restaurants successful.
Take a closer look at some of the stats behind popular marketing methods, see what channels make the most sense, and start thinking of creative ways to reach your audience today!
This article is from The Pineapple Post newsletter – Get valuable food service insights delivered to your inbox

once

a week. 🍍 Subscribe Today
---
Phase One: Get Data
Loyalty Programs
The proof is in the pudding. Here are a few statistics about restaurant loyalty programs sure to blow your mind.
Dunkin' Donuts: 7 million active members to the DDPerks rewards program.
Panera Bread: 21 million active members with 50% of transactions happening with MyPanera cards.
Starbucks: 13 million active members with mobile orders having a 16% YOY growth, now at 7% of total sales.
Virtual Events
Virtual events are a great way to engage existing and prospective customers with your brand and offerings. Not sure how to get started? Take a look at some ideas on how restaurants can join the virtual event trend…
Entertainment: artistic and personalized experiences like corporate demos from Cocktail Academy.
Cooking classes and tastings: coordinated food delivery kits and personalized professional touches, like TeamClass, Cozymeal, or Boombox.
Advice: think of online wine classes, like Napa Valley Wine Academy or Disgorged Wines.
Contests/Giveaways
For the food and beverage industry in 2020, the top hashtag by engagement rate was #giveaway, which generated a rate of 3.65% for those companies that utilized it.
Newsletter Signup on Websites
Every $1 spent in email marketing can expect an average return of $42. No other marketing form, digital or physical, comes close to this ROI.
---
Phase Two: Check the Mediums
Who doesn't like having options? But sometimes, the paradox of choice can get overwhelming.  Here are a few of your different options, based on your preferred medium.
Email
Great for developing a gathering via newsletter signups, but make sure your content is valuable to keep people from hitting that god-forsaken "UNSUBSCRIBE" button.
Newsletters
Some of the industry leaders paving the way include BBQ Bus, west~bourne, and Hedge Row.
Drip Campaigns
Increase sales opportunities by 20% with drip campaigns like welcome emails, confirmations, and birthdays.
Text/SMS
Texting is the preferred communication channel of the present, so why should your marketing be anything different?
Boston Market: currently uses SMS marketing for coupon distribution, promo offers, and to drive traffic every three or so days.
Chili's Grill & Bar: sends SMS marketing promos every four days with currently ordering option availability.
Olive Garden: MMS coupons, SMS marketing promos, and restaurant news get sent out on a weekly basis.
Social Media
Social media is another increasingly popular marketing channel. You can boost engagement by utilizing poll features, contests, and giveaways. Here are a few ways how.
---
Phase Three: Get Inspired
&pizza is hardly your average run-of-the-mill pizza joint. Based out of Washington, D.C., &pizza first opened in 2012 and has since expanded to 13 locations across the local region. The core values as set forth by co-founders Michael Lastoria and Steve Salis are unique yet straightforward:
Celebrate oneness
Make it personal
Keep it fresh
Elevate everything
One year after launching, to keep in line with their core values, &pizza reached out to their following on Instagram to text them directly. A simple, cryptic message "Text Us" followed by a phone number instantly allowed consumers direct access to a real person.
#ThePizzaPlug, the name given to this marketing directive, opened doors unheard of from a company prior. According to an &pizza associate, "The Pizza Plug allows our guests to text us directly with any questions or comments, and get real answers, in real-time, from a real &pizza employee."
The answers are coming directly from Cal Millien &pizza's NYC digital community manager. Millien is available to answer texts Monday through Friday from 9:00 am to 6:00 pm. Customers are encouraged to send texts any time, any day, though.
"We use texting for internal communications as it's the most familiar, relatable way for us to stay connected. After seeing how texting let us build deeper relationships with our employees in real-time, we decided to expand it to our guests and take the guest experience to a whole new level."
---
Phase Four: Get the Message Out

Regardless of your platform, you want your message to stick with your audience. Here are a few tips to consider when it comes to crafting your messages.
Email
The goal should be to create a monthly email that provides extraordinary value via recipes, cooking or cocktail demos, event invites, etc. Here an amazing restaurant newsletter created by Bad Daddy's Burger Bar with "badass" offers.
Texting
Texts are brief and most effective for sending out time-sensitive information on a more intimate level. Taco Bell, Papa Murphy's, and Subway and making moves in the SMS marketing world.
Social Media
Choose the platform where you have the most engagement and create a contest that demands interaction. You know what matters to your guests so it should be easy to tempt them into engaging. Respond to every comment inviting them to the restaurant just like Sweetgreen.
---
This article is from The Pineapple Post newsletter – Get valuable food service insights delivered to your inbox

once

a week. 🍍 Subscribe Today