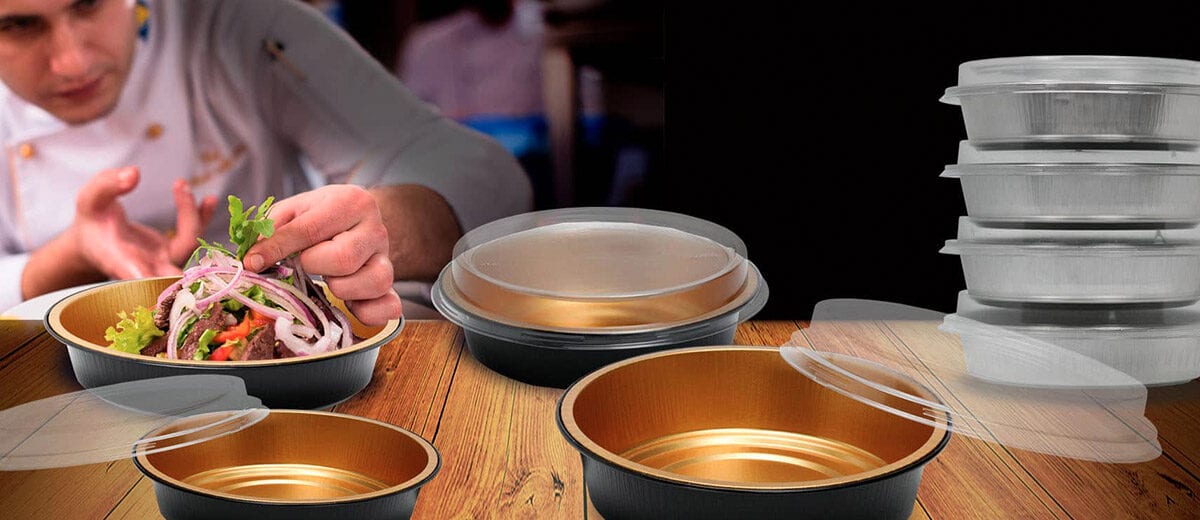 Handi-Stax™ Foil Containers for Takeout
Patent-pending Handi-Stax™ technology delivers the perfect fit. Snap-in-place lid fits over the container!
With nearly 80 years of experience in the aluminum foil container business, Handi-foil of America, Inc. is a privately owned, American manufacturer of foil containers, roll foil, and plastic dome lids.  HFA, as they are commonly known, is industry-recognized as the market leader providing a complete line of foil containers and complementary accessories of the highest quality.
HANDI-STAX™
A solution for delivery, curbside pick-up, supermarket grab 'n go, and take home. With Handi-Stax™ gourmet-to-go has never been easier or looked better!
Elegant and super-strong smooth wall construction transforms pan into serving dish
No more crimping when sealing
Snap-on Dome Lid seals quickly and securely
Rich black & gold (or silver SPO) pan options for high-end presentation
Handi-Stax™
Black & Gold
Top Inner Dia
Btm Dia
Vert Dpth
Fl Oz Cap

OUT OF STOCK


7" Round
w/Dome Lid
6.07″
5.35″
1.72″
24

OUT OF STOCK


9" Round
w/Dome Lid
7.97″
7.18″
1.91″
48
See More Takeout Containers