Guide to Restaurant Social Media Marketing in 2021
A good restaurant social media marketing strategy can help bring customers to your venue. This is because social media is an important tool people use to make purchasing decisions.
This is especially true when it comes to choosing where to eat⁠—people love sharing and searching for photos of food. In fact, according to TouchBistro, 41% of people have decided to eat at a specific restaurant based entirely on positive social media feedback.
This means it's crucial for restaurants to have a strategy for how to use these platforms to attract customers. Even if you aren't a social media expert, taking small steps such as setting up your profiles can make a big difference to how much exposure you gain in the online world.
In this article, we'll look at what you need to do to nail your restaurant's social media marketing.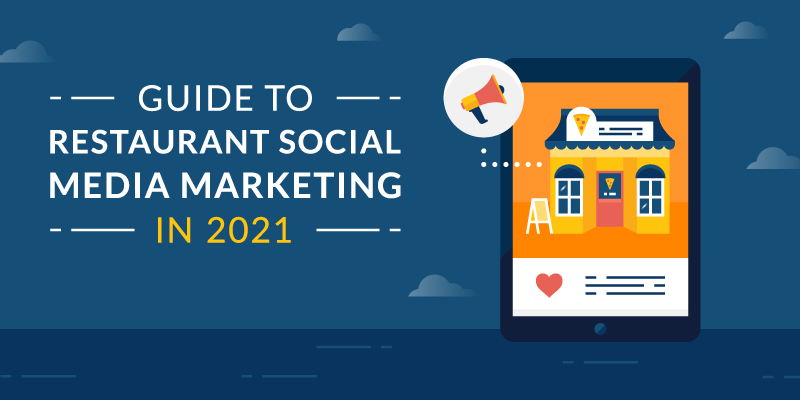 Step One: Build Your Restaurant's Social Media Marketing Presence
First, set up your restaurant's social media accounts on the platforms most used by your customers or the people you want to attract.
Facebook and Instagram are the core social media platforms for most restaurants. If you think it will help reach your audience, consider making a Twitter, Snapchat, TikTok, or YouTube account.
How to Set Up Your Restaurant's Facebook Profile
With over 2.4 billion users worldwide, Facebook is the most widely used social platform. It's a key part of any social media strategy. What's more, reports suggest that over half of consumers have used the social network to discover new businesses.
The good news is that Facebook makes it easy for restaurants to set up a business page. It's also completely free to get set up.
You just need to click on "Create a Page" and then fill out the profile with all the information your customers might need. Your profile should include:
Opening hours
Address
Website URL
Phone number and other contact details
Menu and information about the food—including images
When it's likely to be busy
Customer reviews
Even if you rarely post to your page, having one with up-to-date information will ensure you show up when people search for your restaurant on Facebook. If you optimize your page well you may also show up for more general terms like "[your location] restaurant."
In this article, we go into greater detail on Facebook marketing strategies you can use at your restaurant.
How to Set Up Your Restaurant's Instagram Profile
Instagram is another hugely popular platform for restaurant social media marketing. It's also a great social platform for restaurants, as people love to share beautiful photos of food and social events.
Like Facebook, Instagram can have a strong influence on purchasing decisions. A study run by UK-based Italian food chain Zizzi found that 30% of 18 to 35 year-olds would avoid a restaurant if its Instagram presence was weak.
An Instagram business page looks almost the same as a regular profile on the platform. However, business profiles have access to advanced statistics about posts.
The burger restaurant ShakeShack has an excellent Instagram profile. It features a short bio that tells the customer more about the restaurant, and there is also a link to the website so customers can find out more about the company and order food online. ShakeShack also makes good use of Instagram stories. It has nine stories pinned to the profile, each one containing more information about different products and initiatives.
The downside to Instagram as a social media marketing tool is that you can only add a link to your profile in the biography section, not on individual posts.
Rather than directing users to your homepage, consider pointing them towards the most important part of your website. For example, your page for online reservations, online food ordering, or downloading your app.
Check out this post for more Instagram marketing ideas for your restaurant.
Step Two: Create Great Posts
Once you have your profiles up and running, you need to start posting. This is a crucial step to building your social media presence. Here is some social media post inspiration.
Images of Menu Items
The most common type of restaurant social media post is images of food. These appetizing photos are what will encourage people to visit your restaurant. Add a description of the image and some relevant hashtags and watch the likes come flooding in.
You could use these posts to introduce new menu items, or simply encourage people to visit your restaurant. Or you might want to combine images of your food with some of the post types mentioned below.
Special Offers
Promoting offers on your social media profile can be a good way to get people through the door.
According to TouchBistro, 80% of restaurant-goers have visited a restaurant based entirely on receiving a promotion. And if they have a great experience, they're likely to keep coming back.
Consider using these social media promotions to increase footfall at times when you are otherwise quiet or use them to encourage visitors to try new menu items.
This article has a whole section about how to use offers to attract customers to your restaurant.
User-Generated Content
Resharing user-generated content shows you engage with your customers and can encourage people to post about your restaurant.
It's also a good way to get high-quality content for your social media accounts for free. Just make sure you get permission from the person who posted the image before you share it.
Many restaurants share user-generated stories while leaving the main profile for the content they create. If the person who made the post tagged the restaurant or made the story public, it's easy for restaurants to reshare the content.
Competitions
Competitions are a great way to spread the word about your business. Make sure you choose an appealing prize—for example, a free meal at your restaurant—and a way of entering the competition that will increase the reach of your social media profiles.
Here are some examples of how to do that:
Ask people to comment on an Instagram photo and tag someone they want to go to your restaurant with. Choose one of the answers and give the winner a free meal.
Ask people to share a Facebook or Twitter post and then choose a winner.
Ask customers to share images of your restaurant using a specified hashtag and then choose the best one from the shared images.
Gain more followers by asking customers to like a post and follow your account to be in with a chance of winning.
Jokes and Memes
If it fits in with your brand voice and target audience, consider posting jokes and memes. This is an effective way to connect with your audience in a way that seems less promotional.
The above post from Nando's works because it's funny, light-hearted, and isn't overly promotional. By sharing jokes with its audience, the company connects with them on a deeper level.
Behind the Scenes Content
Posting behind-the-scenes content can help make your business seem more personable.
Images of a chef preparing food for the evening with a description of what they are doing gives the audience an exclusive look 'backstage' and adds a human element they can relate to.
Use this type of content to tell your restaurant's story, such as how you choose fresh, locally sourced ingredients.
What Makes a Great Restaurant Social Media Post?
High-Quality Images
Images are by far the most important part of your post as they are the first thing people will see.
If you aren't confident in your photography skills, consider hiring a professional to take photos of your food for you. This is a good investment as you can use these photos throughout your marketing.
Engaging Text
Your post's text is where you get your message across. Make sure it is clear, grammatically correct, and error-free. When writing your social media posts, consider your target audience and write in a voice that will appeal to them.
Be creative—think about including information about the menu items in the picture to make them even more appealing. Explain the cooking process or talk about how you source ingredients.
Asking questions is a good way to drive customer interaction. Speaking directly to your customers will encourage them to comment on your post, which can increase visibility.
Well-Researched Hashtags
Hashtags are an effective way to get your post in front of more people as they help your post show up when someone searches for the topic.
Before publishing, research trending hashtags people use in your area when searching for places to eat out. An easy way to do this is to look at the hashtags your competitors are using.
Alternatively, search for terms and see which ones are popular. Useful hashtags include those based on the name of your area plus "restaurant," or the name of your area plus the type of food you sell.
Depending on the area and the competition, you may want to be quite specific when using hashtags. Instead of #londonrestaurant, which has almost half a million posts, use #hackneyrestaurant to gain greater visibility.
You can use up to 30 hashtags on a single post. While some people think lots of hashtags look like spam, you can hide them further down your description so that people only see them if they click on your post.
Ultimately, the best way to decide on the optimum number of hashtags is to experiment with your posts to see what works.
Step Three: Use Social Media Influencers
Social media influencers can be a good way to get your restaurant in front of many people.
There are several ways to use influencers.
Paying for a post is the easiest way. If you decide to pay an influencer to post about your restaurant, be sure to choose one with an audience similar to the one you are targeting. This includes the demographic you want to target as well as the location.
You'll also want to check how an influencer's audience interacts with them. An influencer with a smaller number of engaged followers can be better than one with a large following that doesn't interact with their posts.
Another option is to use your customers as micro-influencers. This can be an effective way to market your restaurant, as studies have found that people trust recommendations from friends and family.
Here are some ideas about how to encourage customers to create social media posts about your restaurant.
Offer freebies or discounts to people who post about your restaurant. This strategy can result in more social media posts while requiring very little work.
Put on an event and invite people. Search for people who have either already posted about your restaurant, or who have posted about other restaurants in the local area. You could include a mix of micro-influencers and people with larger followings.
Step Four: Focus on the Food
The food you serve, and more specifically the way you present it, is arguably the biggest influencing factor on whether people share your food on social media.
When creating dishes, consider if there are any ways you can make the presentation more social-media friendly. This doesn't require gimmicks or a revamp of your menu; it's more about making subtle touches to the dishes that make them appear more attractive.
And don't stop at the food. Take advantage of your interior to attract social media coverage.
Interesting lighting or interior design features can create unofficial photo areas that people seek out to take and share pictures.
Social Media Is a Key Part of Your Mobile Strategy
People are spending more and more time on their phones, which is why it's critical to have an effective mobile strategy.
Social media is a key part of this, and doing it well can help make customers aware of your restaurant.
However, it's not the only part of a mobile marketing strategy. Combining your efforts with a mobile app can keep your restaurant full by attracting and keeping customers.
Mobile apps benefit restaurants by enabling them to create a loyalty program for customers and providing booking services and special offers.
Source: Milolaj Ziemianek, App Institute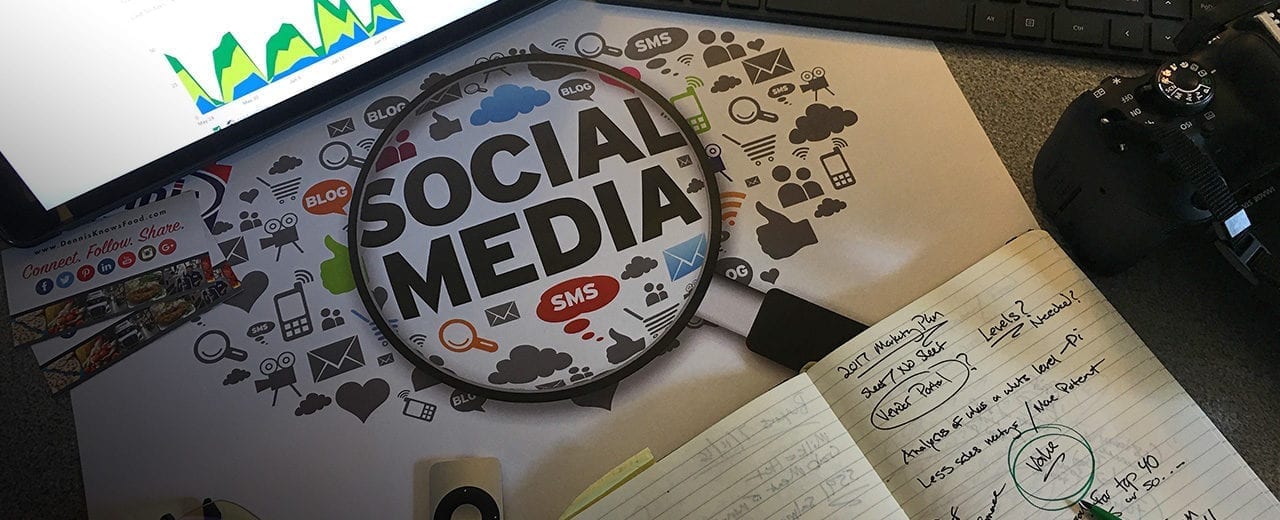 Social Media 101
Best practices, resources and helpful information for digital marketing in foodservice operations.
Improve Your Social