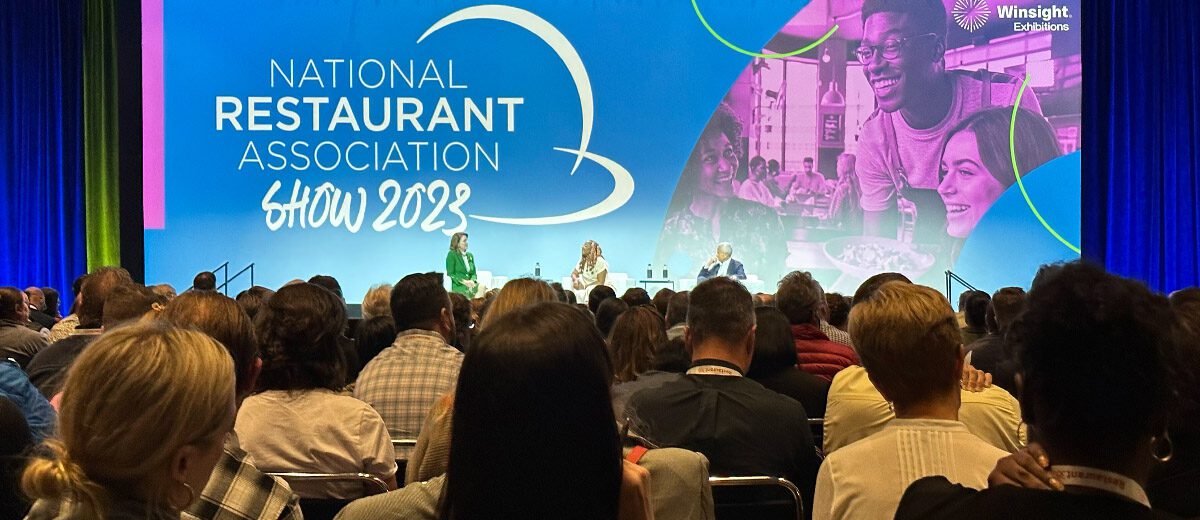 Exploring Innovation, Trends, and Foodie Culture at the National Restaurant Show
By Luke LaBree
Chief Marketing Officer / Dennis Food Service
The National Restaurant Association's 2023 Restaurant Show, held at McCormick Place in Chicago, Illinois, brought together over 50,000 food service professionals and restaurateurs from around the world.
This annual event showcases the latest products and innovations from global businesses to boutique brands, and is the best place to see emerging trends, and immerse yourself into the vibrant foodie culture shaping the culinary landscape. I had the privilege of attending this remarkable gathering alongside Dennis corporate chef Timothy Labonte and wanted to take the opportunity to share some of that experience.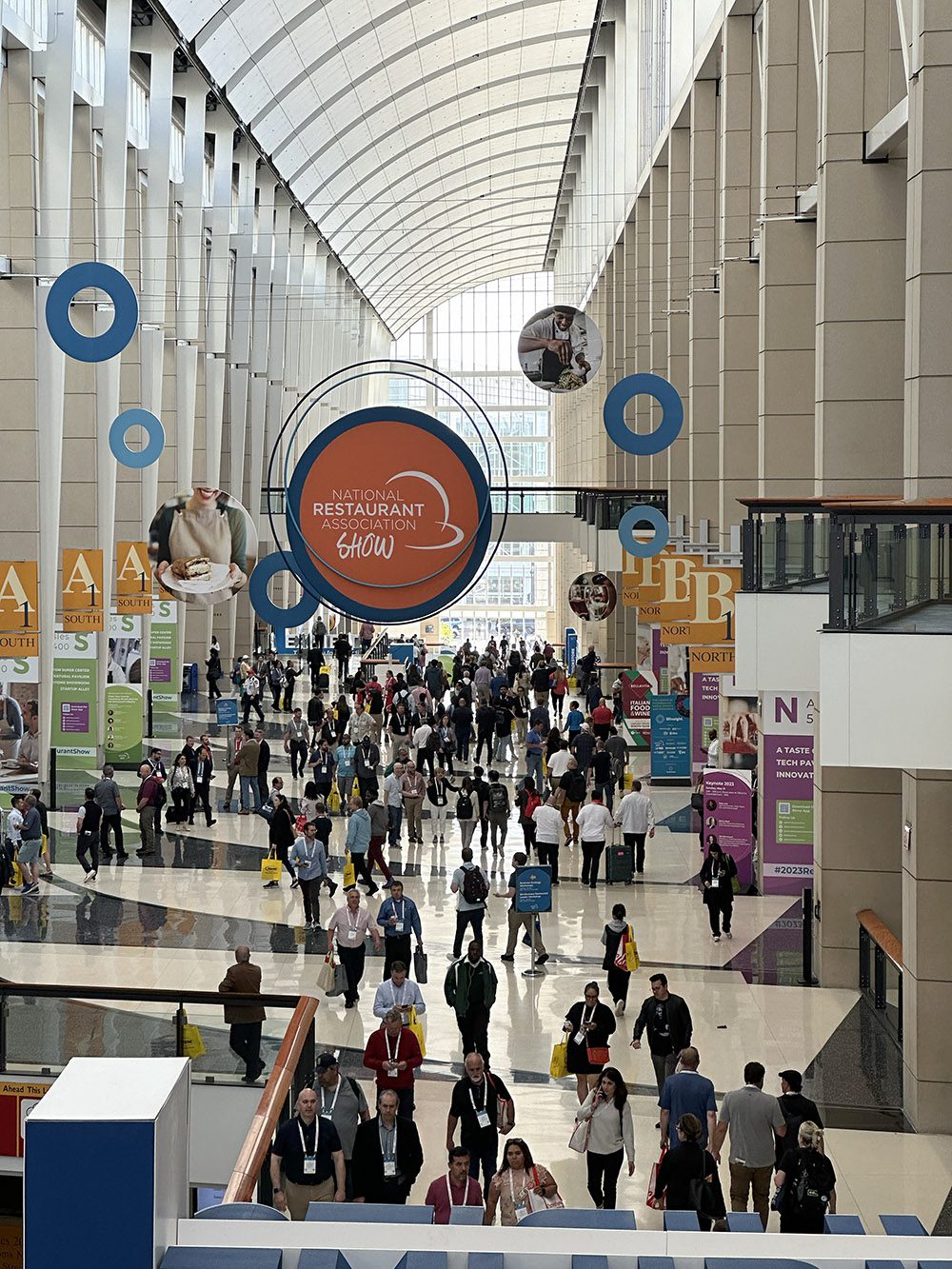 At the heart of the show, innovation was on everyone's mind as exhibitors unveiled their products and inventions. One of the new products we tried, which also received a FABI Innovation award this year, were McCain's Mini Mashers. Mini Mashers are little spheres of creamy mashed potato encapsulated in a crispy coating. To put it another way, Mini Mashers are to mashed potatoes what popcorn is to chicken. Rameking's "first in, first out" ramekin storage dispenser was one of my favorites for its clear "where have you been all my life?" function. I could hear a tray of stacked ramekins falling over in my mind as I yanked a sauce cup from the elegant Rameking solution.
We also got hands (and mouth) on Fontanini's cup-and-char sausage; a new development achieved by tapping into the pepperoni expertise of parent company Hormel. A company by the name of FLAT showcased their impressive table-leveling technology. Their "equalizers" eliminate the need for folded napkins or coaster wedges under wobbly table legs. We watched as they gave a push or a tug to uneven tables, and they magically remained corrected. We also loved the demonstration from Vito of their unique hot oil filtration system, and the presence of a company specializing in restaurant planning using virtual reality was another indicator of the cutting-edge technologies finding their place in the industry. But not all innovations were tech-centered. One item caught my eye for its simplicity—Crayangles, triangle crayons that don't roll off the table. As a father who has retrieved countess crayons from underneath restaurant tables, I liked these a lot.
The National Restaurant Show is also one of the best places to get a look at emerging trends in food service, providing insight to ever-evolving consumer preferences. Throughout the exhibition, it was evident that Boba (Bubble Tea) is quickly becoming a mainstream sensation. Again, as a father, I can attest that kids are taking parents out of their way to find bubble tea. And, after sampling boba from numerous vendors featuring exotic flavors, customized ingredient combinations, and even bursting "bubbles"–I can see why.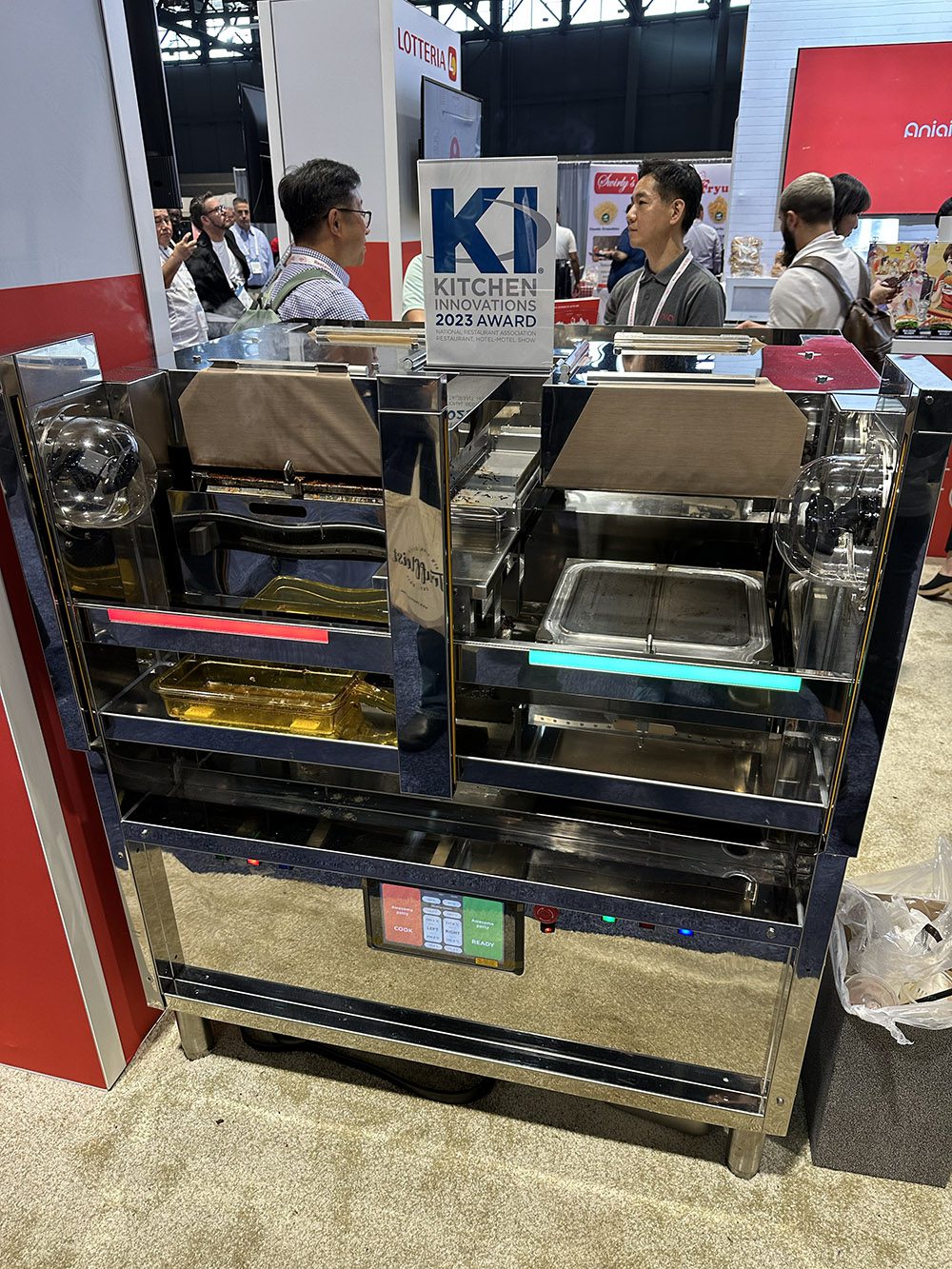 But there was a trend at the show that was seemingly everywhere: the integration of robotic and AI solutions. A presentation at one booth involved robotic griddles equipped with lasers and cameras, specifically designed for preparing burger patties. The Alpha Grill from Aniai utilizes AI algorithms to determine the optimal cooking time and temperature, ensuring consistent and perfectly cooked patties every time. Another booth featured a robotic arm that retrieved French fries from a freezer and dropped them into a fryer. And more than one vendor had "servant droids" functioning as robot waiters, whirring around their booths. These robots were capable of delivering trays of food to tables or within a facility; demonstrating a futuristic approach to service that's not very far away. By utilizing AI algorithms, these robot waiters were able to navigate crowded spaces, recognize obstacles, and interact with customers in a polite and friendly manner. AI was also incorporated into countless software solutions demoed at the show. Solutions aimed at enhancing customer discovery, brand engagement, experience, order capture, and even employee well-being. The takeaway; AI is enabling restaurants to gain valuable insights, optimize operations, and make data-driven decisions in ways they never have before.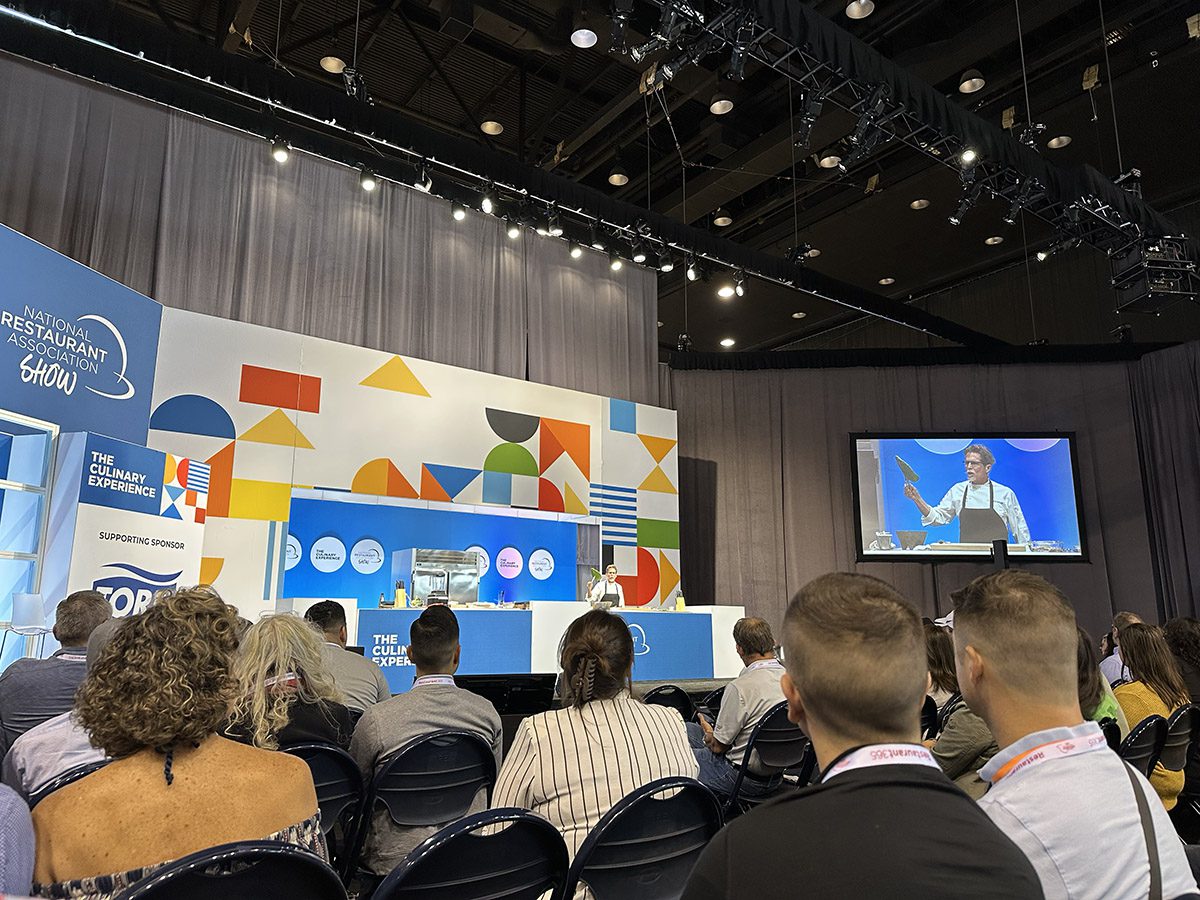 When it comes to foodie inspiration, the 2023 Restaurant Show presented countless culinary experiences to make mental note of. While exploring the exhibition we discovered exceptional products, flavors, and novel ideas that kept our gears turning. Among our favorites was a triple-cream artisan Greek yogurt, produced by a small family creamery and boasting a rich and velvety texture. Planet Oat unveiled a new Barista Edition of their Oat Milk which, combined with espresso from locally roasted beans, was the best cup of coffee we had at the show. I believe one highlight for Chef Tim was when the team from Savor Imports took us around their booth, sampling ingredients from across the globe. And I enjoyed sitting down with Kelly from Tyson to sample their award-winning fully-cooked, sliced pork belly. Which, like McCain's Mini Mashers, picked up a FABI Innovation award this year. From jumbo tater-tots to Portuguese custard recipes 400 years in the making, we sampled it all. One category that has clearly grown a lot, and continues to innovate, is plant-based foods. We were pleasantly surprised (narrowly avoiding seared tongues) by an exceptionally melty vegan cheese, which further highlighted that plant-based alternatives are quickly becoming stronger rivals for their animal-based counterparts in taste and performance.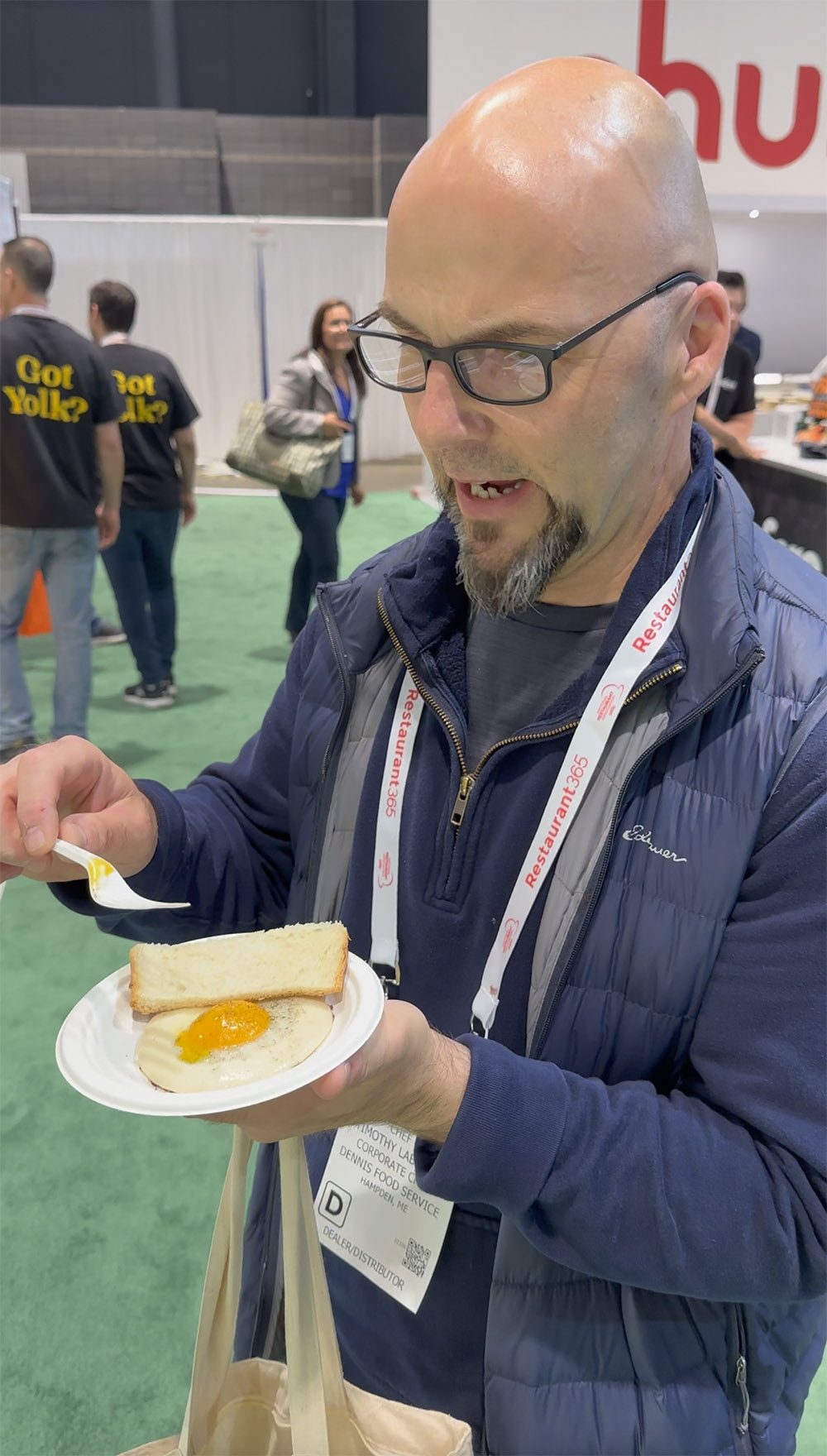 Although the category is still in its infancy, the prominence of the plant-based foods at the show reflects the increasing demand for meat-alternative and health-conscious menu options. From plant-based eggs to vegan dairy options, there were aisles seemingly dedicated to exploring the possibilities of plant-based alternatives. We experienced the flavors and textures of everything from vegan burger and chicken substitutes to ice cream and seafood alternatives. One standout was Yo Egg's plant-based egg products, which surprised us with their uncanny resemblance to traditional eggs, including a runny yolk that left you asking "but… how?" We also enjoyed the taste and texture of a plant-based rib sandwich that closely mirrored McDonald's intermittent McRib, but then again, just about anything would taste good with enough BBQ sauce on it.
The National Restaurant Association's 2023 Restaurant Show was an extraordinary experience, and one that I highly recommend should you have the opportunity.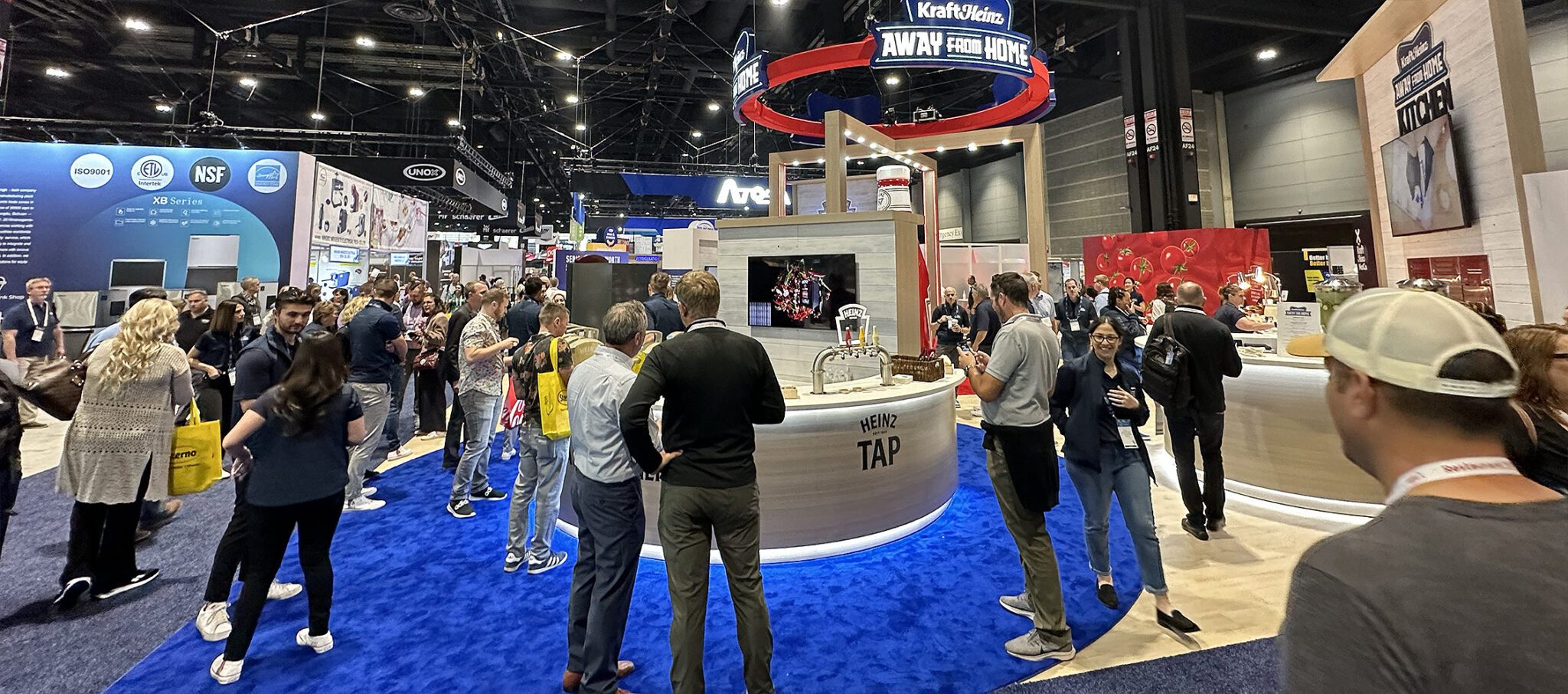 It's a fantastic reminder of all the things that make us so passionate about this industry of ours. As I reflect on all the people, products, and innovations that I encountered at the show, I am filled with anticipation for what the future of foodservice has in store.
For those interested in seeing videos of our time at the show, I invite you to follow us on TikTok, where we've been sharing unique products, highlights from vendors, and our adventures as attendees. You can find us on TikTok with the username @DennisKnowsFood.
Dennis on TikTok
#2023RestaurantShow