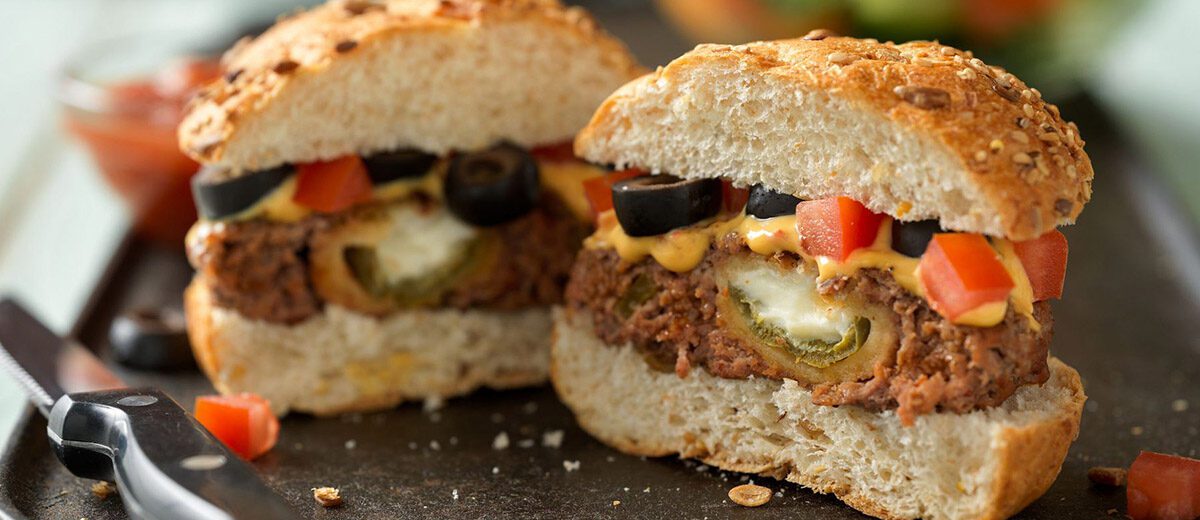 Cheesy Jalapeño Burgers
The "turducken" of cheeseburgers awaits your specials board, and adventurous customers.
This recipe is sure to get mouths watering. A jalapeño stuffed with cream cheese, stuffed into a burger, and grilled to perfection. Not adventurous enough? Smother with a spicy cheese sauce.
Servings: 4
INGREDIENTS:
1 pound Ground Beef (93% lean or leaner)
1/4 cup prepared thick-and-chunky salsa
4 frozen cream cheese or Cheddar cheese-stuffed jalapeño peppers
1/4 cup prepared salsa con queso
1/4 cup chopped fresh plum tomato
2 tablespoons sliced pitted ripe olives
Garnish:
Prepared thick-and-chunky salsa (optional)
DIRECTIONS
Combine Ground Beef and 1/4 cup salsa in large bowl, mixing lightly but thoroughly. Lightly shape into four thin patties. Place one stuffed pepper in center of each patty; wrap beef around pepper to enclose, sealing seams and forming ball. Flatten balls into patties about 4 to 5 inches across and 1 inch thick.
Place patties on grid over medium, ash-covered coals. Grill, covered, 15 to 16 minutes, until instant-read thermometer inserted horizontally into center registers 160°F, turning occasionally.
Spread 1 tablespoon salsa con queso evenly over top of each burger. Sprinkle evenly with tomato and olives. Serve with salsa, as desired.
Cook's Tip: Cooking times are for fresh or thoroughly thawed ground beef. Ground beef should be cooked to an internal temperature of 160°F. Color is not a reliable indicator of ground beef doneness.
See More Recipes
Source: beefitswhatsfordinner.com