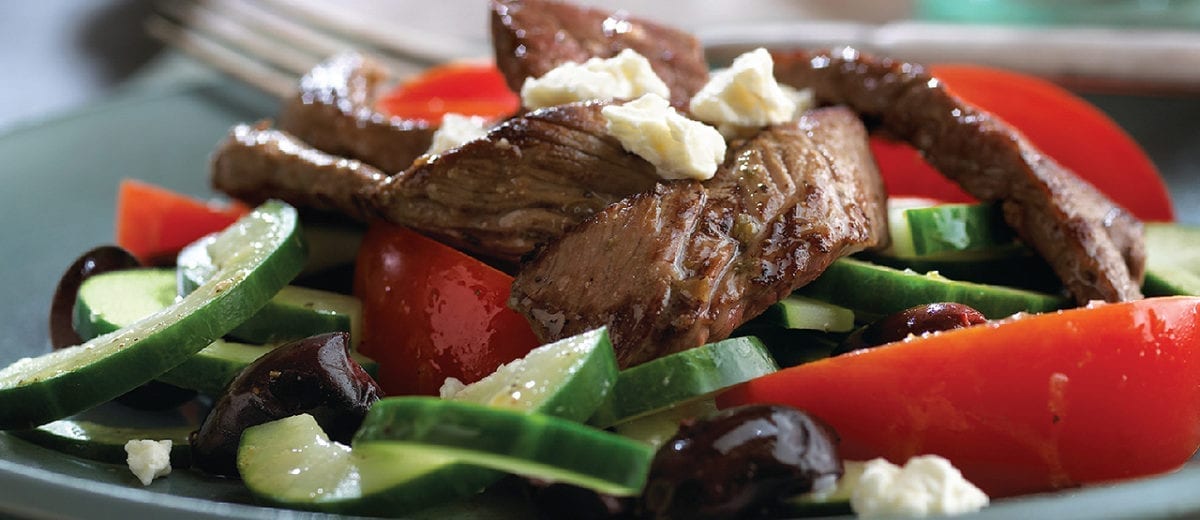 Grecian Beef, Tomato & Cucumber Salad
The perfect summer dish, hearty and fresh with rich savory flavors.
Prep:
Total Recipe Time:  20 to 25 minutes
Marinade Time:  30 minutes to 2 hours
Makes 4 servings
Ingredients:
1 pound boneless beef Top Sirloin or Top Round Steak, cut 3/4 inch thick or Flank Steak
1/4 cup prepared Greek dressing
3 medium tomatoes, cut into 8 wedges each
2 medium cucumber
1 cup pitted Kalamata olives, cut in half
1/2 cup prepared Greek dressing
1/2 cup crumbled feta cheese
Ingredient Item Numbers:
Choice Flank Steak: Item #14658
Greek Dressing: Item #70919
Tomatoes: Item #3525
Euro Cucumber: Item #26179
Kalamata Olives: Item #5650
Crumbled Feta: #3795
Instructions:
Cut beef Steak lengthwise in half, then crosswise into 1/8 to 1/4-inch thick strips. Place beef and 1/4 cup dressing in medium bowl; toss to coat. Cover and marinate in refrigerator 30 minutes to 2 hours.
Remove beef from marinade; discard marinade. Heat large nonstick skillet over medium-high heat until hot. Add 1/2 of beef; stir-fry 1 to 2 minutes or until outside surface of beef is no longer pink. Do not overcook. Remove from skillet. Repeat with remaining beef.
Toss tomatoes, cucumbers and olives with 1/2 cup dressing in serving bowl. Top with beef; sprinkle with cheese.
Dennis Tip:  Try using English or hothouse cucumbers in this recipe. Often sold wrapped in plastic, English cucumbers have almost no seeds and thin, edible skins.
Nutritional Information:
Nutrition information per serving, using top sirloin: 455 calories; 28 g fat (7 g saturated fat; 11 g monounsaturated fat); 66 mg cholesterol; 1463 mg sodium; 19 g carbohydrate; 3.2 g fiber; 32 g protein; 8.5 mg niacin; 0.7 mg vitamin B6; 1.8 mcg vitamin B12; 2.9 mg iron; 34.3 mcg selenium; 5.6 mg zinc.
This recipe is an excellent source of protein, niacin, vitamin B6, vitamin B12, selenium and zinc; and a good source of fiber and iron.