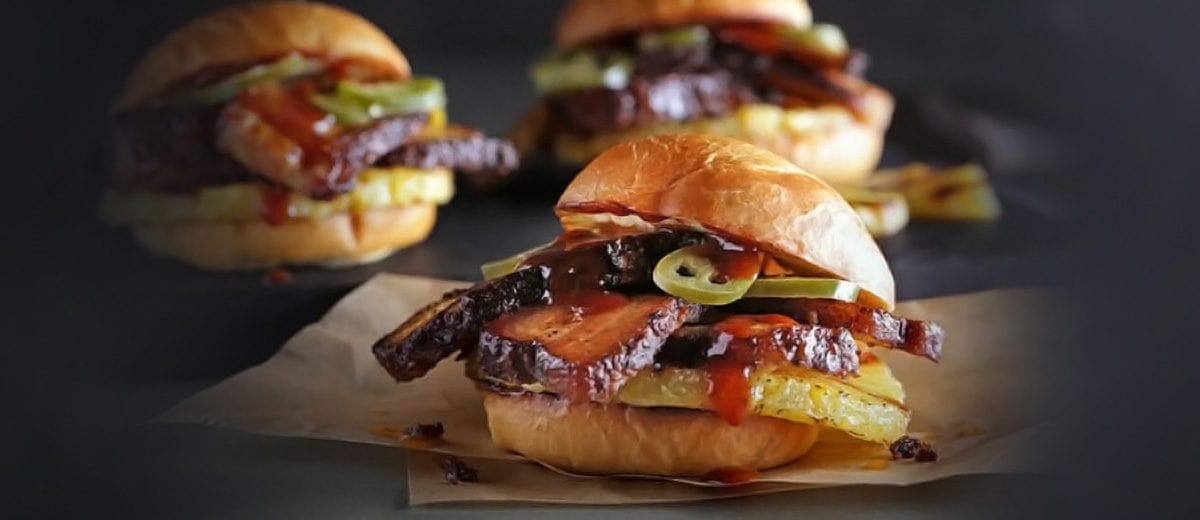 Pork Belly Sliders
Packed with bold contrasting flavors, pork belly sliders bring "foodie" to any menu.
These sliders are perfect alone, as an appetizer or as an entree – try pairing them with seasoned housemade frips.
Ingredients:
8 full slices of Kayem Pork Belly, cut in half (Item #13705)
4 bakery-fresh buns
4 fresh pineapple slices
Pickled Peppers, to taste (ingredients below)
8 Tbsp. Sweet Baby Ray's Original BBQ sauce
Instructions:
Slice pork belly against the grain into 1/4-inch to 1/2-inch slices and cut in half to make stackable-sized slices.
Roast or grill pork belly until nicely charred.
Stack 4 halved pork belly slices, 1 pineapple slice and Pickled Peppers, to taste, on bakery-fresh bun.
Top with 2 Tbsp. BBQ sauce.
Pickled Peppers:
4 Fresno peppers
4 jalapeño peppers
1 cup water
1 and 1/4 cups white vinegar
2 Tbsp. kosher salt
1/4 cup sugar