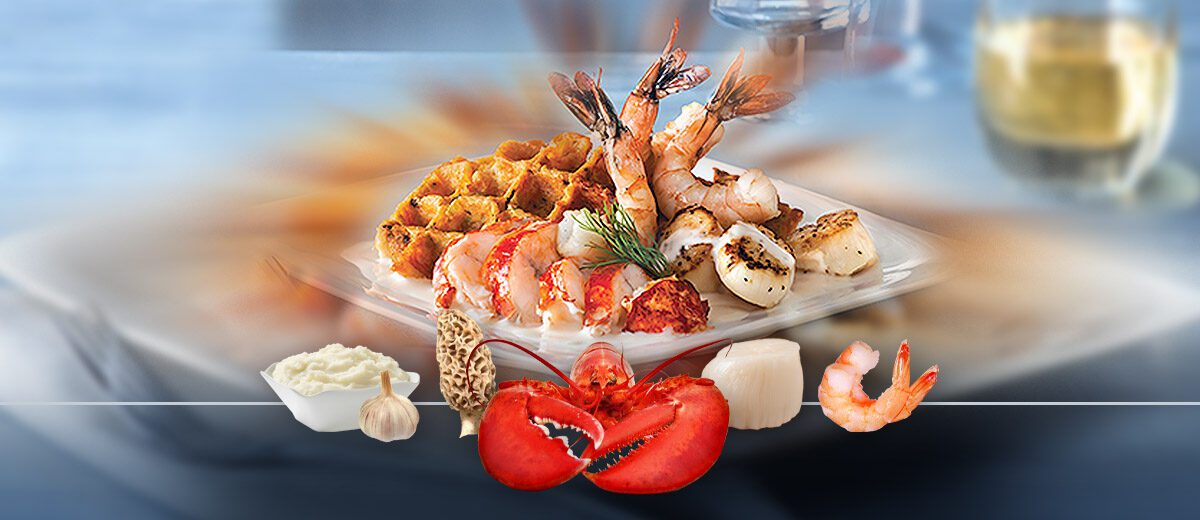 Morel Waffle Mash Stacker with Shrimp, Scallops & Lobster
A roasted garlic mashed & morel waffle, stacked with seafood and white wine cream sauce – the perfect brunch.
Ingredients:
5 lb. bag Simply Potato, Garlic Mashed Potatoes (#23799)
1⁄4 cup Butter, melted
1⁄4 cup Garlic, minced
1 cup Flour
4 ea. Eggs
1 cup Chives
1 cup Morel Mushrooms, chopped (Seasonal SPO #25323)
3⁄4 cup Parmesan Cheese, shredded
8 cups White Wine and Butter Cream Sauce, prepared
38 ea. Shrimp, sautéed
38 ea. Scallops, seared
8 ea. Lobsters, steamed and sliced into 10 medallions per lobster
Directions
Prepare and heat Garlic Mashed Potatoes according to package directions. Allow to cool.
Place into medium bowl and add melted butter, garlic, flour, eggs, chives, mushrooms and Parmesan cheese. Fold together until well incorporated.
Place ½ cup of mixture into a well-seasoned waffle maker; cook until crisp and golden.
Place one waffle onto plate and ladle ½ cup of cream sauce onto plate. Place 3 shrimp, 3 scallops, and 5 slices of lobster medallions onto plate. Serve hot.
Yield: 10 12-oz. servings