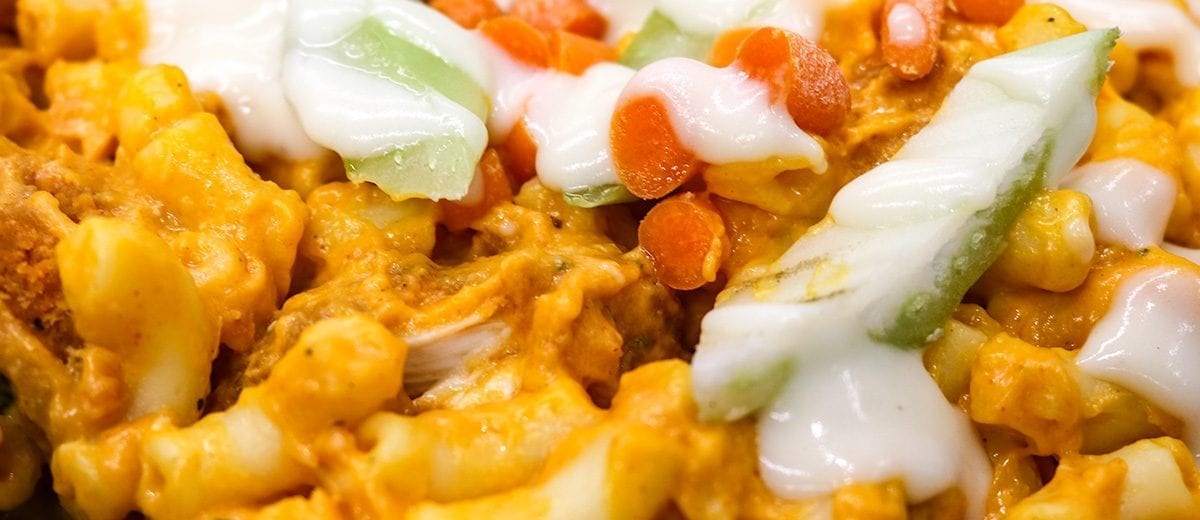 Make Mac & Cheese a Signature Restaurant Dish
Macaroni and cheese has been around for a long, long time. Instructions for pasta and cheese casseroles have been recorded as early as the 14th century in Italy, and the first modern recipe for the dish was included in the 1770 cookery book The Experienced English Housekeeper.
Yet its popularity is still growing. According to Datassential, 28.1% of restaurant menus featured macaroni and cheese in 2016, representing 120.1% growth since 2005, in all segments and on all menu types. That gives this perennial favorite lots of room for creative interpretation—indeed, Datassential has tracked variations ranging from cheese types (Gruyere, Fontina, cheddar) to additions such as peas, bacon, truffle, and lobster.
Macaroni and cheese is one of those craveable, widely popular foods—beloved by kids and adults alike—that can be turned into a signature dish your customers will visit you specifically to order.
Here are ways to turn mac and cheese into one of those calling cards.
Play with the Basics
Almost any pasta shape is appropriate for macaroni and cheese, beyond the usual elbows. Try ziti, orecchiette, shells, ditalini, or even a small, delicate pasta such as orzo. As far as cheese goes, switching up the flavor profile can create a big impact, particularly with specialty cheeses such as goat cheese, feta, blue cheese, smoked mozzarella, pepper Jack, or a branded or locally sourced product. Using multiple cheeses—such as an all-Italian mix of fontina, Parmesan, and Asiago—is another possibility.
Add Mix-ins
Add vegetables, including broccoli or cauliflower, peas, asparagus tips, spinach or Swiss chard, diced roasted vegetables, or tomatoes (this is also a great way to sneak in some nutrition for kids)
Go upscale with wild mushrooms, lobster or crab, or smoked chicken
Stir in a flavor enhancement such as pesto or salsa
Top with seasoned or buttered bread or cracker crumbs and bake or broil, to create an extra-crispy crust
Enrich the mix with sour cream, puréed butternut squash, or Alfredo sauce
Create a mac-and-cheese menu or station where customers can choose their own mix-ins and additions
Make It a Kids' Menu Fixture
As Datassential points out, most children love macaroni and cheese—and it's also a protein-rich menu item that many parents can feel good about them ordering.
Pair with a side of veggie sticks and a better-for-you beverage such as juice, reduced-fat skim milk, or lemonade for a combo meal
Use whole grain pasta and/or a whole grain crumb topping
Accompany with a lean protein option, such as turkey hot dogs, shrimp, or grilled chicken breast or tenders
Slip veggies into the recipe, as mentioned above, for added produce portions
Provide mix-ins as a menu option that lets kids take charge.
Use Mac & Cheese as an Ingredient
Macaroni and cheese is perfect as a side dish or entrée, but it can also be used as a component in other specialties.
Top a burger or slider with mac and cheese, instead of a slice of cheese
Form prepared macaroni and cheese into balls or oval shapes, roll in crumbs, and fry, for a bite-size appetizer or side item
Enclose between two slices of bread and bake or fry, for a variation on the grilled cheese sandwich
Heat with stock, shredded chicken, and a chile flavor boost for a distinctive Mexicali Mac-and-Cheese Soup
Bake into muffin tins for Macaroni and Cheese Cupcakes
Content courtesy of: Nestle Professional & Great Menu's Start Here