Hash Brown Breakfast Quiche
Perfect for breakfast, brunch or any time of the day. Serve as a snack or with a side salad. It's gluten-free, low carb and keto friendly!
INGREDIENTS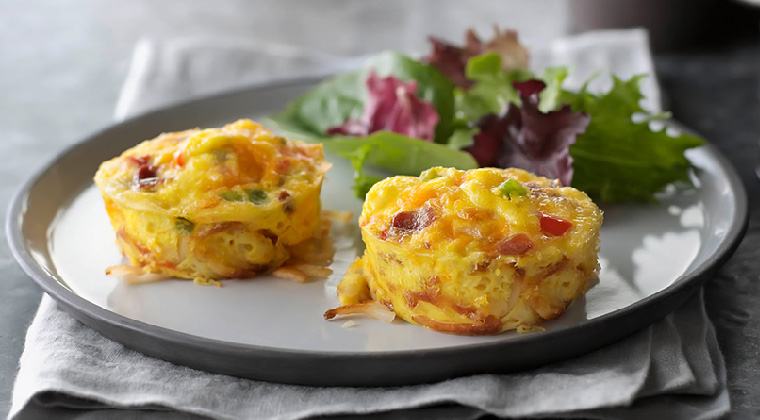 8 oz shredded hash browns
16 oz liquid whole eggs
cooking spray, as needed
1 tablespoon olive oil
1 1/2 oz diced red peppers
1 1/2 oz diced green peppers
1 oz diced onions
3 oz cooked, chopped bacon
4 oz shredded cheddar cheese
1 teaspoon kosher salt
1 teaspoon black pepper
DIRECTIONS
Prepare oven to 450˚F.
Spray muffin tins with cooking spray.
Press shredded hash browns into a pan in a thin layer.
Spray hash browns with cooking spray, to help crisp.
Bake for 15-20 minutes until lightly browned and crisp.
In a pan over medium-high heat olive oil and sauté red and green peppers with onions for 5 minutes. Season with salt and pepper.
Combine sautéed peppers and onions, bacon and cheddar cheese and divide between 12 muffin tins with cooked hash browns.
Pour liquid eggs to top off each muffin tin and bake at 400˚F for 20 minutes until set.
Serve hot, or cool completely and reheat for 7 minutes at 400˚F
To take this dish to an even stricter keto level, try substituting hash browns for shredded and browned cauliflower.
*total amount of net carbs may vary depending on ingredients used. 
See More Recipes