Grilled Vegetable & Pesto Pizza
A vibrant grilled vegetable medley on layer of sun-dried tomato pesto sauce. Decadent and healthy, this flavor pizza is a great vegetarian feature!
Serves: 1 pizza
INGREDIENTS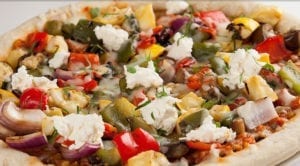 1 red bell pepper item #12579
1 green bell pepper item #26110
1 red onion item #26385
1 yellow squash item #16021
1 eggplant item #77641
1 cup ricotta cheese item #179
1 cup mozzarella cheese
2 pre-baked pizza crust
1 cup sun-dried tomato pesto
DIRECTIONS
Slice and grill all vegetables over medium-high heat.
Dice vegetables into bite sized pieces.
Toss cooked vegetables in sun-dried tomato pesto on pizza crust, 1/2 cup per crust.
Scatter pre-grilled and marinated vegetables on pizza crust.
Scatter dollops of ricotta cheese.
Spread mozzarella cheese topping.
Bake in 350˚F oven for 12-15 minutes until crust is crispy and cheese is nicely melted.