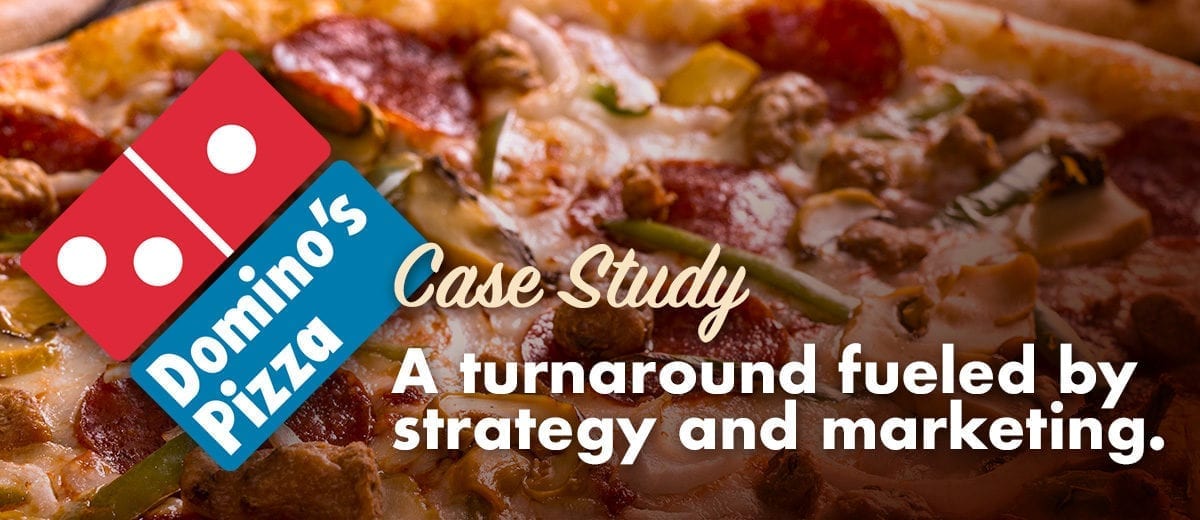 Domino's Pizza Turnaround Case Study
Domino's Pizza has managed to pull off a huge turnaround; in part by listening and responding to their customers in a uniquely-honest PR advertising blitz.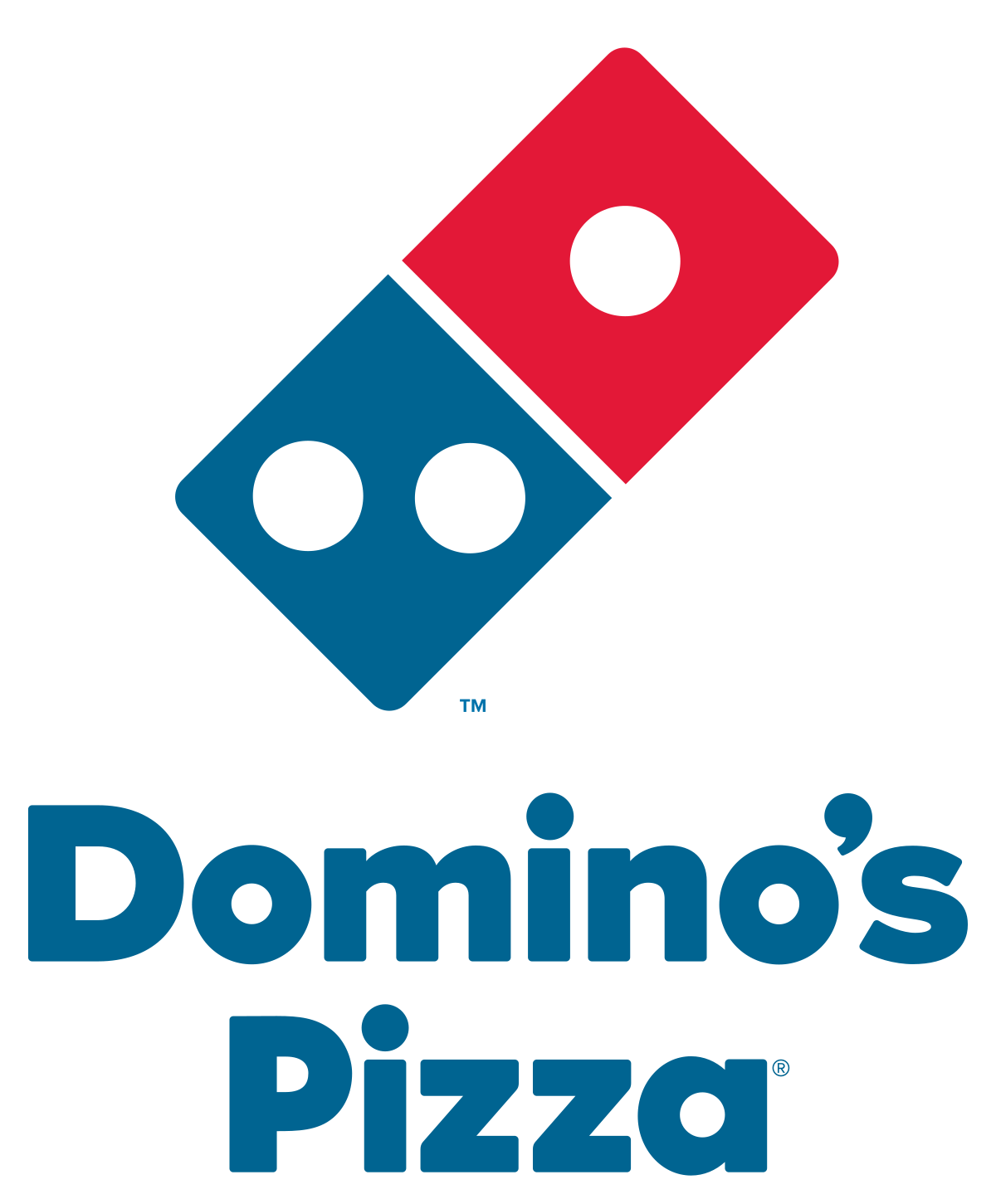 By Luke LaBree 🔎
CMO, Dennis Paper & Food Service
With dogged determination, widespread integration of technology and a willfully self-deprecating adherence to honesty – Domino's has been opening hundreds of new locations and profits are soaring. Morgan Stanley recently named it the "leader in US delivery pizza." But, just a few years ago, Domino's was struggling to compete with Pizza Hut and Papa John's. That was until its executives started making crucial changes that turned business around…
Below are a series of articles, videos and ongoing updates which piece together how the Domino's Pizza franchise went from struggling with bland "cardboard" pizzas to new heights of success.
---
Original Evidence:
June, 2017
Article 1:
Domino's Made 3 Changes to Become the World's Top Pizza Chain
Marketing guru Russell Weiner joined Domino's from Pepsi six years ago in the midst of a massive sales decline. Since then he has implemented a self-deprecating marketing strategy that's resonated with consumers.
Article 2:
The Most Popular Food Delivery App in the U.S. is …
Domino's Pizza owns the most popular food delivery mobile app in the nation by a healthy margin, but relative newcomer UberEats has quickly ascended the leader board to grab the No. 2 spot, according to a new report ranking the top 20 food delivery apps.
Article 3:
Eleven Reasons Domino's Turnaround Campaign Worked
In the midst of a recession, in a hyper-competitive and mature industry, Domino's completely realigned the perception of its product and its brand while generating measurable financial results for its stakeholders.
Video 1:
Domino's Pizza Turnaround
The true story of how Domino's listened to its harshest critics and made their best pizza ever.
Video 2:
Domino's Pizza At the Door of Our Harshest Critics
"I'm not mad, because your comments helped us create a brand new Domino's pizza – new sauce, new crust, new cheese."
---
Updates:
April 2019:
Clearly Domino's is Paying Close Attention to the Market
August 2019:
Domino's to Open New Workspace Dedicated to Collaborative Innovation
November 2019:
Even Well-Positioned Chains Like Domino's Susceptible to Disruption
January 2020:
Oppenheimer Picked Domino's as a Restaurant Sector Favorite for 2020
February 2020:
Domino's Stock Jumps 25% as the Pizza Chain Reports Strong Fourth Quarter Earnings
September 2020:
Being a Purveyor of Pizzas a Valuable Profession During the Pandemic
October 2020:
After contributing to a $16 billion turnaround Kevin Vasconi has left Domino's
April 2023:
Ordering on the go, Domino's launches an iOS app with CarPlay support
---
Update 1:

April, 2019



Clearly Domino's is Paying Close Attention to the Market
They have been hold out's on utilizing 3rd party delivery services, preferring to identify opportunities and tackle threats using their own internal resources. It's part of a larger strategy driven by a dedication to continual innovation¹. One that aims to curb slowing sales in the face of new competition – whenever that may occur. Domino's itself disrupted traditional delivery service in 2008 when it unveiled its DOMINO'S TRACKER® which allows customers to see the progress of their pizza orders.
"The company that brought the pizza tracker to the market is adding something new: driver tracking. Domino's Pizza said Monday that it is testing GPS driver tracking at 27 company-owned locations in Phoenix, a program that would give the company the same technology as many third-party delivery companies." [From Restaurant Business]
⬆️ UPDATES
---
Innovation:

Aug, 2019



Domino's to Open New Workspace Dedicated to Collaborative Innovation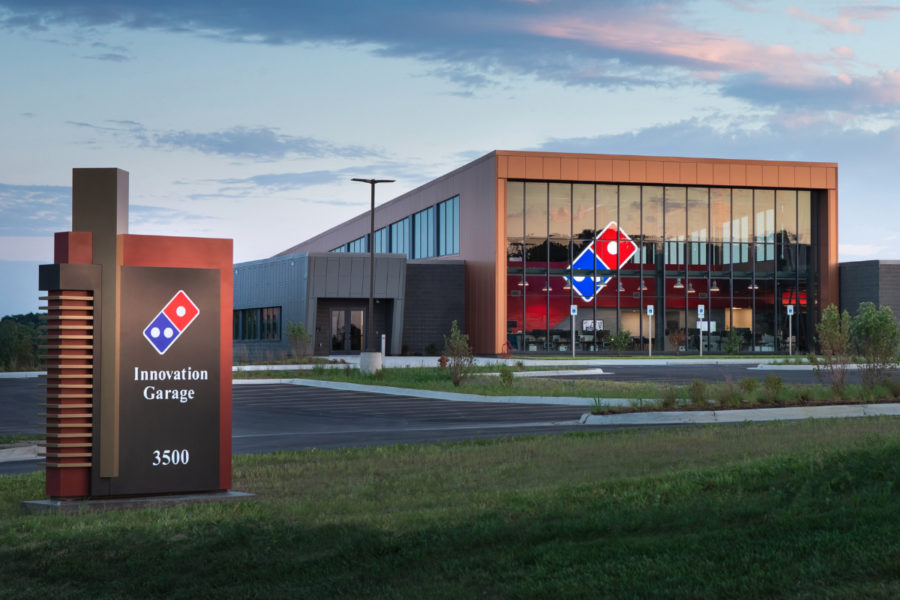 Domino's has spent years focused on cutting-edge technology created and built largely by teams at its World Resource Center in Ann Arbor. Those cross-functional teams now have a new space called Domino's Innovation Garage where they can collaborate on, create and test new ideas to take the brand to the next level.
"Domino's Innovation Garage is focused on accelerating Domino's spirit of creativity and collaboration," said Kelly Garcia, Domino's chief technology officer. "As a pizza company with a focus on technology, we want our team members to have a workspace that encourages experimentation and fosters an environment to take risks, test innovations and fail-fast so they can bring their best cutting-edge ideas to life for the brand's customers and stores." [Read More]
⬆️ UPDATES
---
Update 2:
Nov, 2019
Even Well-Positioned Chains Like Domino's Susceptible to Disruption
The increase in the availability and use of 3rd party services to deliver items that aren't traditional delivery foods is having an impact on Domino's sales…
"Domino's Pizza Inc.'s U.S. system third-quarter 2.4% comps gain marked its 34th straight quarter of such growth but was the smallest bump since Q2 2012's 1.7% climb. That continued a deceleration trend begun in the first quarter and was down notably from a year-earlier increase of 6.3%. On a call with analysts, CEO Richard Allison cited pressure on same-store sales from the chain's "fortressing," or market in-filling store-development strategy, as well as new delivery competition that he credited, in part, to incentives offered by third-party-delivery aggregators to industry segments not traditionally drawn to delivery, such as burger brands. He said Domino's expects annual U.S. system comps growth of 2% to 5% over the next two to three years." [From NRN]
⬆️ UPDATES
---
Update 3:

Jan, 2020



Oppenheimer Picked Domino's as a Restaurant Sector Favorite for 2020
This may seem curious given their slowing growth toward the end of 2019, as shared in Update 1. But, with record-breaking profits following 30 consecutive quarters of positive US sales, investors are optimistic about Domino's growth strategy. In fact, Domino's plans to have 25,000 global locations by 2025.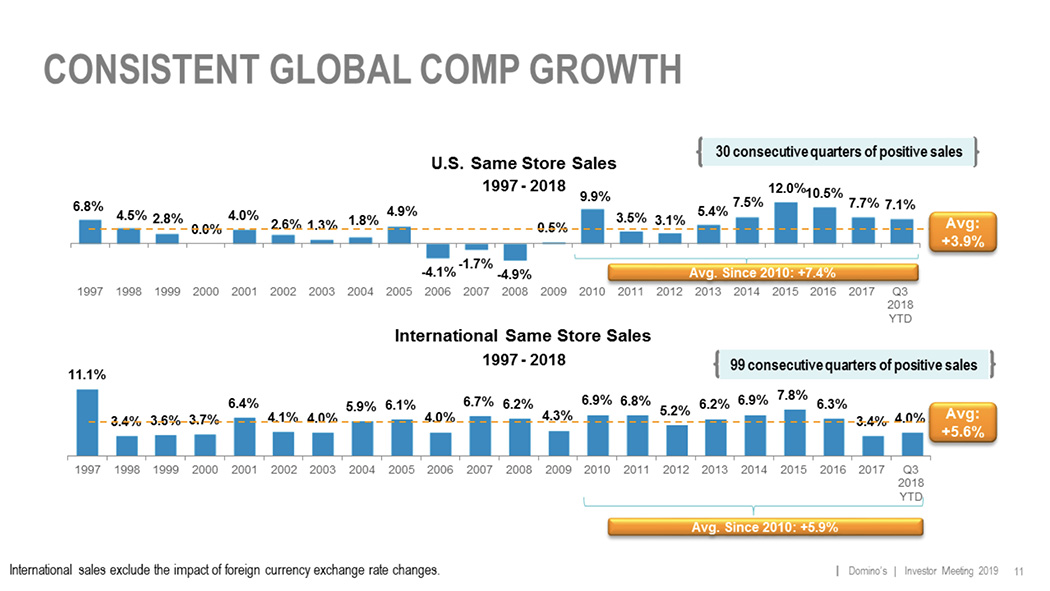 Part of Domino's growth strategy includes a tactic they call "fortressing." It's a big reason why they focus on, but aren't too worried about, the competition.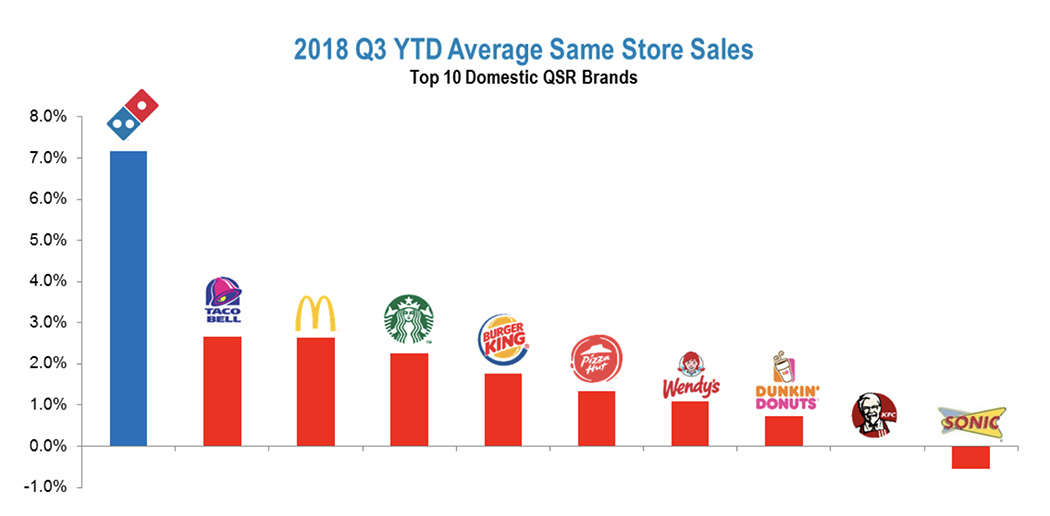 Essentially "fortressing" is Domino's plan for increasing sales by opening more locations. Given the low operational cost compared to their profit margins at scale, this makes sense. Their logic is that being closer to customers will improve service, increase carryout sales, defend against 3rd party delivery services (see Update 1) and keep the competition out. For many foodservice operations oversaturation¹ would be a concern, but Domino's carryout/delivery business model provides some insulation from that hazard.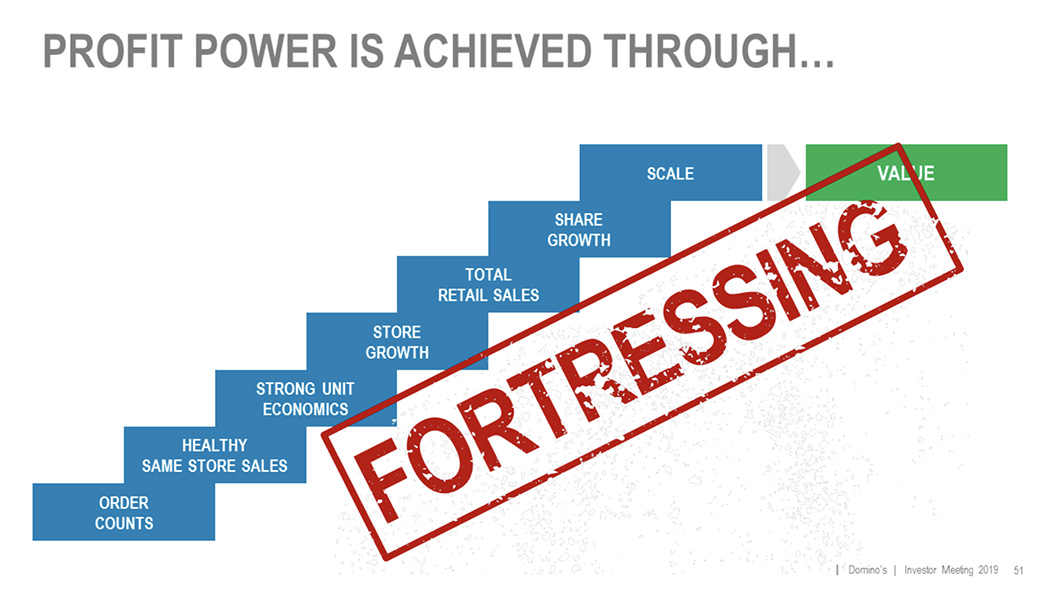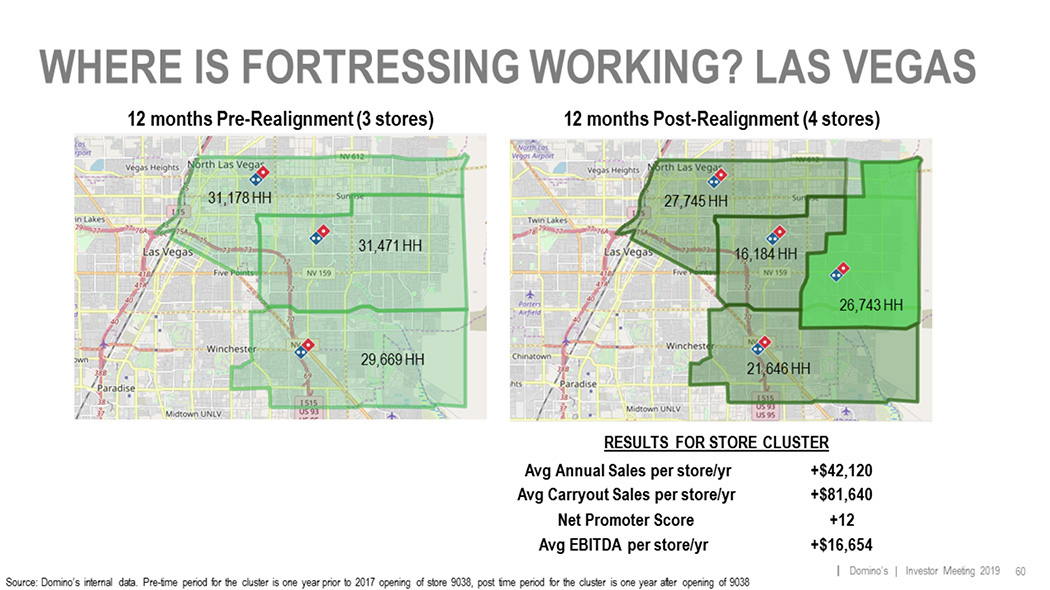 For a deeper dive check out Domino's "2019 Investor Day" presentation [LINK].
"Domino's shares were worth a little over $11 in the beginning of 2010. Today, they're worth about $260… Domino's is projecting $25 billion in annual sales globally by 2025 – double its 2017 sales of $12.25 billion – as well as 2,000 new U.S. stores within that time frame." [Forbes¹]
⬆️ UPDATES
---
Update 4:

Feb, 2020



Domino's Stock Jumps 25% as the Pizza Chain Reports Strong Fourth Quarter Earnings
Domino's fight against third-party delivery seems to be working: same-store sales grow 3.4% and revenue beats expectations. NRN
After a shaky first few quarters of 2019 in which Domino's appeared to falter in the face of aggressive third-party delivery competition, the company finished out the fiscal year more confidently, with an emphasis on its strong showing in in-house delivery and takeout.
As third-party delivery continued to domineer the restaurant industry, Domino's Pizza, Inc. stood fast to its strict in-house delivery-only policies. Although they are in a small minority, the anti-aggregators strategy appears to be working in their favor for now.
Besides aggressive delivery and carryout tactics, another strategic prong in Domino's strategy playbook continues to be technology innovation. GPS tracking technology — which was announced in earlier in 2019 — is now in more than half of Domino's stores and will expand systemwide by the end of the year. [Read more on NRN]
⬆️ UPDATES
---
Update 5:
Sept, 2020
Being a Purveyor of Pizzas a Valuable Profession During the Pandemic
Takeout and delivery have become the new go-to options for many consumers who had previously chosen to dine out; with pizza of course being one of the most popular foods. While traditional eat-in dining establishments might have struggled in the transition to COVID-approved practices, pizza was already primed for success. That is to say, those who were already in the business of delivering pizza had an opportunity. Opportunity risen from extremely unfortunate circumstances but opportunity none the less. Domino's appears to have recognized this and reacted.
"Few industries have suffered more during the pandemic than restaurants. More than 15,000 restaurants have failed during the coronavirus pandemic, according to statistics from Yelp's website… Domino's, however, didn't have those problems. Its U.S. sales in the same period leapt 16%." (WSJ)
The COVID-19 pandemic has ushered in two seemingly contradictory trends at limited-service restaurants: operators cutting their menus to reduce costs, and brands quickly innovating to introduce new items and product categories at a rapid pace. (Technomic Consumer Food Trends, Aug. 2020)
Domino's® to Hire 20,000 New Team Members to Help Busy Stores Feed Hungry Families Nationwide
"To continue providing great customer service, Domino's corporate and franchise stores are looking to fill more than 20,000 positions, including delivery experts, pizza makers, customer service representatives, managers, and assistant managers. In addition, supply chain centers across the U.S. are actively hiring production and warehouse team members, as well as CDL drivers." (News Release)

Congratulations, you've just committed to hiring 20,000 new employees – what's next? Domino's has been selectively hiring more employees since the outset of the pandemic; positions that were necessary to keep up with demand. But, even with increased demand, offsetting a payroll bump that large requires some healthy revenue growth. That's where Domino's innovation lab comes in – releasing their first new pizza flavors in years. And not just any flavors – these are inspired by popular foods that might not travel well in their native formats but do when transformed into pizzas. Domino's 2 new flavors are "created for delivery"… that's some good marketing spin! New pizzas mean a new marketing blitz, new interest… new customers. Domino's new TV commercials, began airing on Aug. 31…
The idea started from looking at the current food delivery landscape," Domino's chief marketing officer Art D'Elia told Nation's Restaurant News. "With a lot of people relying on aggregators to get tacos and burgers delivered, there are a ton of social media posts out there about soggy burgers and tacos, so we wanted to give people tacos and burgers that actually stand up well to delivery. (NRN)
Designed for Delivery: Domino's® Introduces New Chicken Taco and Cheeseburger Pizzas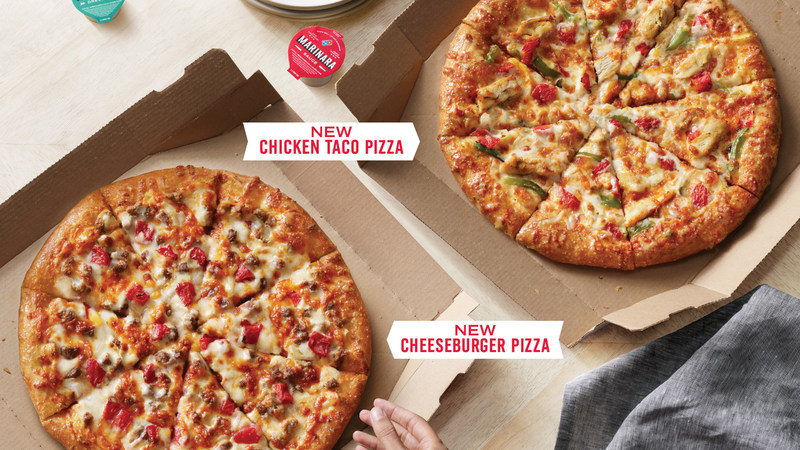 "What do tacos and cheeseburgers have in common? They often don't deliver well. That changes starting today, thanks to Domino's Pizza Inc. (NYSE: DPZ), the largest pizza company in the world based on global retail sales. Customers can now enjoy Domino's newest specialty pizzas – the chicken taco pizza and the cheeseburger pizza – which were created for delivery." (News Release)
Most Businesses Were Unprepared for Covid-19. Domino's Delivered. …Their successes may define the business world for a long time to come. (The Wall Street Journal)
Doubling down on delivery… Domino's is making a pretty sure bet by hiring more employees to meet growing demand and releasing new specialty pizza flavors at a time when consumers want more delivery options… and pizza.
⬆️ UPDATES
---
Update 6:
Oct, 2020
After contributing to a $16 billion turnaround Kevin Vasconi has left Domino's

Domino's Pizza has announced that Kevin Vasconi, who joined the company as its CIO in 2012, will retire effective October 2. Domino's chief technology officer, Kelly Garcia, will take over as the top tech leader of the company, which has a $16 billion market cap.
Vasconi and Garcia, who also joined Domino's in 2012 and became its CTO last year, have worked closely together to turn it into something of a poster child for the digital transformation movement. In a world where software is said to be eating everything, the company's IT division has taken code and used it to redefine how people get to eat their favorite slices.
The division's work has helped turn Domino's into the world's largest pizza business when ranked by retail sales and has enabled it to keep growing during the Covid-19 pandemic while many other fast food companies are struggling.
[Forbes]
Update 6.5:
Oct 19, 2020
You might be wondering "where is Kevin off to next?" Well, he's heading up digital efforts to find the beef…
When Kevin Vasconi's departure from Domino's Pizza was announced last month, it was positioned as a retirement that would become effective October 2. His time out of an office didn't last long: On October 19 The Wendy's Company announced that Vasconi is joining it as its new chief information officer.
Vasconi, who is 59, will report to the $5.4 billion fast-food chain's CEO, Todd Penegor, and serve on its top leadership team. He will be responsible for all aspects of Wendy's technology activities, including its consumer-facing digital offerings, its restaurant technology, information security and the underlying enterprise architecture that supports all of this.
[Forbes]
---
Update 7:
April 10, 2023
Ordering on the go, Domino's launches an iOS app with CarPlay support
Over a decade ago, Domino's Pizza launched it's bold marketing campaign and acknowledged their pizzas were not up to par with customer expectations. This honesty, coupled with a commitment to improve, led to a remarkable turnaround for the company. Now, in 2023, Domino's is continuing to innovate and adapt to new technologies to stay ahead in the competitive pizza market.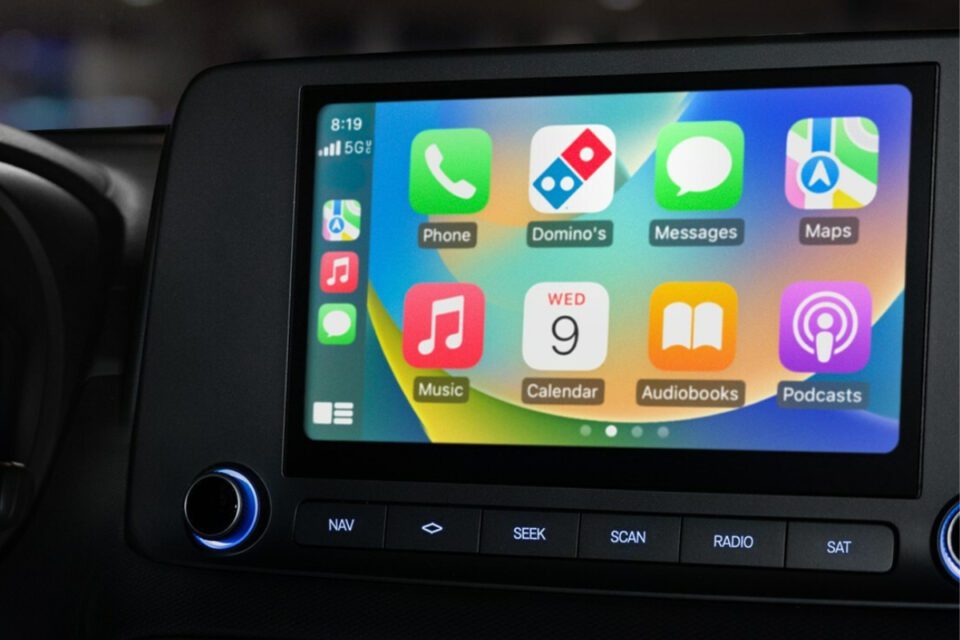 The most recent example of this is their integration with Apple CarPlay. This week it was revealed that Domino's has integrated its ordering platform with Apple's in-car infotainment system, allowing customers to order pizza directly from their car's dashboard. This move capitalizes on the increasing trend of connected cars and the potential for new marketing opportunities in this space.
By integrating with Apple CarPlay, Domino's is not only making it more convenient for customers to order their favorite pizza while on the go, but they are also increasing brand visibility and awareness through this new marketing channel. With more and more drivers opting for connected cars, this integration represents a strategic move for Domino's to tap into this emerging market and stay ahead of the competition.
This latest development is just one example of Domino's commitment to innovation and staying relevant in a rapidly changing marketplace. By leveraging new technologies and marketing channels, the company is seeking to ensure that it remains a leader in the pizza industry.
⬆️ UPDATES
---
What's the next chapter in this Cinderella pizza story?