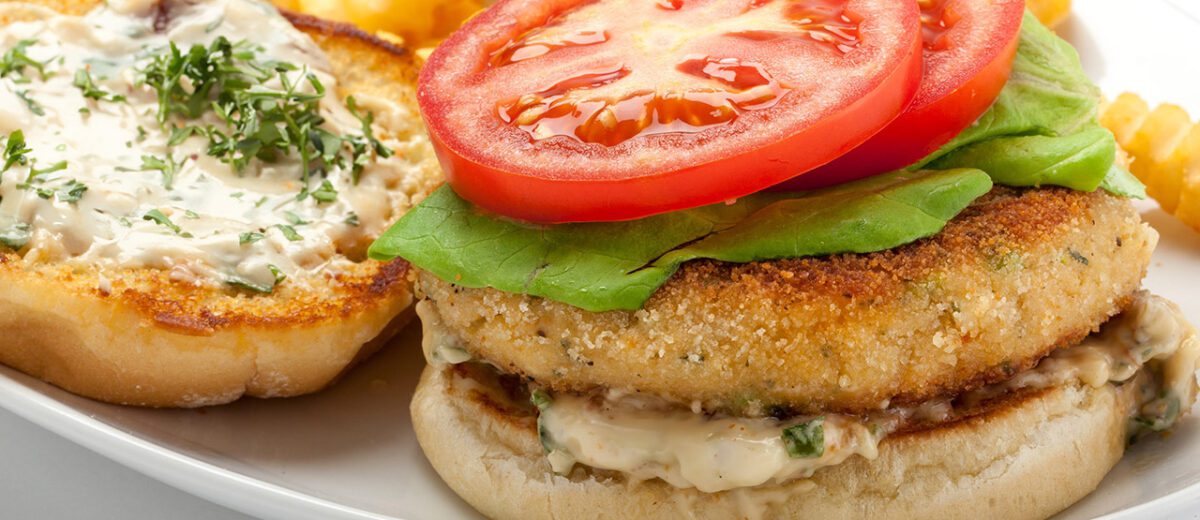 Crab Cake Sandwiches with Dill Pickle Aioli
Are you ready to take your Crab Cake game to the next level?
We've got a recipe that's not just delicious but also easy to prepare in advance! This Crab Cake Sandwich with Dill Pickle Aioli is a must-try for your menu–a simple seafood masterpiece that's worthy of a 4-star review.
What makes this crab cake sandwich perfect for foodservice?
Crab meat is a winner: Delicious and popular, lump crab meat's natural sweet and succulent flavors shine through in this recipe, enhanced with just a hint of Old Bay Seasoning.
Effortless Prep: These crab cakes have a short prep time, and they hold together well so you can prepare them in advance – time-saving that maximizes efficiency during service.
Aioli Elevation: It's not just the flavor that gets elevated here. Elevate appeal (and charge accordingly) on your menu with Dill Pickle Aioli. This signature sauce from Ken's combines the tang of chopped dill pickles and pickle juice with the creamy richness of aioli. It's a simple addition that transforms your sandwich into a standout item, and boosts profitability.
Zero Waste, More Profit: No need to worry about leftovers; we've streamlined this recipe to allow you to create four, 5-7oz crab cakes (by weight) from 2 pre-portioned 8oz containers of crab meat. This eliminates waste and ensures more profit for your restaurant. It's a no-brainer for your bottom line.
Yield 4 servings:
Ingredients:
16 oz crab meat (2 containers)

(#115083)

1/2 cup bread crumbs

(#24753)

1 Egg

(#4673)

1 tablespoon fresh parsley, chopped

(#26274)

1 teaspoon Old Bay Seasoning

(#6640)

1/4 cup mayonnaise

(#27310)

1 tablespoon Worcestershire sauce

(#70717)

1/2 teaspoon salt

(#70100)

1/4 teaspoon black pepper

(#22101)

Zest from 1 lemon

(#26031)

1 teaspoon ground mustard

(#22149)

4 Brioche buns

(#27487)

8 slices ripe tomato, thick-sliced

(#26130)

Leaf lettuce

(#10080)

8 oz Ken's Dill Pickle Aioli

(#28294)
Instructions:
In a mixing bowl, combine crab meat, bread crumbs, chopped parsley, and Old Bay Seasoning. Gently mix until well incorporated, making sure not to over-mix. The crab meat should remain lumpy and intact.
In a separate bowl, whisk together mayonnaise, ground mustard, salt, pepper, lemon zest, and the egg until well combined.
Gently fold the egg mixture into the crab meat mixture until thoroughly combined. Be careful not to break up the crab meat lumps.
Form the mixture into 4 patties (each serving includes 2 patties). Place the patties on a plate and refrigerate them for about 30 minutes. This chilling time helps the crab cakes firm up and prevents them from falling apart during cooking.
Fry the crab cakes for approx. 5 minutes or until they are lightly browned and heated through. (3-5 minutes per side if coking in a pan with 1/4 cup vegetable oil.)
While the crab cakes are cooking, toast the brioche buns until they are crispy. Spread a generous amount of Ken's Dill Pickle Aioli on the inside top and bottom of each bun.
To assemble the sandwiches, place a sautéed crab cake on the bottom half of each bun. Top with lettuce and tomato slices. Sprinkle fresh chopped parsley over the crab cake.
Serve your delicious Crab Cake Sandwiches with Dill Pickle Aioli!
Note: You can also customize your sandwich with additional toppings like avocado, red onion, or coleslaw if desired.
---
Ingredients for 16 servings:
64 oz crab meat (#115083 – 8, 8oz containers)
2 cups bread crumbs (#24753)
4 eggs
4 tablespoons fresh parsley, chopped
4 teaspoons Old Bay Seasoning (#6640)
1 cup mayonnaise (#27310)
4 tablespoons Worcestershire sauce (#70717)
4 teaspoons salt
1 teaspoon black pepper
Zest from 4 lemons (#26031)
4 teaspoons ground mustard (#22149)
16 Brioche buns (#27487)
32 slices ripe tomato, thick-sliced (#26130)
Leaf lettuce (#10080)
32 oz Ken's Dill Pickle Aioli (#28294)
---
Ingredients for 48 servings:
192 oz crab meat (#115083 – 24, 8oz containers)
6 cups bread crumbs (#24753)
12 eggs
12 tablespoons fresh parsley, chopped
12 teaspoons Old Bay Seasoning (#6640)
3 cups mayonnaise (#27310)
12 tablespoons Worcestershire sauce (#70717)
12 teaspoons salt
3 teaspoons black pepper
Zest from 12 lemons (#26031)
12 teaspoons ground mustard (#22149)
48 Brioche buns (#27487)
96 slices ripe tomato, thick-sliced (#26130)
Leaf lettuce (#10080)
96 oz Ken's Dill Pickle Aioli (#28294)