Cobb Salad
The Cobb salad is said to have originated at the Brown Derby restaurant in Los Angeles way back in the 1930s. It is poster child for composed salads, where the ingredients are decoratively arranged rather than tossed, the Cobb is beautiful when the ingredients are presented in rows.
INGREDIENTS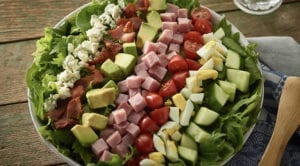 4 cups of spring mix baby greens
1 cup grape tomatoes
2 avocados, pitted and chopped
1 chopped english cucumber
8 ounces crumbled blue cheese
5 cups Hormel Classic Boneless Ham Item #72916
2 3/4 cup cooked and crumbled Hormel Black Label Bacon Item #1417
2 ounces buttermilk ranch dressing
DIRECTIONS
Cut up items to desired size, compose ingredients on serving platter.