Chicken Bacon Spinach Flatbread
Pizza redefined – made with real, on-trend ingredients on a crisp, golden flatbread. Perfect as an entree or a shareable appetizer. A meat-lover's masterpiece.
INGREDIENTS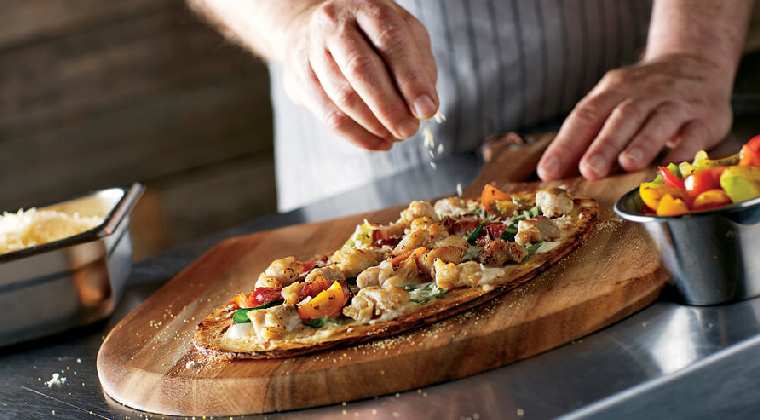 serves 12 
3 lbs rough cut chicken
1/4 cup cooking oil
1 lbs chopped and rendered bacon
2 lbs shredded cheddar cheese
1 cup halved cherry tomatoes
1 pinch chopped flat leaf parsley
12 cups sliced, chiffonade fresh baby spinach
2 ounce garlic oil
3 lbs prepared pizza flatbread dough
DIRECTIONS
Portion the dough out to 12 4oz pieces; flatten each piece to a 1/4 inch-thickness onto a greased shallow rimmed pan.
Heat oven to 450˚F-500˚F
Brush flatbread with garlic oil, reserving the remainder of oil for the spinach.
Portion chicken onto prepared dough; top with cheese, bacon and tomatoes.
Transfer into hot oven and bake until bottom of the crust is browned, about 10-15 minutes.
Remove flatbread from oven.
Toss fresh baby spinach with the reserved garlic oil, salt and pepper arrange onto each flatbread, and serve!
See More Recipes