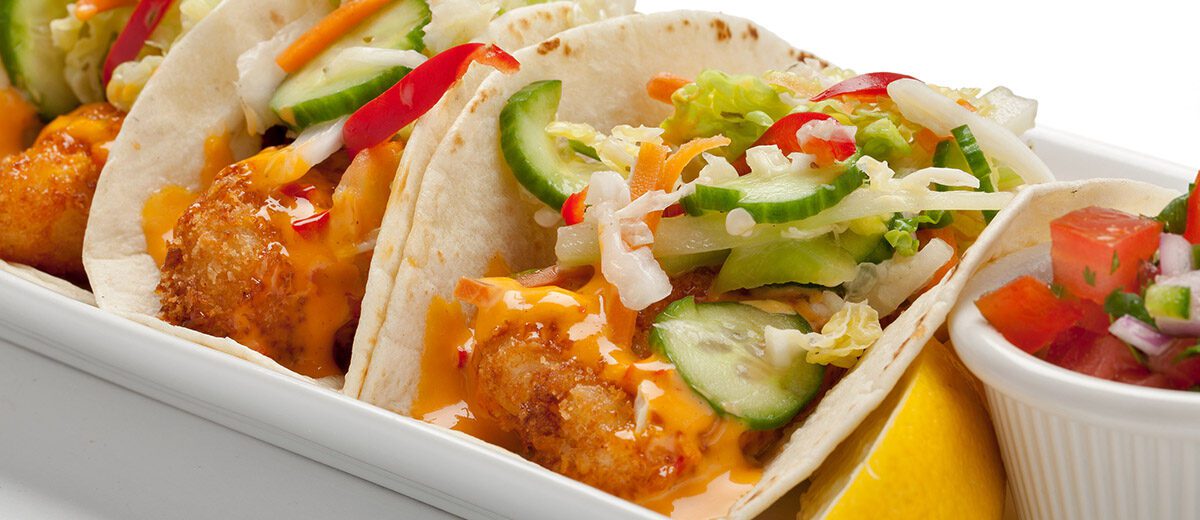 Boom Boom Crispy Fish Tacos
These Boom Boom Crispy Fish Tacos hit all the right numbers with guests!
71% of consumers agree Mexican cuisine is unique and exciting, and 55% of consumers are likely to order dishes with ethnic flavors for dinner. Plus, 47% of consumers would occasionally order fish tacos at a restaurant. What does that add up to? BOOM BOOM FISH TACOS have menu appeal, and plenty of flavor to satisfy hungry, adventuresome diners.
Ingredients
1 oz cabbage, chopped
1 oz cucumber, chopped
1 oz red pepper, small chop
3 flour tortillas
3 panko breaded fish fillets
3 tbsp Boom Boom Sauce (Item #7827)
2 fl oz pico de gallo
1 Lemon wedge
Directions:
Mix chopped Napa cabbage, cucumber, and red pepper together to make a slaw. Set aside
Place fish in deep fryer until golden brown with an internal temperature of 145°F and drain.
Place flour tortillas on flat top grill for 30 seconds on each side and remove to service plate.
Fill each tortilla with 1 piece of fish, drizzle with 1 tablespoon of Boom Boom Sauce (KE1936) and top with 1 ounce of the freshly made slaw.
Serve with a side of pico de gallo and a fresh lemon wedge.
MORE BOOM BOOM RECIPES
FIND MORE RECIPES