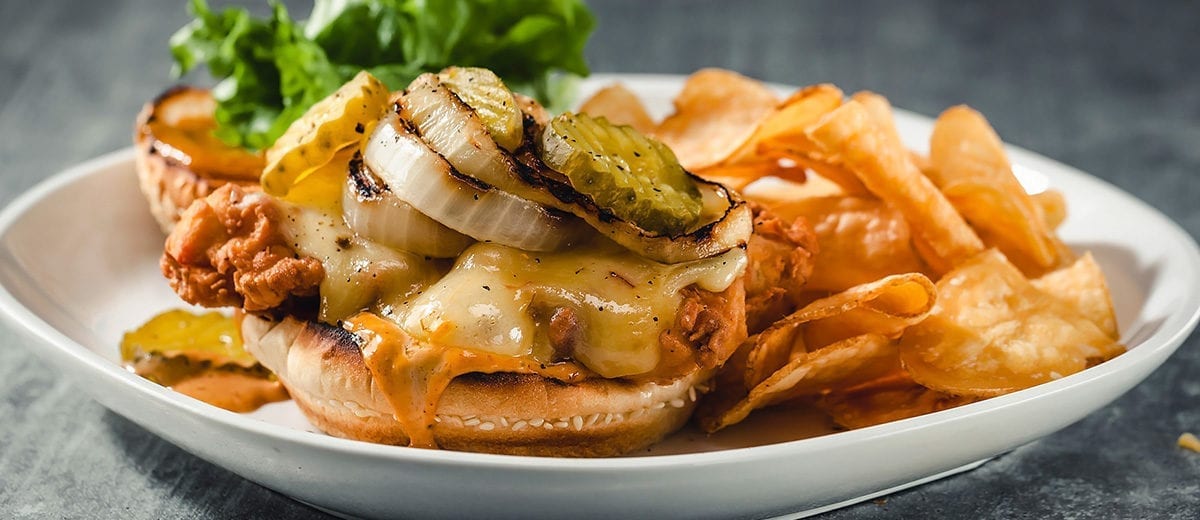 Baja Chicken Sandwich
Fried chicken topped with pepper jack cheese, grilled onions, house-made pickles, lettuce, garlic serrano cream gravy, garlic serrano mustard and salsa roja aioli on a toasted sesame seed bun.
INGREDIENTS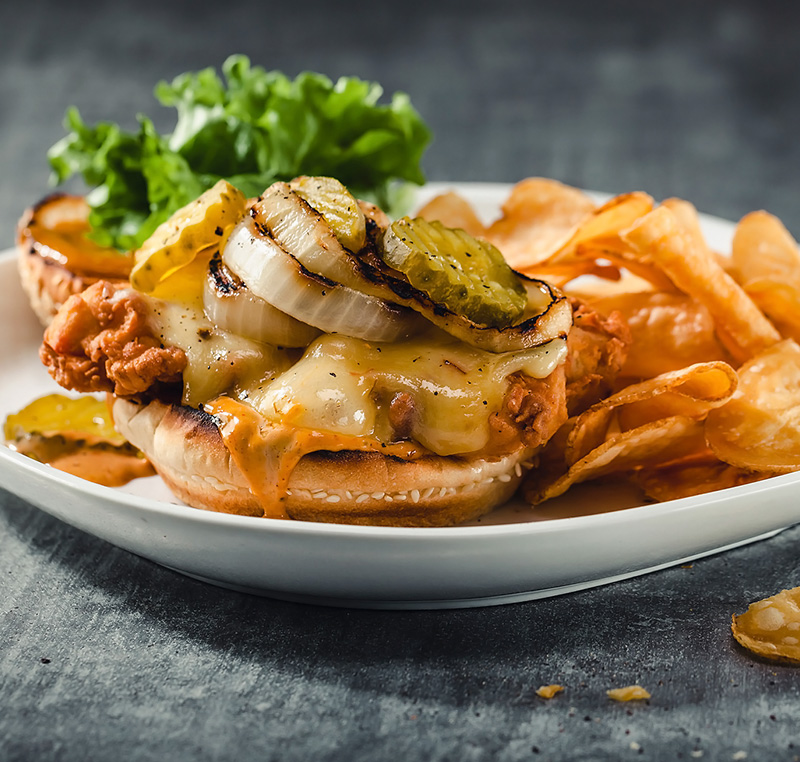 1 ea deep fried, chicken filet
1 ea toasted, sesame seed bun
1 tablespoon salsa roja aioli *recipe below
1 tablespoon serrano chili mustard *recipe below
1 ea sliced, pepper jack cheese
2 fl-oz serrano chili cream gravy *recipe below
4 ea sliced, grilled onions
4 ea sliced, fresh pickles
1 ea lettuce leaf
16 fl-oz spicy kettle chips (optional)
DIRECTIONS

Fry chicken breast until internal temerpature is 165˚F. Spread crown of toasted bun with salsa roja aioli and heel with serrano chili mustard.
Top with fried chicken breast, pepper-jack cheese, serrano chili cream gravy, grilled onions, fresh pickles and lettuce.
Place crown on top, and serve with spicy kettle chips (if desired)!
SERRANO CHILI CREAM GRAVY

INGREDIENTS
1 fl-oz fried chicken oil
1 fl-oz flour
8 fl-oz half and half cream
8 fl-oz Kogi serrano chili sauce
DIRECTIONS
Place 1 fl-oz oil from deep fryer in saute pan, stir in flour and cook on low heat until lightly browned.
Slowly add in half and half cream, stirring constantly until smooth. Add in Kogi serrano chili sauce. Salt and pepper to taste. Cook for five minutes and hot hold until needed.
SALSA ROJA AIOLI

INGREDIENTS
8 fl-oz mayonnaise
4 fl-oz kogi salsa roja
DIRECTIONS
Combine mayonnaise with Kogi salsa roja and blend well. Place in storage container, label date and refrigerate.
SERRANO CHILI MUSTARD
INGREDIENTS
8 fl-oz Kogi serrano chili sause
4 fl-oz Kogi salsa
DIRECTIONS
Combine ingredients in mixing bowl and blend well. Place in storage container, label, date and refrigerate.
See More Recipes

Kogi Salsa Roja


Item #20919
Kogi Serrano Chili


Item #20903
People seek Kogi out. Driving out of their way just to get a taste. Why? One word:

flavor

!
People's palates are changing. They want…no, crave original, uncommon, adventurous flavors. That's Kogi. And now you can take advantage of this trend and serve up the fearless flavor combinations that everyone's lining up for.
See More Sauces