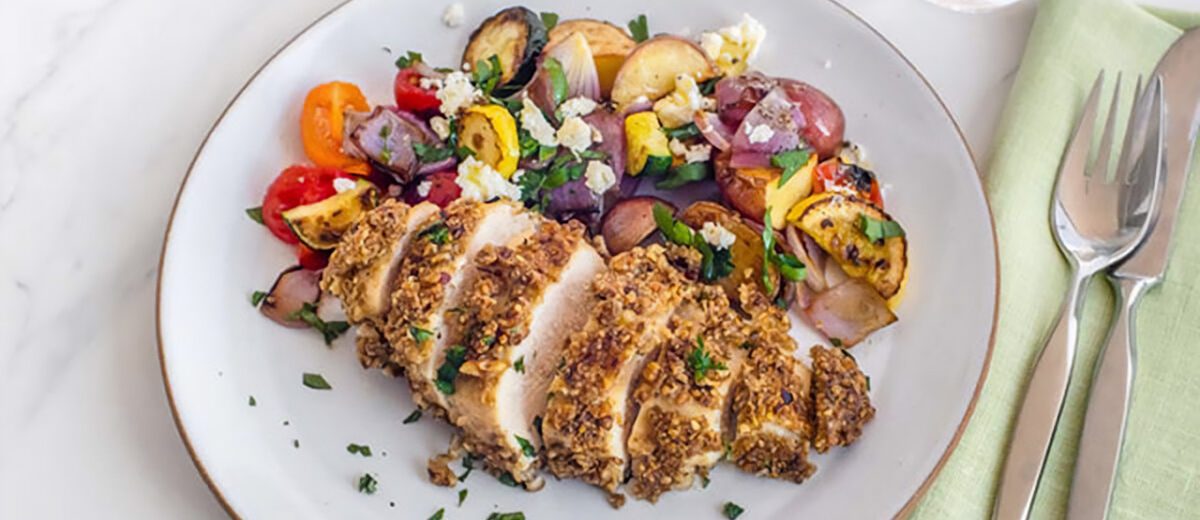 African Dukkah Crusted Chicken
Featuring a perfectly encrusted protein that's popular with just about everyone, this African-inspired chicken dish brings a fresh, new ethnic twist to your menu!
Yield: Makes 12 servings
INGREDIENTS
Honey Mustard Sauce
9

oz.

honey

3

oz.

Dijon mustard

¾

tsp.

salt
Dukkah Spice
1 ½

c.

hazelnuts

3

tbsp.

white sesame seeds

¾

c.

coriander seeds

¾

c.

cumin seeds

3

tsp.

salt
Ingredients for Vegetables
6

zucchinis, small, cut into ½" moons

6

yellow squash, small, cut into ½" moons

3

red onions, small, quartered and petals separated

3

c.

baby tomatoes, assorted, halved

¾

lb.

feta

3

tbsp.

parsley, chopped for garnish

¾

c.

olive oil

Salt, to taste
Ingredients for Chicken
12, 6 oz. Boneless Skinless Breasts

12

eggs, large, whisked in medium sized bowl for dredging

3

c.

flour

Prepared dukkah spice (above)

6

tsp.

salt

1 ½

tsp.

black pepper

¾

c.

olive oil
DIRECTIONS
Directions for the Honey Mustard Sauce
Whisk together all ingredients.
Directions for the Dukkah Spice
In a food processor, chop the hazelnuts until minced.
In a spice grinder, grind coriander and cumin seeds until roughly ground.
Combine all ingredients and reserve for coating the chicken.
Directions for the Vegetables
Heat oil over medium heat in a nonstick skillet.
Lightly sprinkle salt over the vegetables and tomatoes. Begin to pan-roast, saving the tomatoes for last. Avoid overcrowding the pan. Cook in batches and get a nice caramelization on both sides of the vegetables. Transfer to a paper towel. After all vegetables are cooked, add tomatoes to the hot pan and quickly sauté. Combine with the vegetables. Set aside.
Directions for the Chicken
Preheat oven to 325°F
Prepare breading station; place flour and Dukkah spice on separate plates or baking sheets for coating.
Season chicken with salt and black pepper.
Dredge chicken in flour, then egg wash, then flour. Re-dip chicken in egg wash, then into the dukkah spice. Set aside onto a plate and let rest for at least 5 minutes.
While the chicken rests, heat olive oil over medium heat in a nonstick skillet. Lightly cook chicken on each side for about 2 minutes, gently toasting the spices and setting the coating. Transfer into a baking pan and place in oven for about 10 minutes or until the breasts reach an internal temperature of 165°F. Let the chicken rest before slicing.
Directions for the Plating
Divide the mixed, cooked produce and feta equally among 12 plates.
Cut chicken breasts on a bias and fan onto the plate. Garnish with chopped parsley.
See More Recipes