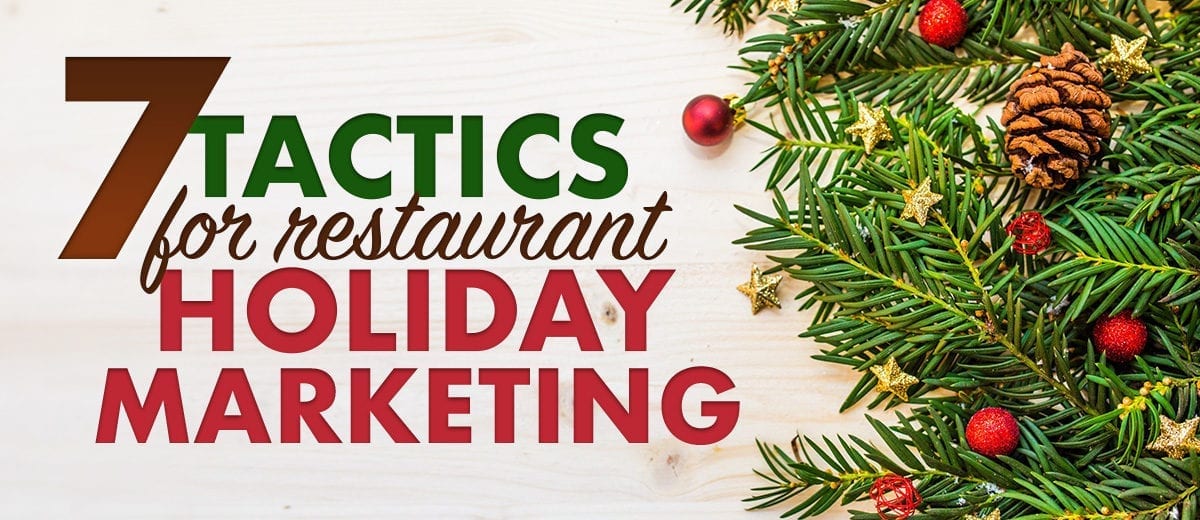 7 Tactics for Restaurant Holiday Marketing
Tis' the season of last-minute gift shopping, light hanging, tree decorating, and of course – a little bit of chaos…
With all the stress that comes during the holidays, customers will be looking for a place to get a great meal that they won't have to cook for themselves. To help you make the most of this opportunity, here are 7 tactics to try when marketing for your restaurant, bar, or cafe this holiday season.
Promote on Social Media
When you're putting forth the effort to create special holiday deals and events, be sure to let your customers know about it. Social media sites are great for sharing all of the promotions you have, and if your customers are pleased with what you're doing, they're likely to share what's going on with their friends, as well. You can simply advertise your in-house specials, or offer completely separate social media deals, like a post that says "Show this post to your server for 10% off your bill." Planning a special holiday meal service. Post it, along with the menu or photos of the food to be served, as an event on Facebook to raise awareness and build interest around attending.
Feature Holiday-Themed Menu Items
By offering holiday-themed drinks, desserts, entrees, and appetizers, you can help your guests to relax, unwind, and enjoy the season. Try offering up traditional dishes like a take on the Italian "feast of the seven fishes", or incorporate some unique holiday cocktails on your drink menu. Remember to stick with the general theme of your establishment, but don't be afraid to get creative with your holiday additions.
Market Your Event Space for Large Parties
If you have a designated event space or a separate dining room in your establishment, be sure to market it as an area for large family get-togethers and private parties. Try posting flyers around your bar area or restaurant, advertising in the local paper, or reaching out to followers on social media to book the space. You can choose to simply rent out the area, or you can offer catering services, as well. Don't forget to decorate this area for the season to create an intimate and homey atmosphere.
Host a Holiday Party at Your Restaurant
Speaking of parties, why not throw your own? This idea is especially applicable to bars, where customers know they can always go to have a good time. You can host a specific event, like holiday trivia, or simply offer guests a warm place to come and watch the New Year's Eve countdown. Or, go with something fun like an ugly Christmas sweater party where you offer a prize for the guest with the ugliest sweater. Just be sure to promote your event ahead of time because many people like to make holiday plans in advance.
Promote Restaurant Gift Card Sales
Gift cards and certificates offer an easy way for your customers to gift your delicious food to their loved ones. An easy method to improve gift card sales during this time is to offer customers an extra incentive with the purchase of a gift card. For example, you can sell cards at a discounted rate ($50 gift card for $45) or offer a free $10 gift card with each $50 gift card purchase. It's hard to resist free food, so guests may end up buying these for their friends, family, and even themselves!
Give Back to Your Community
The spirit of giving is in the air during the holidays, and customers might be more likely to patronize your business if they know that their meal helps contribute to a worthy cause. Try choosing a specific menu item, like a special holiday dish, and let customers know that a percentage of the profits from each of those dishes ordered will go to a specific charity. Another option would be to devote a whole evening to giving, and promise to set aside a portion of the proceeds from the entire dinner to your favorite cause. No matter how you choose to set it up, giving is sure to put customers in a cheery, holiday mood while getting new people to try your food.
Go Traditional, Send a Holiday Card
Sending your customers (or potential customers) a Christmas or holiday card in the mail is still an effective and inexpensive way to remind them about your business. Try featuring appetizing pictures to get them craving your signature entrees or cocktails, and be sure to include a coupon or special offer on the card. This way, guests have a little extra motivation to visit your restaurant. You can also send out e-cards, but using this strategy runs the risk that your promotion will get lost in the other hundreds of emails your customers receive every day. Besides, who doesn't love to get a good, old-fashioned card during the holidays?
Offering deals, and just raising awareness of your establishment, for the holidays is a relatively easy way to draw tired and stressed out shoppers into your restaurant. Not only will new customers be more likely to give your establishment a try with a coupon or gift card, but your existing customers will appreciate your efforts to reward their loyalty. Give some of these restaurant holiday promotions a try, and help your guests have a memorable dining experiences this season.
Looking for more ideas? Try these…
Restaurant Marketing Ideas for the 12 Days of Christmas