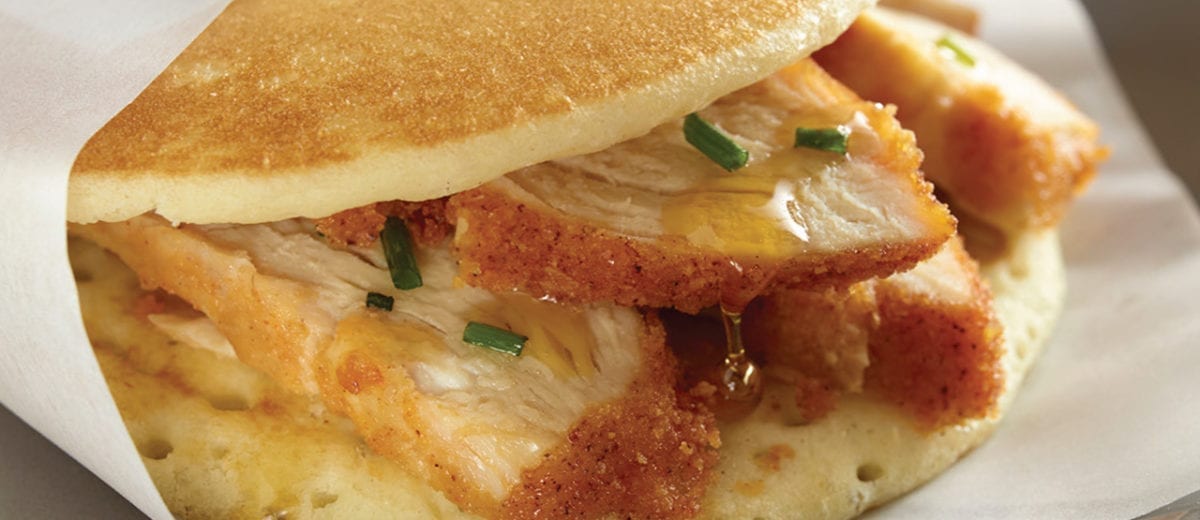 Chicken & Pancakes
Chicken and waffles is a favorite flavor combo among comfort food diners, a menu item that has been an on-trend around the country recently. Try a pancake spin on this classic dish using your unique flavors, chicken, and portions of choice!
Ingredients:
Seasoned, Baked or Fried Chicken of choice
Kellogg's, Eggo Buttermilk Pancakes (Item #17926)
Honey or Maple Syrup
Chopped Chives

Instructions:
Heat Eggo Buttermilk Pancakes to serving temperature.
Prep fried chicken by tossing in glaze/sauce of choice and slicing. Slicing is optional if using smaller tender-size pieces of chicken.
Place chicken on top of one pancake and drizzle with honey or maple syrup.
Sprinkle with chives.
Cover with a second pancake.
For on the go convenience wrap in a 12×12 insulated foil sheet, such as item #3377.
Dennis Tips:  Try adding a kick with a Sriracha or Mango Habenro glaze, or for some sweet New England heat try Maine Man Flavahs Blueberry Habanero Hot Sauce. Make it a stack by adding another layer of chicken and a third pancake!