Three Cheese Chicken Penne
Savory chicken, fresh spinach, penne pasta, basil and creamy cheeses are all baked together in this simple and fresh dish. Serve with a side salad and warm roll for a traditional home-style meal.
INGREDIENTS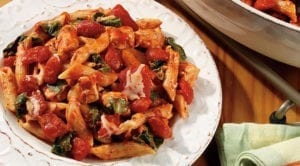 1 1/2 cups penne pasta item #12559
9 oz fresh spinach
1 lb boneless, skinless chicken breasts – cut into bite size pieces item #30680
1 teaspoon dried basil item #7806
8 oz can tomato sauce
14.5 oz drained, diced tomatoes
2 oz cream cheese item #76050
1 cup shredded mozzarella cheese item #5999
2 tablespoons grated Parmesan cheese item #5140
DIRECTIONS
Preheat oven to 375˚F. Cook pasta as directed, add spinach during last minute of cooking, and drain.
Cook and stir chicken and basil in a large skillet, sprayed with cooking spray, on medium-high heat for 3 minutes. Stir in tomato sauce and diced tomatoes; bring to boil. Simmer on low for 3 minutes or until chicken is done.
Stir in cream cheese, pasta mixture and 1/2 cup mozzarella cheese. Spoon into a greased 2 quart dish, bake for 20 minutes and then top with remaining mozzarella and parmesan cheese. Bake additional 3 minutes or until cheeses are melted.
Serves 4
See More Recipes