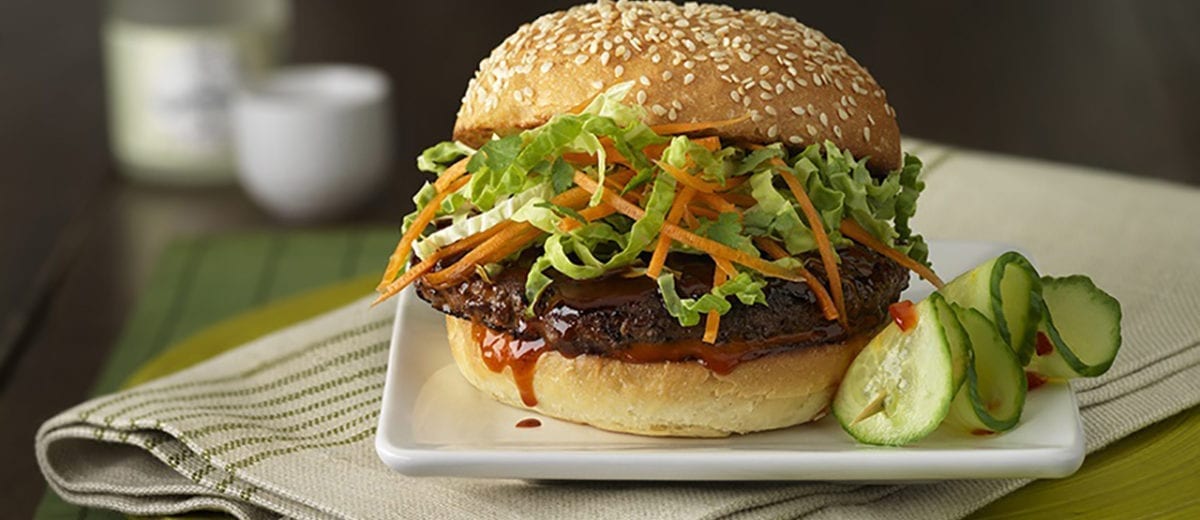 Spring Burger Inspiration
Just as New Year's healthy-eating resolutions fade, spring arrives and invites everyone to hop back on the better-eating bandwagon.
Whenever spring is right around the corner, that's the time to revise menus away from winter comfort foods and focus on fresh greens and veggies to give those diners what they're looking for. Here are a few ideas to help you add some spring zing to your offerings.
Make Way for Fresh, Seasonal Produce
Load up a burger with fresh, locally-grown veggies.
Char some fresh cauliflower or broccoli to make it deliciously sweet and crispy.
Try an herb salad featuring diced burger as the main protein. Use basil and parsley with chives, green onion and spinach, and dress it in a healthy vinaigrette.
Try These Tasty Burger Toppers
Arugula and radishes for some added crunch and color.
Charred or grilled romaine lettuce—add shaved parmesan with Caesar dressing or lemon vinaigrette.
For a topper or side, try a Thai cucumber salad: diced cucumbers with serrano Chile peppers in rice wine vinegar plus cilantro.
Thai green curry paste mixed with mayo makes for a unique topper or house condiment.
Variations on a Classic—Springtime "Slaw" Options
Shave some apples and mix with jicama and cilantro.
Serve white onion shavings with cilantro and lime juice.
Shave fennel and carrots and add chopped Kalamata olives.
Mix roasted onions and roasted carrots.
Try tapenade as a sweet-meets-salty condiment.
Creative Pickling is Still a Hot Trend
For fabulous pickled beets, start by shaving beets with a mandoline. Make the brine with:
Rice wine vinegar
Water
Salt
Sugar
Pepper flakes
Chill overnight and serve them crunchy, sweet and cold. Great as a burger topper or on the side.
Chimichurri Sauce
Mix cilantro, olive oil and red wine vinegar. Add pesto.
Salsa Verde—Italian Style
Mix Italian parsley plus capers, anchovies, lemon and red wine vinegar. Drizzle it onto burger like it's a nice cut of steak.
A Few Fresh Gluten-Freee Ideas
Make lettuce leaf cups to serve as fresh and healthy burger carriers.
Bowls aren't just for burritos. Try a burger bowl with diced burger, greens, brown rice, mushrooms and spinach.
Load up a tasty bun-less patty with fresh, grilled veggies.
Place burger patty on a fresh portobello mushroom or rice cake and pile on some fun toppings.
Try an arancini carrier. Just form risotto cheese into a ball and add breading. Then fry, and add parmesan.
Nod to southwestern fare and serve your burger with grits cakes and a slap of jalapeño jelly.