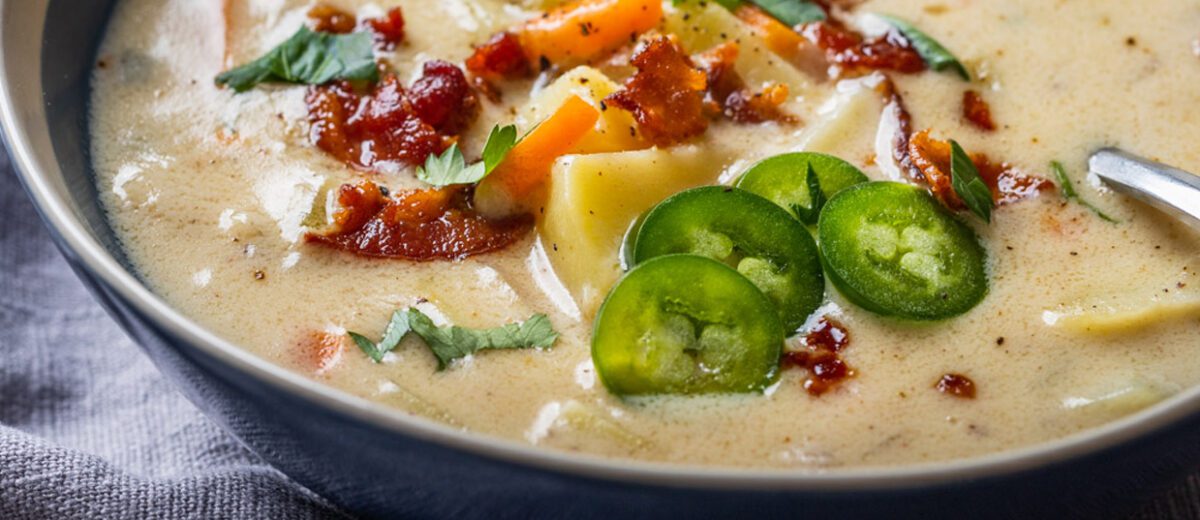 Smoky Jalapeño Cheddar Potato Soup
Savory, smokey cheddar envelopes hearty potatoes with a kick of jalapeño in this awesome, all-season soup.
In this soup, the potatoes stay chunky and the richness of the soup comes from a roux created by the bacon fat, along with the flour which is deglazed by the beer and the broth. This is an indulgent soup that is perfect on any cold day.
Makes: 4-6 servings    Prep Time: 10-15 mins.       Total Cook Time: 40 mins  
INGREDIENTS:
6 slices of bacon (the smokier, the better)
2 cups mirepoix (mixture of celery, carrots, and onion…minced)
3 cloves garlic, minced
1 large jalapeño, seeded and chopped (add more for more heat)
1 tbsp fresh thyme leaves, chopped
One 12oz. bottle of lager or Pilsner (non-alcoholic works too)
1/4 cup all-purpose flour (1-2 tablespoons more, as needed)
3 cups broth (chicken or vegetable)
1 cup heavy cream
4 small-medium russet potatoes, peeled and cubed
1/2 lb of sharp old white cheddar cheese, grated coarsely
4 oz smoked cheddar cheese grated coarsely
Salt and pepper to taste
DIRECTIONS
In a large stock pot, cook bacon over med/high heat until the fat is rendered and the bacon is crisp-about 7 minutes. Using a slotted spoon, transfer the bacon to a bowl.
Add the carrots, celery, onion, jalapeño, garlic, and thyme to the saucepan and cook over medium heat, stirring, until softened, 5-8 minutes. Add 1/2 of the beer and cook until reduced by half, another couple of minutes.
Sprinkle the flour over the veggies and stir for a few minutes to cook off any floury taste.  Add the broth (a little bit at a time), stirring as you add until smooth and creamy.  The soup should start out very thick and eventually thin out as you add the full 3 cups of broth.
Then stir in the remaining beer and potatoes, and simmer for approximately 20 minutes or until the potatoes are fork tender.
Add the heavy cream, and cheddar cheeses and simmer, stirring occasionally, until thickened and creamy, about 5 minutes.  Stir in the reserved bacon and season with salt and pepper.  Add a few tablespoons of broth if too thick.
Serve with homemade pretzels or crusty bread.
See More Recipes