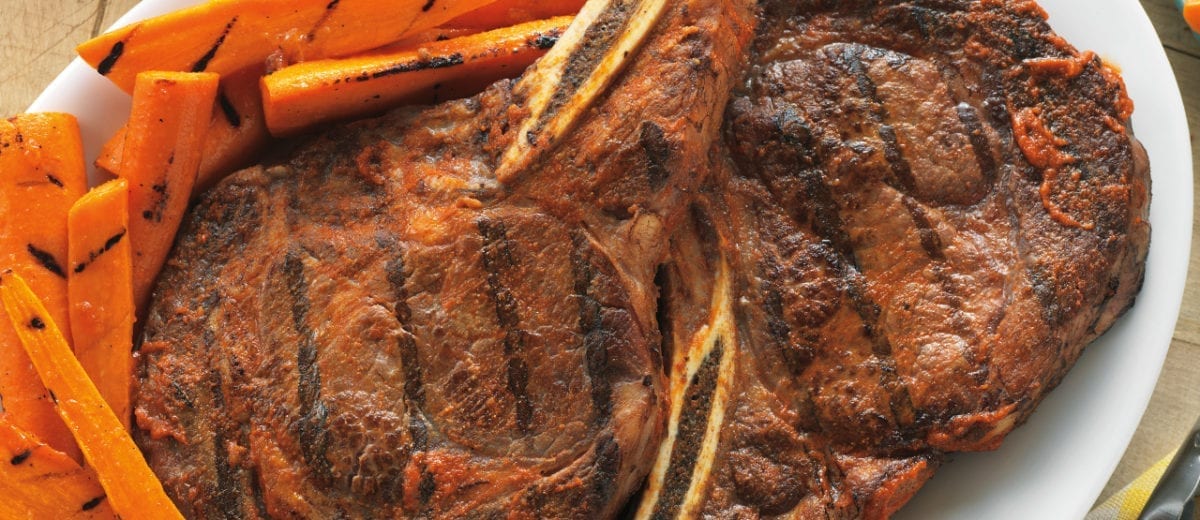 Spicy Ribeye with Ginger-Orange Grilled Carrots
These ribeyes bring savory heat and pair perfectly with the bright flavor of seared and seasoned carrots.
These beautiful bone-in steaks offer an excellent plated presentation with an even more incredible flavor. Satisfy hungry patrons with this hearty dish complimented by fresh and flavorful carrots and your signature starch offerings.
Prep:
Total Recipe Time:  30 to 40 minutes
Makes 4 servings
Ingredients:
2 beef Ribeye Steaks Bone-In, cut 1 inch thick (13 to 15 ounces each)
6 large carrots (about 14 ounces), peeled and cut in half lengthwise, then in half crosswise
1 tablespoon vegetable oil
Salt
1-1/2 to 2 tablespoons chile garlic sauce (Sriracha)
1 teaspoon ground ginger
2 tablespoons orange marmalade
Ingredients:
Bone-In Ribeye: Item #1215
Carrots: Item #26096
Veg/Salad Oil: Item #78216 or Item #78018
Salt: Item #70104 or Kosher #70102
Sriracha: Item #1959
Ginger: Fresh #25353 or Ground #7900
Orange Marmalade
Instructions:
Brush carrots with oil. Place steaks in center of grill grid over medium, ash-covered coals; arrange carrots around steaks. Grill steaks, covered, 9 to 13 minutes (over medium heat on preheated gas grill, 9 to 12 minutes) for medium rare (145°F) to medium (160°F) doneness;  turning occasionally. Grill carrots 8 to 11 minutes (for gas grill, times remain the same) or until crisp-tender, turning occasionally.
Meanwhile, combine chile garlic sauce and ginger in small bowl. Combine 2 teaspoons chile garlic sauce mixture and marmalade, reserving remaining mixture for brushing.
Combine hot carrots with marmalade mixture; tossing to coat evenly. Brush top of steaks with reserved chile garlic sauce mixture. Remove bones; carve steaks into slices. Season beef and carrots with salt, as desired. Serve beef with carrots.
Nutritional Information:
Nutrition information per serving: 286 calories; 11 g fat (3 g saturated fat; 5 g monounsaturated fat); 92 mg cholesterol; 302 mg sodium; 17 g carbohydrate; 2.7 g fiber; 30 g protein; 12.8 mg niacin; 0.8 mg vitamin B6; 1.6 mcg vitamin B12; 2.3 mg iron; 35.6 mcg selenium; 5.7 mg zinc; 8.5 mg choline.
This recipe is an excellent source of protein, niacin, vitamin B6, vitamin B12, selenium and zinc; and a good source of fiber and iron.