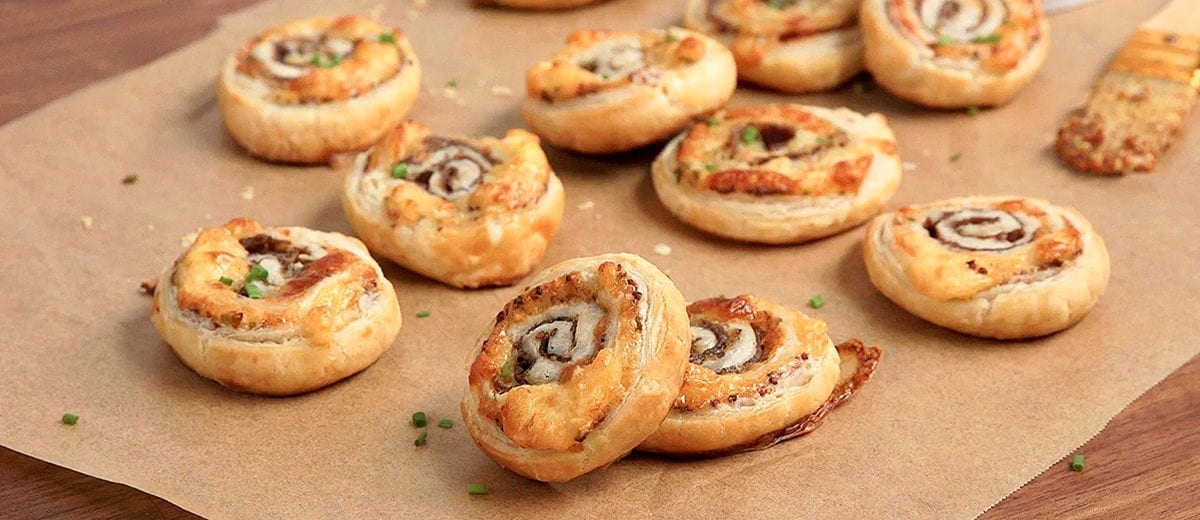 Beef & Smoked Gouda Puff Pastries
This quick recipe delivers an irresistible house-made appetizer, bar bite or snack on the go.
These roll-ups feature puff pastry brushed with Raye's Old World Gourmet mustard, topped with Great Lakes' Smoked Gouda and Steak-EZE® sliced sirloin steak. They're rolled, cut into rounds and then baked until puffy, flaky and steaky magic happens!
Ingredients:
2 Portions AdvancePierre Steak-EZE® (Item #4920)
0.25 tsp Salt
0.25 tsp Pepper
2 Sheets Puff Pastry Dough, Thawed and Cold (Item #12876)
3 tbsp Raye's Old World Gourmet Mustard (Item #1251)
1 cup Smoked Gouda Cheese, Shredded (Item #9557)
2 tbsp Chopped Fresh Chives (Item #26302)
Instructions:
Flat Grill (Frozen Product): Preheat grill to 350°F. After the portion has cooked through about half its thickness, flip the portion once. As meat slices begin to cook, separate them with a spatula and season with salt and pepper. Beef should have an evenly brown appearance when completely cooked. Remove from grill and set aside. Let cool.
On lightly floured surface, roll out 1 pastry sheet into 10-inch square. Brush with half of the grainy mustard. Spread half of the beef slices end-to-end over pastry, about 1-inch from edge.
Sprinkle 1/2 cup cheese and half of the chives over mustard, leaving 1-inch border. Starting at one end, roll up tightly.
Refrigerate for about 30 minutes or freeze for about 15 minutes or until firm. Repeat with remaining pastry, beef, mustard, cheese and chives.
Trim edges. Slice log into 9 pieces (about 1/2-inch thick). Freeze and keep for service.Bake, cut side up, on parchment paper or Silpat-lined baking sheets in 400°F oven for 20 to 25 minutes or until golden.