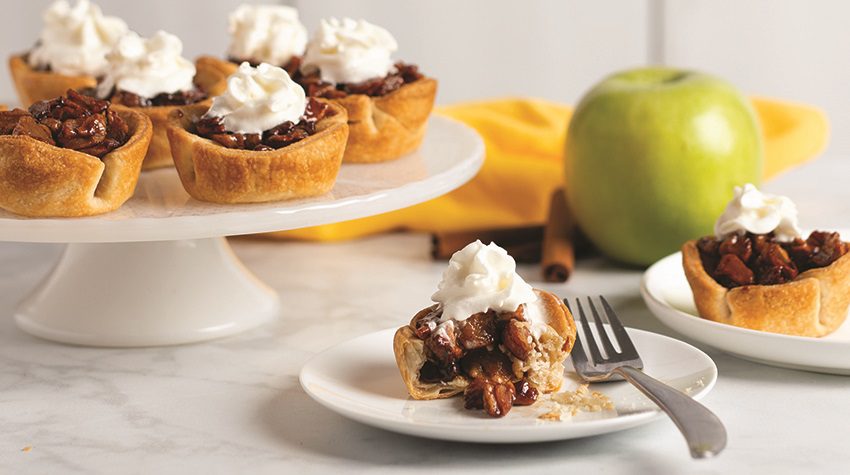 Mini Roasted Apple Pies
Perfectly portioned mini pie crusts are filled with seasoned apples and gooey brown sugar!
For a perfectly portioned dessert or fall gathering crowd pleaser, look no further than this easy mini apple pie recipe! These cute mini apple pies are a blend of sweet and tart apples roasted in the air fryer with brown sugar and warm baking spices, served in flaky mini-pie shells and finished with Reddi-wip®
Yield: 12 servings
INGREDIENTS:
Two, 9-inch refrigerated pie crusts
2 large Granny Smith apples, pealed and diced into 1/2-inch cubes
3 medium Honeycrisp apples, peeled and diced into 1/2-inch cubes
1 1/2 tsp. ground cinnamon
3/4 tsp. ground nutmeg
1 cup firmly packed light brown sugar
Pam original No-Stick Cooking Spray
J. Hungerford Smith Caramel Topping
Udi's Au Naturel Granola
Reddi-wip Real Cream Whipped topping
DIRECTIONS
Preheat oven to 450°F.
Unroll pie crusts on counter and cut out twelve 4-inch circles. Press dough back together in order to get 6 circles out of each crust. Press circles into ungreased muffin tin. Poke sides and bottom of each cup with fork.
Bake 10 to 12 minutes or until pie crusts are golden brown.
Remove from oven and allow to cool completely. Set aside.
In a large bowl toss apples with cinnamon, nutmeg and brown sugar until coated.
Spray air fryer basket with cooking spray and add apples. Air fry at 400°F for 25 to 30 minutes, shaking basket every 5 minutes, or until apples are slightly dried on the outside and tender on the inside.
Remove apples from oven and return to bowl. Reserve 1 to 2 tablespoons of brown sugar mixture in bottom of air fryer basket and stir into roasted apples.
Spoon roasted apple mixture into mini pie shells, about 2 tablespoons per pie. Top with each pie with caramel and granola. Top with Reddi-wip®; serve.
See More Recipes