Maple Bacon Old Fashion Cocktail
Bacon goes with everything, right? Add some savory flavor to your Old Fashion with this sweet and salty infusion featuring Hormel bacon.
INGREDIENTS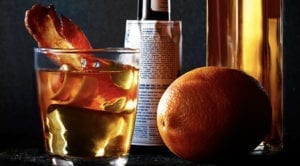 4 cooked slice of Hormel Black Label Bacon Item #1417
4 ounce of bourbon
1 tablespoon of maple syrup Item #3303
4 dashes Angostura bitters
Ice cubes to serve
Orange twist, to serve
DIRECTIONS
In small shallow dish place bacon
Pour bourbon into dish, cover and chill for 30 minutes, or longer if time permits
Strain and reserve bourbon and bacon
In small jug, combine bourbon, maple syrup and bitters
Pour over ice and serve with orange twists and cooked bacon.
Makes about 1/2 cup.